'Jersey Shore: Family Vacation': Zack '24' Carpinello Shares How the Pandemic Impacted His Relationship With Jenni 'JWoww' Farley
Jersey Shore: Family Vacation stars Jenni "JWoww" Farley and Zack "24" Carpinello will play a big role in season 4B. As seen in the trailer, fans will get a glimpse at the duo's lives during the coronavirus (COVID-19) pandemic, plus the moment they shared news of their engagement with the Jersey Shore roommates. Now, Carpinello is opening up about how the pandemic impacted his relationship with "JWoww."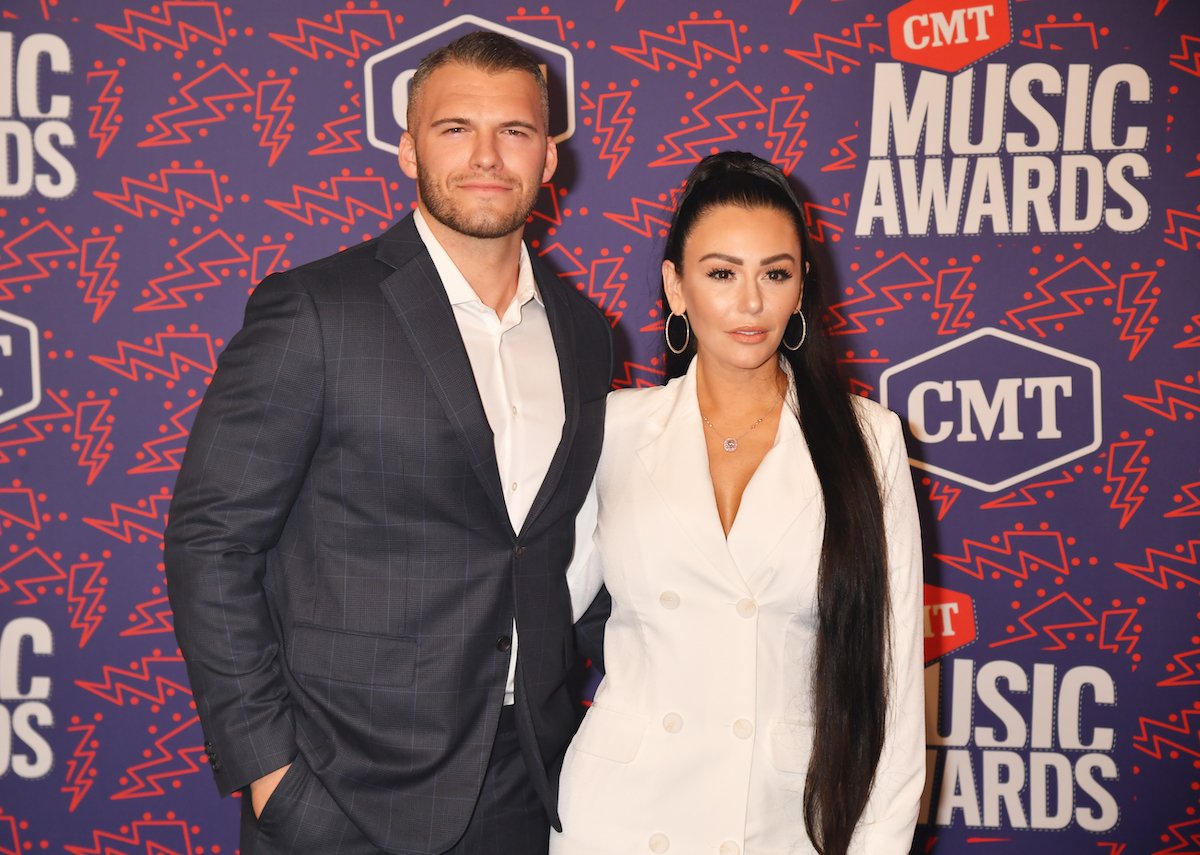 Jenni 'JWoww' Farley and Zack '24' Carpinello relationship timeline
In September 2018, Farley's divorce from Roger Mathews was finalized. Later in April 2019, Carpinello re-entered Farley's life — he was in attendance at her and Mathews' 2015 wedding. 
RELATED: Why Was Zack '24' Carpinello at Jenni 'JWoww's Wedding to Roger Mathews?
In October 2019, a controversial episode of Jersey Shore: Family Vacation aired that set Farley's relationship with Carpinello back. After footage of Carpinello allegedly flirting with Angelina Pivarnick came to light, Farley and Carpinello took a break. However, by the holidays, Farley and Carpeinello resolved their differences and have been together since. 
Zack Carpinello says the pandemic allowed his relationship with 'JWoww' to develop into a 'much bigger thing'
As Carpinello explained to Wrestling Inc., the pandemic helped strengthen his relationship with the reality star. "Our relationship developed into a much bigger thing and a more important part of my life," the wrestler says. 
"We were able to stay busy [during the pandemic]," he adds. "We had skeleton crews shoot the show because we were still working whenever we could at the house." Together, Farley and Carpinello also created content for YouTube during the lockdown. 
Additionally, the couple worked on some home renovations. "[The pandemic] gave me a chance to expand my home gym," Carpinello admits. "I wasn't going to gyms, so I had to make do with what I had [at Farley's house]. I have a pretty good facility in the basement, [so] I don't have to go back to the gym." 
'JWoww' helps Zack Carpinello with his wrestling career
Carpinello wrestles professionally as Zack Clayton. During his interview with Wrestling Inc., Carpinello discussed the many ways Farley has helped him with the branding and business aspects of being a wrestler. 
"She helped me break out, which was a very good thing," Carpinello told the outlet. "You can never stop marketing and branding and selling in my opinion." 
Carpinello believes Farley is the Jersey Shore roommate who has evolved the most in terms of creating a brand. "I might be a little biased," he added. 
Nevertheless, Farley's background in branding herself has allowed her to help Carpinello bolster his wrestling career in ways he never thought possible. "I'm very grateful for that," he concluded.
Jenni Farley's wedding with Zack Carpinello is in the works
On Farley's birthday this past February, Carpinello proposed to the Jersey Shore: Family Vacation star. "On 2.27, I said yes on the top of the Empire State Building," Farley announced to fans on Instagram. 
"My always and forever," the wrestler wrote on his Instagram account. "You made me the happiest I've ever been. I love you more than anything."
Many fans are anxious to hear more details about Farley and Carpinellos' wedding. From which Jersey Shore: Family Vacation roommates will be in attendance to whether or not she'll allow her castmates to give a speech, fans want all of the details regarding Farley's upcoming wedding. 
At this time, very little is known regarding Farley and Carpinello's upcoming nuptials. However, many people are hopeful "JWoww" and "24" will get married in a future episode of Jersey Shore: Family Vacation. Stay tuned to Showbiz Cheat Sheet for the latest updates!