'Jersey Shore' Fans Are Already Speculating Names for Mike 'The Situation' And Lauren Sorrentino's Baby
Mike 'The Situation' and Lauren Sorrentino are expecting a baby boy in May 2021. 'Jersey Shore' fans have some ideas for the Sorrentino's baby boy.
Over the Thanksgiving holiday, Mike "The Situation" and Lauren Sorrentino shocked Jersey Shore fans with a pregnancy announcement. Now, all many fans can talk about is Baby Sorrentino.
Today, the couple announced the sex of their baby, who they're expecting to arrive in May 2021. Now that fans know the sex of Baby Sorrentino, they've already started coming up with ideas for names.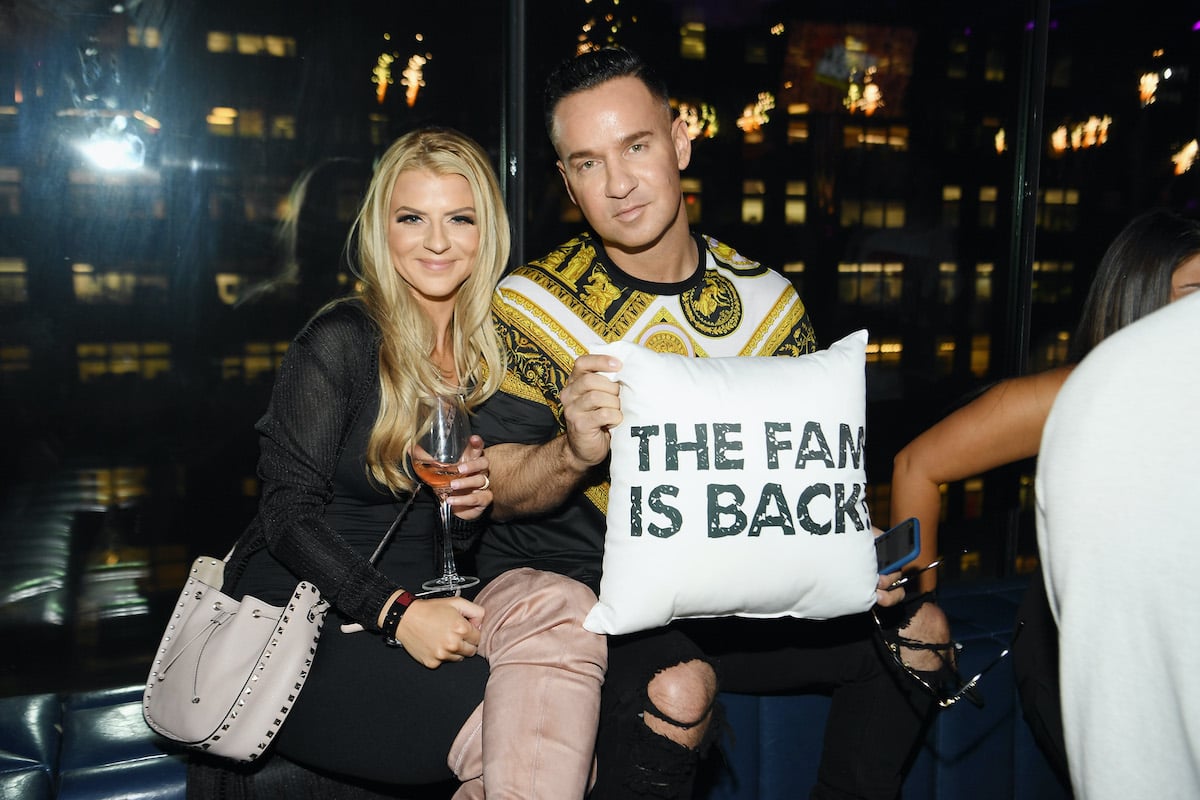 Mike and Lauren Sorrentino are having a baby boy 
Jersey Shore fans were incredibly excited when the Sorrentinos shared news of their pregnancy. Now, fans have even more to be excited about. On Dec. 8, the Sorrentinos revealed that they are having a baby boy.
"Gym Tan We're having a Baby Boy," Mike shared on Instagram. Lauren shared similar sentiments on her personal Instagram and the account she made for her pregnancy, It's Baby Situation. 
"IT'S OFFICIAL – I'M A BABY BOY!" Lauren wrote on the baby's Instagram account, continuing:
My parents were waiting to see if they could host my first party for the reveal but because of the C word, they decided to be safe, most especially for me, and host it virtually! Please share all your baby boy advice & favorite places to shop for cute baby clothes as my Mama cannot wait to shop for me! Mama & Daddy are thrilled and Mama is about to start full on nursery planning! See you guys next week.
Jersey Shore fans can't wait to learn more about the Sorrentino's baby boy — including what Mike and Lauren are considering for names. For now, fans have a few name considerations of their own.
'Jersey Shore' fans have baby name suggestions for Mike and Lauren Sorrentino 
Now that they know the sex of the baby, many fans have taken it upon themselves to share name suggestions on social media. 
"Have a feeling the baby's name will be Frankie, Tony, or Marc," a fan said on Reddit. 
"Or Gino, Sal, or Joey," added another. Many agreed, but one fan thinks "Mikey Jr." is a strong contender for Baby Sorrentino. 
"I feel like we're going to get a Situation, Jr. but I love the name Luciano!" another fan said. 
Many fans are in support of the baby being a junior. "A Mike [Sitch] junior," another Reddit fan said. "Someone to carry on the torch."
The Sorrentinos haven't revealed if they have any names in mind for the baby yet. 
'Jersey Shore' fans want the Sorrentinos to get their own show 
Jersey Shore: Family Vacation has kept many fans entertained thus far, but certain viewers want more content from Mike and "Laurens" specifically. When the "Situations" announced their pregnancy to the world, many fans thought this could be the beginning of their own series. 
"Yay!!!" one fan said on Reddit. "This confirms they need their own show!!" 
"I agree," another shared. "They're the only ones I'm interested in. The others can appear occasionally as guests. Except Angelina and Uncle Nino."
MTV has seen success in the past with spinoff series featuring Jersey Shore roommates, from Snooki & JWoww, to The Pauly D Project, and more recently, Double Shot at Love. Given how delighted fans are regarding Baby Sorrentino, a spinoff series about "The Situations" would likely become an instant success. 
Stay tuned to Showbiz Cheat Sheet for the latest updates on Baby Sorrentino.