'Jersey Shore' Fans Think Chris Larangeira and Angelina Pivarnick Are Getting Divorced
Jersey Shore: Family Vacation star Angelina Pivarnick married her husband Chris Larangeira in November 2019. As documented on the MTV reality series, their wedding was one of the most dramatic occasions on Jersey Shore. Regardless of what happened between Pivarnick and her roommates, she seemed happy with her husband.
Now, with Pivarnick's second wedding anniversary coming up, Jersey Shore fans have once again started to speculate that it's over between her and Larangeira.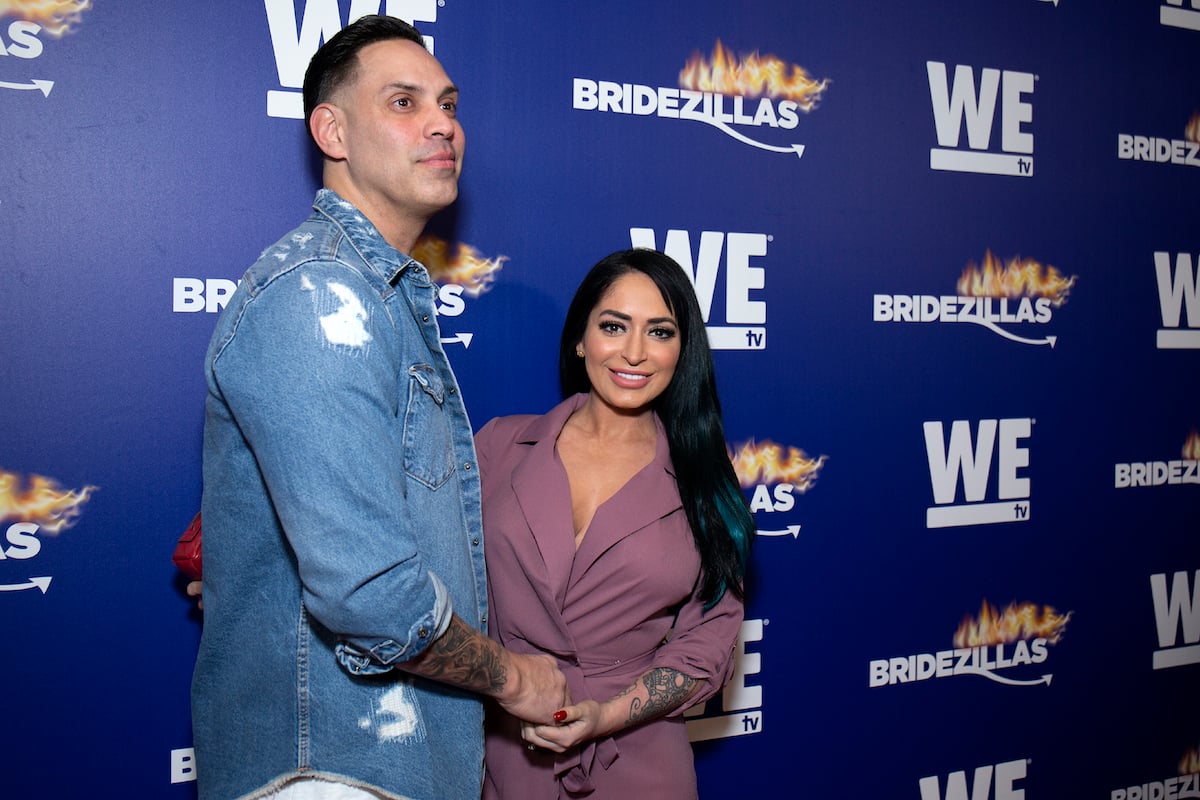 Fans have speculated about Angelina Pivarnick's divorce before 
In September 2020, many Jersey Shore fans thought Pivarnick was unhappy in her marriage. While Pivarnick was out and about with some of the Double Shot at Love cast, her husband was home alone.
"All I need in life," Larangeira captioned a photo of he and their pet cat. 
After seeing that photo, fans started piecing together the idea that the two might not be happy together.
"For the last few weeks, I have been keeping a special eye on her Instagram after I saw a comment [on Reddit] that she and Chris were no longer following each other," one fan posted on Reddit. 
Angelina Pivarnick addressed the fan rumors about her divorce
When rumors started circulating that Pivarnick was unhappy with Larangeira, she took to social media to clarify the situation. 
"This is my cat Angelina," Pivarnick said of Larangeira's photo. "Chris is saying all he needs is Angelina, meaning he has two. Stop writing fake news about us. Just because I don't post my relationship all over social media doesn't mean I'm not happy." 
Now, thanks to a more recent post on her husband's Instagram, fans once again think divorce is on the table. 
Chris Larangeira wants his tattoo of a 'dirty little hamster' removed 
In a 2018 episode of the Nicole "Snooki" Polizzi-hosted show How Far Is Tattoo Far? Pivarnick and Larangeira agreed to design tattoos for each other. Larangeira was shocked to see a hamster symbolic of Pivarnick on his thigh.
"You have me on you forever," Pivarnick said. He was less than please with the tattoo, but fair is far. Pivarnick was displeased with Larangeira's tattoo for her, which was a diamond ring with the phrase "3rd Time's A Charm" under it. 
On Nov. 15, Larangeira posted to his Instagram asking his followers if they knew of a "good tattoo removal place." The photo showed the tattoo Pivarnick had created for him on How Far Is Tattoo Far? "I think it's time to get rid of this sh*t lol," he captioned the photo. 
Larangeira's desire to have the tattoo removed, along with the fans who are claiming the two don't follow each other on social media, has people thinking he and Pivarnick are separating.
Fans think quarantine got to Angelina Pivarnick and Chris Larangeira
Larangeira's desire to have his tattoo removed had several fans theorizing about his and Pivarnick's marriage unraveling. 
"Guess they couldn't deal with each other during quarantine," a fan on Reddit said. "I wonder if she was texting or calling/FaceTiming Vinny more than the other castmates while quarantined and Chris was getting more and more annoyed by that." 
This fan also found it odd how Pivarnick shares more about her friends on social media than she does about her relationship with Larangeira. "Made it look like they weren't even living together, at least going by her Instagram," they added. 
As Pivarnick has pointed out before, she prefers to keep her relationship private.
Are Angelina Pivarnick and Chris Larangeira getting a divorce?
Fans could be taking Larangeira's post to heart. It is a unique tattoo that he hated when he received it. His interest in having the tattoo removed does not confirm that he has any desire to leave Pivarnick. 
Given the fact that Pivarnick likes to keep her marriage private, it's unlikely that the two are looking to get a divorce.