'Jersey Shore' Fights: Fans Think 1 Might Have Been Staged
The cast of 'Jersey Shore' became known for fighting with outsiders and roommates alike, but fans think one fight may have been staged.
As a reality TV show, Jersey Shore is often scrutinized for authenticity. For years, many viewers have questioned whether the show real or fake. Most wonder if the fights among Jersey Shore roommates were formulated by production or if they happened organically. One Jersey Shore fight has caused fans to think producers staged it. Here's what we know.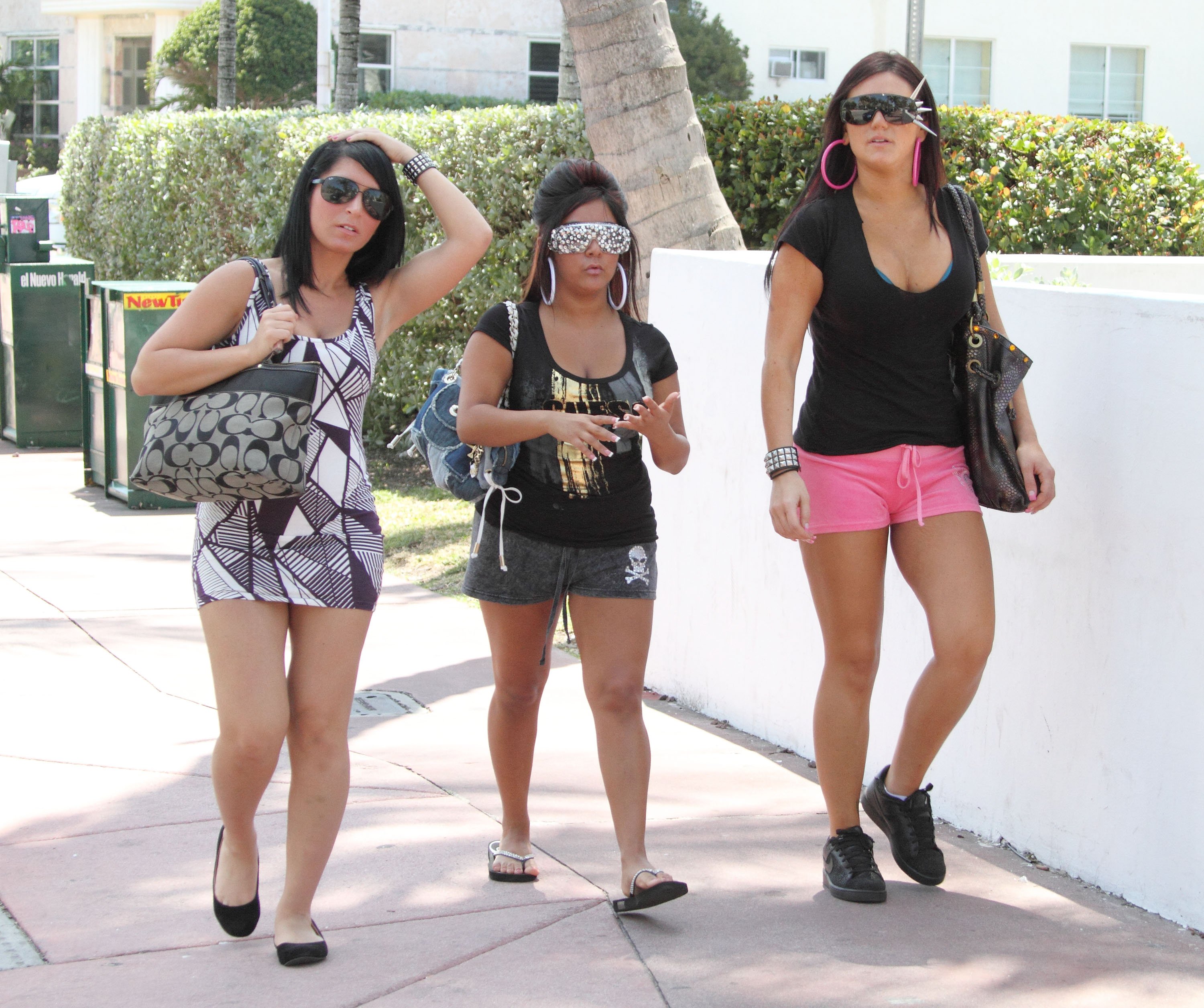 Nicole 'Snooki' Polizzi and Angelina Pivarnick's fight in Miami
Thanks to the viral success of season 1, the cast of Jersey Shore filmed season 2 in Miami. Producers needed new footage as quickly as possible, and since winter made Seaside Heights challenging to film, the cast and crew headed to a warmer climate. 
Despite her exit from the series in season 1, Pivarnick reunited with her roommates in Jersey Shore Season 2. Most, if not all, of the roommates, didn't take too kindly to her return. Ultimately, Pivarnick ended up leaving before filming wrapped. But Pivarnick did get into a few fights before heading home. 
"I don't give a f*** about anybody in this house," Pivarnick exclaims in the season 2 episode, adding: "All of you in this house are f****** fake and I want all of you to know I can't stand any of you." 
Then, Polizzi proceeds to take her earrings off and start swinging at Pivarnick. At one point, Jenni "JWoww" Farley intervenes and breaks up the fight. Once the fight is over, Pivarnick takes her bags and leaves. 
'Jersey Shore' fans think producers staged 'Snooki' and Angelina's fight  
In the clip of Pivarnick and Polizzi's season 2 fight, some eagle-eyed fans have spotted a continuity error. When Farley steps in to pull Polizzi off of Pivarnick, she is wearing socks. But moments before when she enters the scene, Farley doesn't have socks on her feet. 
According to a 2011 article from the Daily Beast, many Jersey Shore scenes are staged. "They were talking about having the fight when they were drinking here," said a waitress at the Astor Café in Florence, Italy, where the cast filmed Jersey Shore Season 4. "Then the cameras went out ahead of them and gave them the thumbs up to leave."
It's difficult to say whether producers planned the fight between Pivarnick and Polizzi in Miami some two years earlier. But they could have re-staged the situation to get more footage that would amplify one of the highest-rated episodes of the season. 
Most of 'Jersey Shore' is planned, not staged 
One of the most appealing parts of reality TV is that it's based in reality. Jersey Shore is no exception. 
Many viewers might think the show feels staged at times, but that's likely because of the careful planning that goes into filming the show. As DelVecchio explained to Bustle in 2018:
Never had a script for 10 years, not even a little bit… not even a little bit. The only thing we have is a book that tells us the places that we're allowed to film. We tell the producers where we wanna go, we can't go alone, that's it.
He's talking about a list of locations that have been scouted by production and approved for filming. The same thing happens when the cast of Jersey Shore: Family Vacation goes out to film. Though now, most of the venues they're filming at are cleared of patrons before shooting begins. 
 "It's been 10 years, too, — you can't fake 10 years," DelVecchio adds in his conversation with Bustle. Regardless of which side you fall on, Jersey Shore isn't going anywhere any time soon. MTV has confirmed Jersey Shore: Family Vacation Season 5. And if that does well, there are plans for even more episodes in the future.