'Jersey Shore': Proof the Fights on the Show Are Real
All of the fights MTV cameras captured on 'Jersey Shore' and 'Jersey Shore: Family Vacation' are real according to the cast.
Jersey Shore and Jersey Shore: Family Vacation are both MTV original series about family. Fighting is something that families do best — and the cast of Jersey Shore are no strangers to an argument. Contrary to what many fans might think, all of the fights documented on the show are real. Here's proof.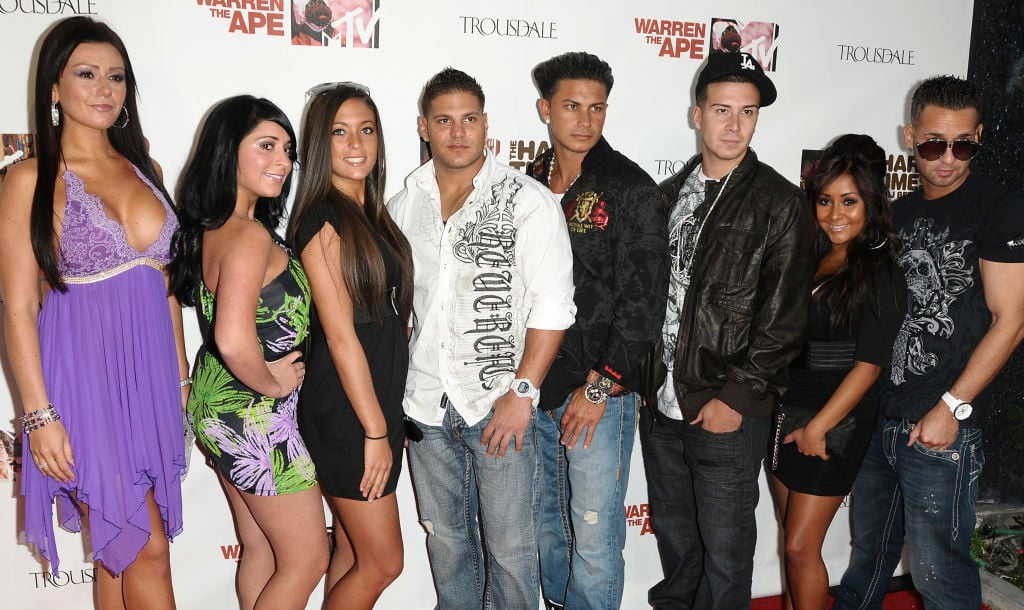 'Jersey Shore' isn't scripted 
Many viewers don't believe it, but the footage you see on Jersey Shore and Jersey Shore: Family Vacation is authentic. Sure, the show is edited, but it's not produced or scripted according to the cast. "We don't have a script," Pauly DelVecchio explained to Bustle. "Never had a script for 10 years, not even a little bit." DelVecchio explained how everything that fans see on the show has actually happened in reality. "It's hard to watch some of it," his roommate Deena Cortese added, probably referring to a few of the "Meatball Days" she and Nicole "Snooki" Polizzi had in the past. 
495 Productions' SallyAnn Salsano purposefully encourages the cast to be themselves — it's what allows for the hilarious and wild moments that make for great television. "I feel like people in life do [what we do on the show], they just don't put it on film," DelVecchio said. That's just one of the things that make Jersey Shore so relatable. 
The 'Jersey Shore' cast had some memorable blow-out fights
No member of the Jersey Shore cast is a stranger to getting angry. Whether it's a physical fight or a verbal one, every cast member — including DelVecchio — has exploded in anger at one point or another while cameras were rolling. 
An outraged DelVecchio was captured on an episode of Family Vacation. At a nightclub, someone who disliked the series kept taunting the cast. After repeatedly giving them the middle finger, DelVecchio got upset. "I'm a positive guy, but the only thing this guy's doing to me is 'Pauly D Positively' p*ssing me off. This is a nice place," he said to MTV cameras.  
There have been a considerable amount of altercations between the cast and outsiders, but the fights fans remember most are the ones between cast members. From the many arguments Mike "The Situation" Sorrentino instigated with various roommates to the toxic fights that often occurred between Ronnie Ortiz-Magro and Sammi "Sweetheart" Giancola, MTV cameras have a ton of Jersey Shore fight footage — and it's all authentic. 
The fights on 'Jersey Shore' are real — but so is the love  
Remember the altercation between Giancola and Jenni "JWoww" Farley? That was real. How about the time Sorrentino called Angelina Pivarnick a "dirty little hamster?" That was also a real argument. 
The arguments seen on Jersey Shore are authentic, which can only mean that the bond the cast shares is real, too. "I don't know if the other reality show [casts] are as close as we are," DelVecchio said. "Like, I don't know if the Housewives do all that or whatever, but we experience things in each other's lives that's real-life stuff." Whether it's a physical fight or a verbal one, Jersey Shore's cast are no strangers to occasional violence — but that doesn't make them any less of a family! 
As DelVecchio explained, they've been through it all. "Weddings, family, babies, court stuff, like real-life stuff," they've been there for each other through thick and thin. DelVecchio aptly summarized Jersey Shore's authenticity — "It's been 10 years too, like you can't fake 10 years."