'Jersey Shore': Find Out What Footage Doesn't Make the Final Cut
In 2009, Jersey Shore introduced the world to a fun-loving group of guidos who quickly formed a familial bond that would last a lifetime. After six years off the air, fans were eager to see what the original cast was up to in the new series, Jersey Shore: Family Vacation. 
As with any reality television show, there's the footage that makes an episode and the footage that doesn't. But what are fans missing out on? Find out what kind of content editors cut before an episode of Jersey Shore airs.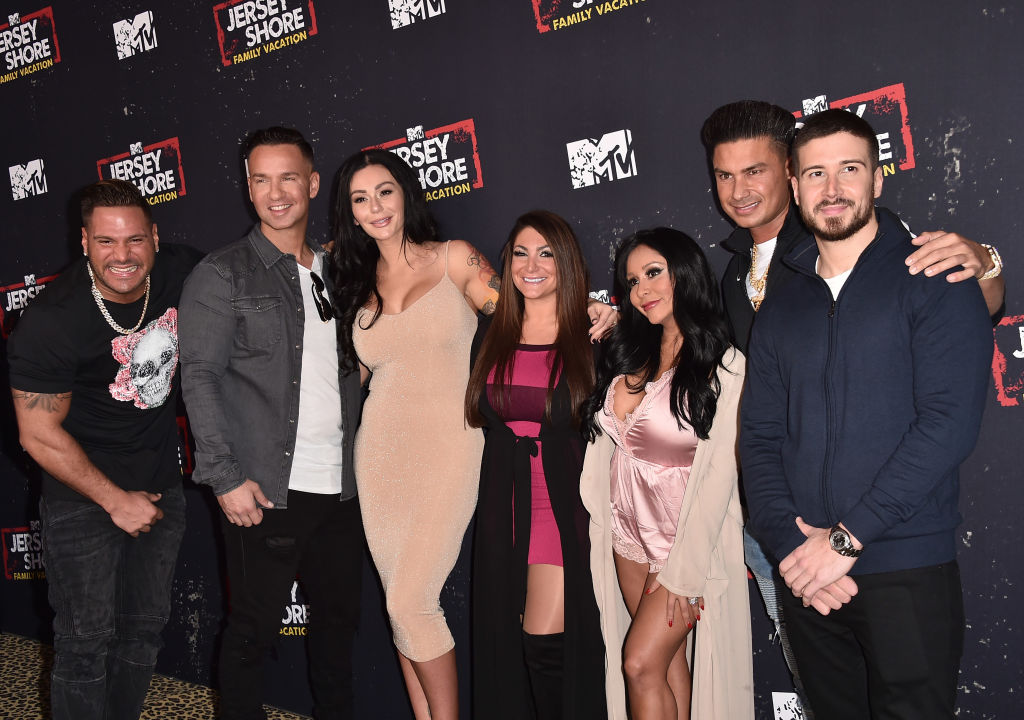 RELATED: 'Jersey Shore': Does Sammi 'Sweetheart' Giancola Miss Her Old Roommates?
MTV films more than 600 hours of authentic footage 
Jersey Shore isn't a scripted series. Pauly DelVecchio and the rest of the roommates spoke with Bustle about the authenticity of the show. "We don't have a script," said DelVecchio. "Never had a script for 10 years, not even a little bit. We're not produced. Everything that happen[s] that we were watching, that sh*t happened."
RELATED: 'Jersey Shore': Proof the Fights on the Show Are Real
Considering what has happened on the show, including the alcohol-induced arguments, toxic relationship, and those hilarious "slob-kabob" nights, some of the roomies have a hard time watching the footage back. "It's hard to watch some of [what airs on television]," Deena Cortese admitted. Despite how embarrassing it may be, what MTV cameras capture make for one entertaining series.
What gets cut from an episode of 'Jersey Shore'
Contrary to popular belief, the cast of Jersey Shore: Family Vacation isn't always partying. It may seem like that's all they do, considering how drinking to excess was one of the reasons Nicole "Snooki" Polizzi chose to remove herself from the show, but in reality, that's not the case. "They're filming our summer vacation-type stuff," DelVecchio explained. Sure, that includes the occasional night out, but a lot of the footage is the roommates doing mundane, everyday things. "People go home, sometimes they relax on the couch and watch TV. We do [those types of things], but they're not gonna show that, it's not good television," DelVecchio said of the footage that gets cut from an episode.
RELATED: 'Jersey Shore' Fans Aren't Sure About DJ Pauly D's Quarantine Look
When it comes time to party, the Jersey Shore roomies know how to do it best. And when the time comes to put down the drinks and fly across the country to be a parent, the Jersey Shore cast are ready and willing. "We are who we are," Vinny Guadagnino added. "That's what makes the show great. We don't go home and, like, become doctors." Instead, they continue to be their authentic selves — the fun-loving, sometimes outrageous personalities that fans see on television.
DelVecchio believes the roommates' lives are what makes the show so relatable — even their wildest moments. "I feel like people in life do [the partying that we do], they just don't put it on film," he said. And he's right. What family doesn't enjoy a meal together now and then or have a heated argument on occasion?
Jersey Shore will never feature every trip to the grocery store, every morning recap after a night of drinking, or even every one of Mike "The Situation" Sorrentino's epic buffet trips. But fans can rest assured that producers are passionate about their work on the show and work tirelessly to create episodes that entertain.