'Jersey Shore': How Did Mike 'The Situation' Sorrentino Meet His Wife?
Mike "The Situation" Sorrentino and his wife of one year, Lauren Pesce Sorrentino, have become fan favorites among Jersey Shore and Jersey Shore: Family Vacation viewers. The MTV stars got married in 2018, just two months before Sorrentino's eight-month incarceration in federal prison for tax evasion and related charges.
Pesce supported Sorrentino through a five-year legal battle and has been there for him through thick and thin. Sorrentino, a recovering drug and alcohol addict, recently celebrated four years of sobriety and has really turned his life around since his early days on MTV's Jersey Shore. The couple also recently suffered a tragic miscarriage but is hoping to add to their family soon.
But how did 37-year-old Sorrentino first meet his 34-year-old wife? The Jersey Shore couple opened up in a recent "storytime" on their YouTube channel to describe the ups and downs of their years-long relationship.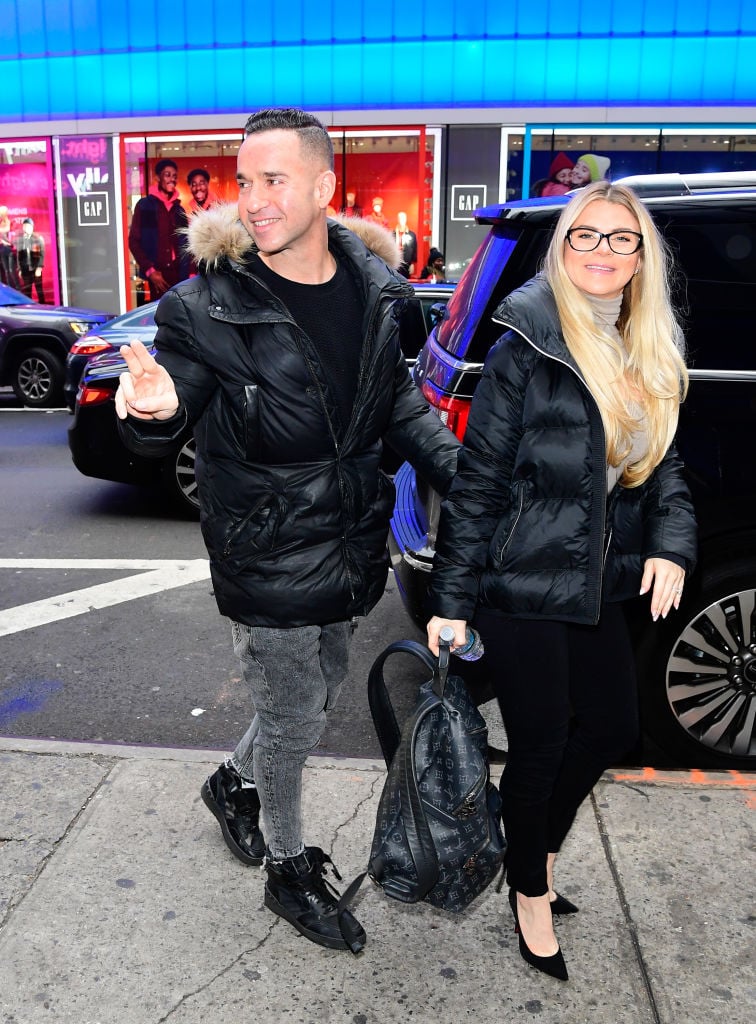 'The Situation' met his now-wife in a community college class
The Jersey Shore couple first met way back in 2004 in community college. Pesce was 19 at the time, while Sorrentino was 22.
Pesce explained in a YouTube video that she had attended classes for one semester at UCF in Florida before moving home to figure out "what [she] wanted to do with her life."
Then, Pesce explained, "We met at community college in a math class."
Sorrentino had competition for his future wife. "I had to court you first for a little bit," the Jersey Shore star explained. "There was another gentleman in the class who was also trying to court [Lauren] and eventually I won you over."
The couple got together in their young adulthood and dated exclusively for three years before taking a long break when Jersey Shore came into the picture.
The 'Jersey Shore' couple broke things off after three years of dating
When Pesce and Sorrentino began to pursue their respective careers, they decided to take some time off from the relationship. Pesce was in school in New York City for fashion and beauty, while Sorrentino signed with a fitness modeling agency and was looking for work.
"At that same time, I was discovered for Jersey Shore," "The Situation" explained. But his then-girlfriend wasn't interested in being with someone on a reality show at the time.
"Lauren told me at the time, she said, 'Listen, if this is going to be another Real World, I want no part of it,'" Sorrentino explained.
Still, the MTV star said he knew he needed to take the risk and see where the show could go. "And I said honey, listen, I have to take this chance in my life," Sorrentino said. "And if it goes well, maybe it'll work out between us. So I took the chance to film the show Jersey Shore, which was unknown at the time, and it turned out to be the biggest show ever on MTV and an international success."
Sorrentino 'conveniently' ran into his ex-girlfriend at the gym
After the first seasons of MTV's Jersey Shore ended, Sorrentino and Pesce got back together.
"It just worked out. It was honestly the right timing," said Pesce. She advised others who might be watching to take time off from their relationships if they weren't sure.
"Take a break if you need to take a break, because if you really love that person, it might work out down the road," she shared. "But don't force it, because if you force it, some explosions could happen and then you're just scarred for life. So, we took healthy breaks."
When Sorrentino's family told him that his ex-girlfriend worked out every night at a kickboxing gym, CKO, in Freehold, New Jersey, he knew he had to show up and try to win her back. The Jersey Shore star said that he thought to himself at the time, "You know what? Maybe if I go there, I can conveniently bump into her."
When the MTV star saw his future wife at the gym, he fell in love with her all over again. "When I first showed up at the kickboxing gym, I was actually, for the first time in such a long time, I kinda froze up when I saw her because she was my first love," he gushed.
And after a few weeks of dating, Sorrentino said, "We picked up right where we left off."
Pesce was never down with Sorrentino's 'partying ways'
However, things didn't immediately go perfectly for the Jersey Shore couple. Sorrentino was still struggling with addiction and acting erratically, and it caused tension with Pesce at the beginning of their reconciliation.
"I still wasn't sober, I was sort of on the edge of my party days, and I was pretty much acting up," Sorrentino admitted. "Lauren over here, she stayed the course, she wasn't having any of it at any time from day one, which is great. I still wanted to party, she wanted to start a family, she was not having any of it."
It was Pesce, the Jersey Shore star explained, who eventually convinced "The Situation" to become sober. "I went through the recovery process. You've been there every step of the way for me, believing in the person I would eventually be," he said to his now-wife.
Pesce and Sorrentino said that, although things were rough at first, they ultimately ended up exactly where they needed to be. "The road between us where we are now and where we started was not all sunshine and roses," said Sorrentino. "Happy wife means happy life. I'm trying to save you guys a lot of stress here."
"He knows from a lot of trial and error," joked Pesce.
The couple married on Nov. 1, 2018, at Legacy Castle in Pequannock, New Jersey, and recently celebrated their first wedding anniversary shortly after Sorrentino's release from prison in Sept. 2019.