'Jersey Shore' Alum Jenni 'JWoww' Farley Teased Zack '24' Clayton About His Age on Twitter
There's continuous controversy surrounding Jersey Shore: Family Vacation alums Jenni "JWoww" Farley and Zack "24" Clayton Carpinello. After everything that went down with the couple on Jersey Shore: Family Vacation Season 3, it's hard to believe that they are still on speaking terms. Whether the two are dating or not, fans love how JWoww recently teased her on-again-off-again boyfriend on Twitter.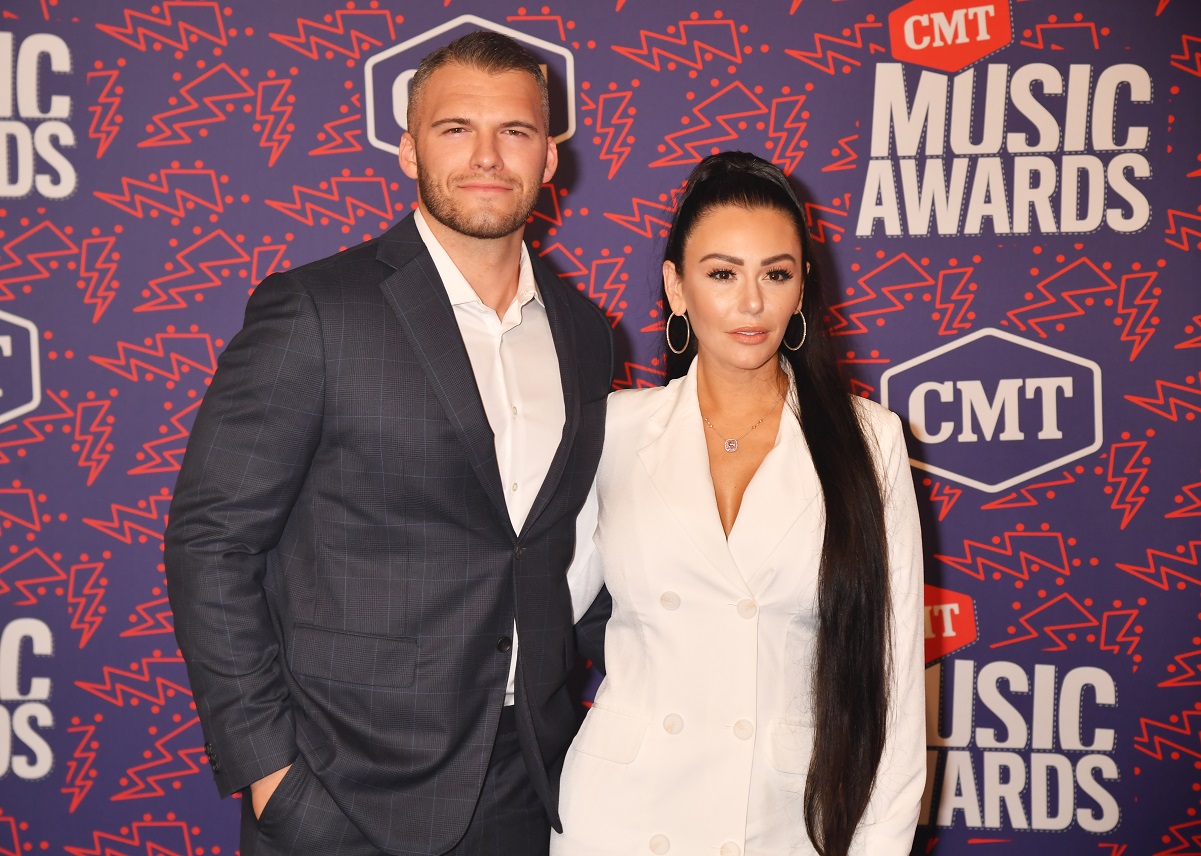 Are JWoww and 24 together in 2020?
After Carpinello was caught on camera getting inappropriately close to Angelina Pivarnick, he did apologize. The Las Vegas trip aired in October 2019, and Farley watched exactly what happened while she was passed out at the club.
RELATED: 'Jersey Shore': Jenni 'JWOWW' Farley's Recent YouTube Video With Zack '24' Clayton Leaves Fans 'Shocked and Disappointed'
She immediately broke up with 24 after watching the footage. However, JWoww accepted his apology, and the two are spotted together often. The reality TV star gets backlash anytime Clayton is in a video with her, so he shares more pictures with her than her on social media. 
"New Jersey is cool and all," Clayton captioned a recent Instagram photo hugging Farley. "But hoping we can start traveling soon. We need our time away."
The professional wrestler shares photos with JWoww's children often. He reposts articles from her new webiste, and is very involved in her life. The two are still very much in love. 
How did 'Jersey Shore' alum JWoww tease Zack' 24′ Clayton?
When 24 retweeted a funny throwback video about a hands-free telephone, JWoww could not hold back.
"Why did you retweet this @ZackCarpinello?" Farley asked. "This invention was made before you were born."
The commercial was from 1993, and Carpinello was born one year later, in 1994. It's an add for a hands-free headset to an old landline phone, which hardly anyone owns anymore in 2020.
RELATED: Nicole 'Snooki' Polizzi Finally Shares Her Plan After Quitting 'Jersey Shore: Family Vacation'
The wrestler did not clap back at JWoww. He retweeted, "Wow." It appears that their friendly banter is working in their relationship. Fans replied with an excessive amount of laughing emojis when they saw the comment. Although there is a ten year age difference between the two, it doesn't affect their relationship except for some teasing.
JWoww and 24 took Farley's children to the Jersey Shore boardwalk
In a throwback to her days in Seaside Heights, New Jersey, with her roommates, JWoww and 24, spent a night at the boardwalk together. Farley's children, Meilani and Greyson, went on numerous boardwalk rides, played arcade games, and went to the aquarium.
RELATED: 'Jersey Shore: Family Vacation': Jenni 'JWOWW' Farley Reveals She's Officially Returning — 'I'm Back B*tches'
"Going to the boardwalk had a whole different meaning just a short few years ago," one fan pointed out in JWoww's photos.
Life is certainly different at the shore now, but Farley seems happy spending time with her children and Carpinello. The wrestler commented on Farley's post with a heart, further confirming the two are an item.Fans seem to be coming around to the two dating.
RELATED: 'Jersey Shore' Fans Are Shocked That Jenni 'JWoww' Farley Is Still With Zack '24' Carpinello