'Jersey Shore': Jenni 'JWoww' Farley Wants a Spinoff Series With These Roommates
For some fans, Jersey Shore isn't the same anymore. Many people miss Nicole "Snooki" Polizzi, while others tire of the plot — are we still really talking about Angelina Pivarnick's wedding? Recently, there's been chatter amongst Jersey Shore fans about the potential for a spinoff show. Farley took to YouTube to discuss her idea for a spinoff series involving these Jersey Shore: Family Vacation roommates.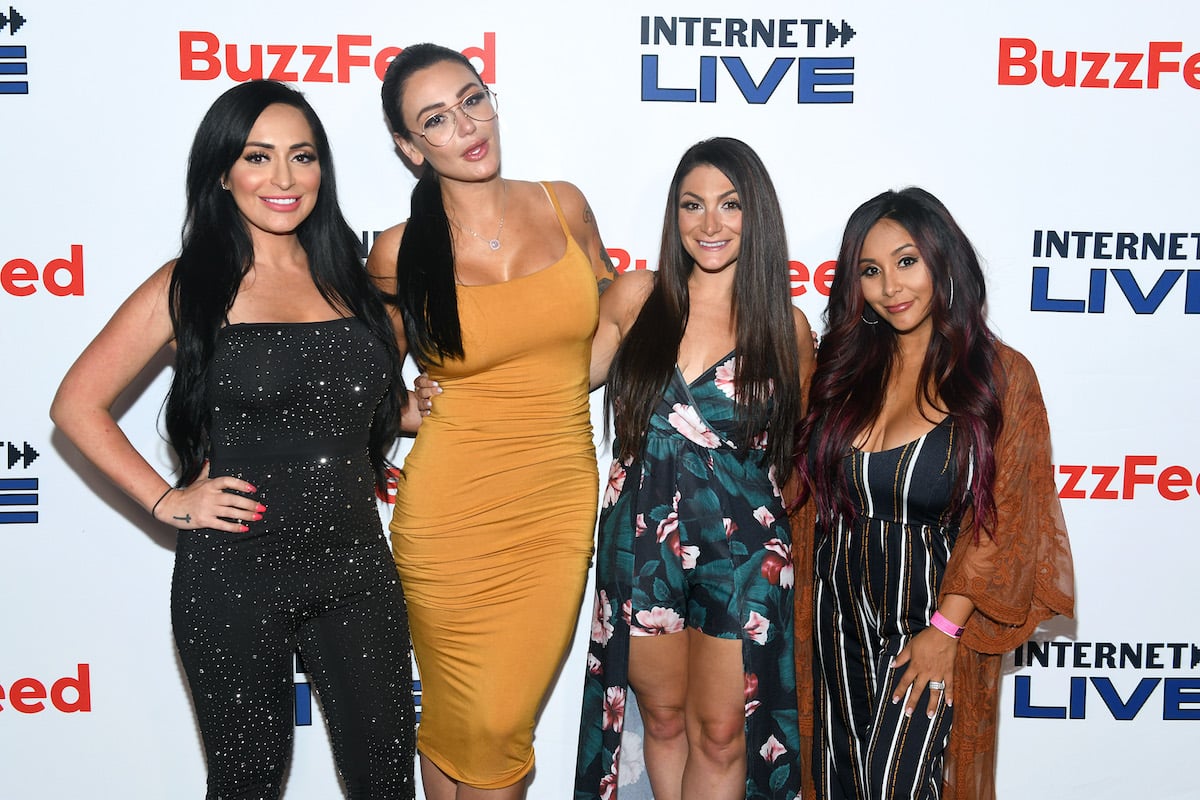 Jenni 'JWoww' Farley and Nicole 'Snooki' Polizzi already had a 'Jersey Shore' spinoff show 
After Jersey Shore became a smashing success with audiences, MTV granted several roommates their own spinoff series. Pauly DelVecchio worked on The Pauly D Project. Vinny Guadagnino went on to do The Show With Vinny. Farley and her best friend Polizzi took the world by storm in their Laverne & Shirley-style show Snooki & JWoww. 
The series aired from 2012 until 2015. Cameras followed the Jersey Shore duo as they planned Polizzi's wedding and prepared for Farley's first-born child, Meilani. Like the other spinoff shows, Jersey Shore producer SallyAnn Salsano was behind the project. Snooki & JWoww wasn't a major success, but it did garner 2.4 million viewers and a 1.1 rating among adults 18-49 (via The Hollywood Reporter). Fans enjoyed watching Farley and Polizzi, and the two had a blast making the show. Now, it seems like fans and Farley want another spinoff series like Snooki & JWoww to happen. 
'Jersey Shore' fans are petitioning for another show from 'Snooki' and 'JWoww'
Some Jersey Shore fans feel that Jersey Shore: Family Vacation has lost its appeal. Between the drama surrounding Angelina Pivarnick's wedding to the inability to film outside of a hotel because of the coronavirus (COVID-19), some fans are bored with this season. Enter the petition to bring Snooki & JWoww back. "Who doesn't want to see more of Snooki & JWoww?!" the site reads. "Hopefully us supporters of Nicole & Jenni could help bring attention to this and make MTV want to bring this show back!?" 
Fans can still watch reruns, but others want more from Farley and Polizzi — including Salsano. Despite Salsano's interest in working with Farley and Polizzi again, the project has yet to be green-lit. 
Jenni 'JWoww' Farley 'would kill' for a 'Jersey Shore' spinoff with 'Snooki' and Deena 
Farley and Polizzi have both spoken highly about working together on Snooki & JWoww. Now, Farley is willing to include Deena Cortese in the mix. "Would you do a spinoff with just Snooki and Deena?" a Jersey Shore fan asked Farley. She answered in the form of a YouTube video. "I would kill for a spinoff with my meatballs," Farley admitted, adding how the show would be titled Sausage and Meatballs. "All we would do is play with our kids," the mother of two said. Polizzi has three children, and Cortese will give birth to her second son in May of 2021.
Farley also addressed the "bucket list" of items she wants to complete with Polizzi. "Snooki & JWoww was originally going to be a bucket list show," the reality star explained. Farley is still hopeful the show could get off the ground one day — as long as Polizzi "stops having kids."