'Jersey Shore': Are Jenni 'JWoww' Farley's Dogs Still Alive?
Jersey Shore fans know Jenni "JWoww" Farley's dogs thanks to their minor appearance on the MTV series. Farley's dogs Bella and Noel played a more significant part in the Jersey Shore spinoff that came later. But it's been some time since fans have gotten a glimpse of the reality star's pooches. Are Farley's dogs still alive today?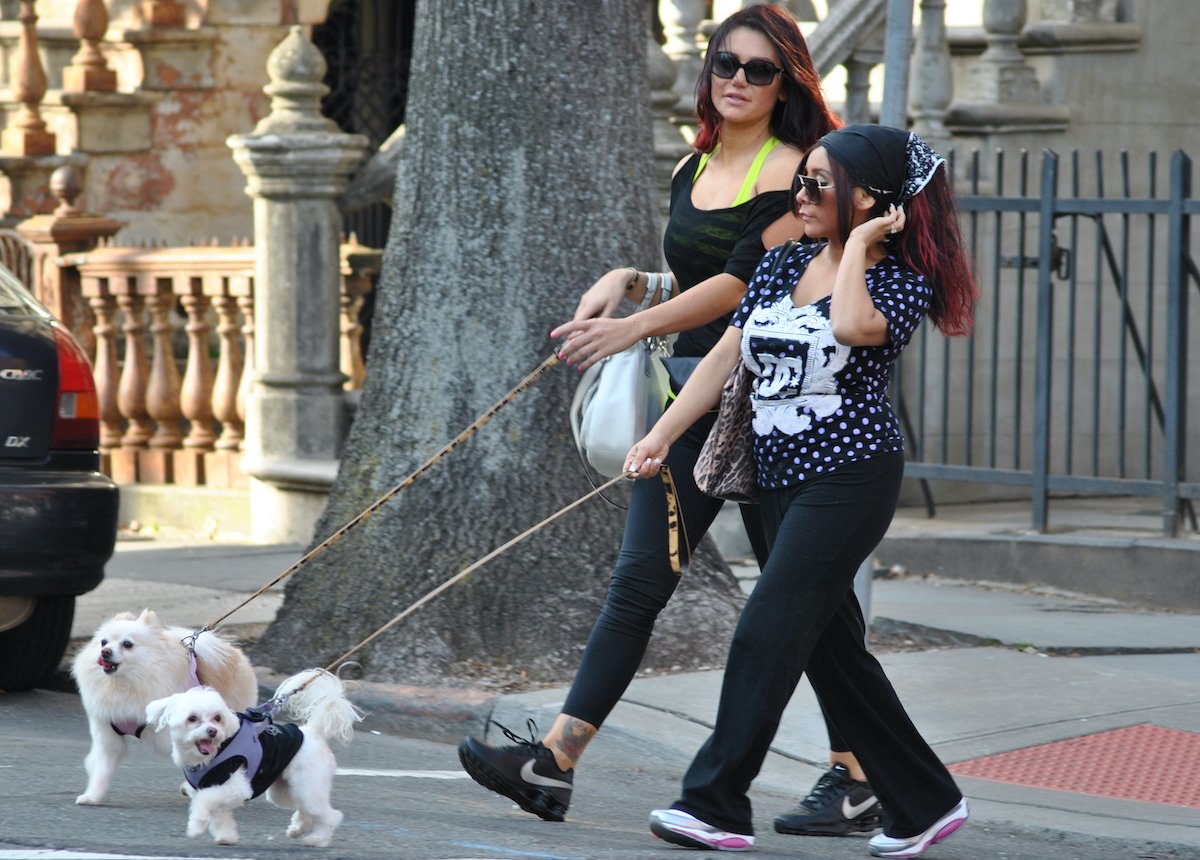 'Jersey Shore' fans met Jenni 'JWoww' Farley's dogs on the show
The Jersey Shore star had two dogs when she signed up to be on the reality series. After growing up in a household of cats, Farley rebelled and got her dogs Bella and Noel as soon as she went to college. Fans first got to see Farley's dogs after she and Tom Lippolis broke up on the show. Farley and Polizzi left the shore house to "rescue" the dogs. "You don't leave animals like that alone because they can't fend for themselves," Nicole "Snooki" Polizzi told MTV cameras. 
During an episode, Polizzi went with Farley to check on her belongings back at home. Farley's ex left the dogs behind but took other things, including her bed, a watch, a hard drive, and money. Farley's dogs spent the rest of the summer in Seaside Heights. Later, Bella and Noel became the secondary stars of Polizzi and Farley's spinoff series Snooki & JWoww. 
'JWoww' had three dogs when she was married to Roger Mathews
In addition to Bella and Noel, Farley had another dog. She and her ex-husband Roger Mathews shared Diesel, a French bulldog. Diesel was Mathews dog originally, but joined Bella and Noel's ranks when he and Farley got married. The pup was around for the birth of Farley's daughter, Meilani, who quickly became his best friend. Sadly, Farley and Mathews announced Diesel's death in September of 2015. 
"I will love you forever," Farley captioned a photo tribute for the dog. "Goodbye, Diesel. You were my best bud and my daughters best friend." As the couple revealed on social media some weeks prior, Diesel had an inoperable tumor.
'JWoww' still has her dogs from 10 years ago
Like many of her Jersey Shore co-stars, Farley is active on YouTube. She will often post Q&A videos to her channel, where she answers fan-submitted questions about her life as a reality star and the MTV series. During her Feb. 18, 2021 post, one fan wanted to know about Farley's dogs' well-being.
RELATED: 'Jersey Shore': The One Thing Jenni 'JWoww' Farley Regrets From Season 1
Fortunately, Farley's dogs are still alive. "Bella and Noel are 14-years-old," Farley shared. "They're cranky, they're senile, but they're still here, and they're still kicking a*s." Farley said Bella is the more aggressive of her two dogs, often nipping at those who try to pet her. Regardless of their attitudes, Farley still loves both dogs equally. What's more, Farley has added a cat to the mix. 
Jenni 'JWoww' Farley has two dogs and a cat 
At the time of publication, Farley has two dogs, two children Meilani and Greyson, and a kitten — Mrs. Muffins. "We named her after one of Meilani's favorite foods," Farley revealed on YouTube. Farley got her daughter the pet as a reward for "being a big girl" and sleeping in her bedroom. Farley described the kitten as feisty but a best friend to her daughter. "I already want another one," Farley admitted.