'Jersey Shore': Mike 'The Situation' Sorrentino's Top 5 Moments From the MTV Series
A celebration of Mike 'The Situation' Sorrentino's top five most talked about moments from the original 'Jersey Shore.'
Mike "The Situation" Sorrentino is the Jersey Shore roommate who has made the biggest transformation since the show began in 2009. Some of Sorrentino's top Jersey Shore memories aren't from the best of times. Still, fans of the MTV series will never forget "The Situation" for these top five moments.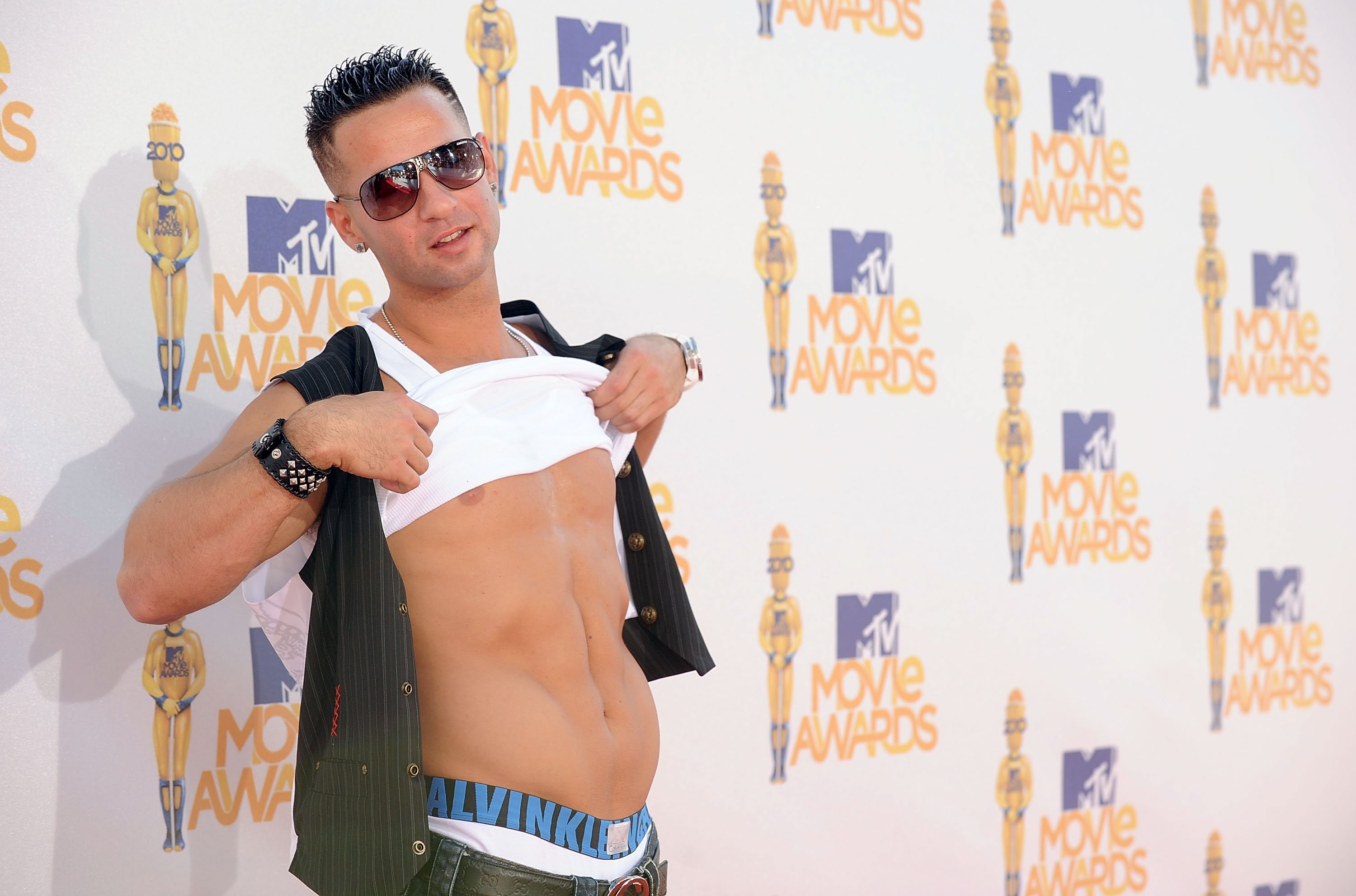 'The Situation's fling with Sammi 'Sweetheart' during 'Jersey Shore' Season 1
Before Ronnie Ortiz-Magro and Sammi "Sweetheart" Giancola became a couple on Jersey Shore, she and Sorrentino were flirting. But after one fateful night at the Bamboo nightclub in Seaside Heights, New Jersey, Giancola "made her bed" and hooked up with Ortiz-Magro. Despite the new woman he was entertaining on the roof deck, Sorrentino was disheartened by Giancola's change of heart and didn't shy away from letting her know he was upset. 
Mike 'The Situation' Sorrentino's pickle prank  
Bored in shore house, Sorrentino and Pauly DelVecchio decide to cut up some pickles to place around Nicole "Snooki" Polizzi's room. "Her bedroom will smell just the way she likes," Sorrentino says. 
With DelVecchio as a distraction, Sorrentino carefully places pickles around "Snooki's" bed and bedside table. He didn't stop there, though. Sorrentino made a "stink bomb" to put under Vinny Guadagnino's bed. The concoction consisted of pickle juice, salad dressing, grated cheese, milk, and mayo. 
'The Situation' takes Jenni 'JWoww' Farley's backhanded punch
During their season 1 trip to Atlantic City, tensions are at an all-time high between Jenni "JWoww" Farley and Sorrentino. When "The Situation" won't walk Farley back to their suite from the club, she gets upset and delivers a backhanded punch to his face. 
According to a former story and field producer, Farley had feelings for Sorrentino at the time. "She caught feelings for Mike and was trying to c*** block him that night," the producer explained on Reddit. "[Jenni] hooked up with Mike very early on. And Ron had a crush on Jenni, and they became very close before he pursued Samantha." That tension mixed with alcohol is what caused punches to be thrown.
Mike Sorrentino calls Angelina Pivarnick a 'Dirty little hamster' 
Perhaps "The Situation's" most stand-out moment comes from Jersey Shore Season 2 when the cast lived and worked in Miami. Frustrated with Angelina Pivarnick's lack of help cleaning, Sorrentino puts a dirty feminine product in her bed. Later, the two get into a heated argument where Sorrentino delivers the infamous line: "Shut your mouth you dirty little hamster." 
Mike 'The Situation' Sorrentino versus the wall in 'Jersey Shore' Season 4
Sorrentino gets into a heated argument with Ortiz-Magro regarding his relationship with Giancola in Jersey Shore Season 4. "You wanna hit me tough guy?" he screams before ramming his head into a concrete wall. As Ortiz-Magro and Giancola continue to argue, Farley checks in on the dazed and confused Sorrentino. It doesn't take long for him to bounce back, though. 
"Admit it — I don't have nothing to do with your relationship, tough guy!" he taunts Ortiz-Magro. Eventually, security has to step in to pull the roommates off of each other. Sorrentino ends up going to the hospital to get checked out, returning with a neck brace. That image has become one of the show's most iconic memes. 
Today, Sorrentino is celebrated for even more moments from Jersey Shore: Family Vacation. Many fans can't wait to see what memories he creates in the new season of the MTV series.