'Jersey Shore': Most Memorable Fights
Jersey Shore is one of the most popular reality series to ever air on MTV. With six seasons of Jersey Shore and four seasons of Jersey Shore: Family Vacation, there are plenty of memorable moments from the show — including the many brawls between the roommates. These are some of the most unforgettable fights from Jersey Shore.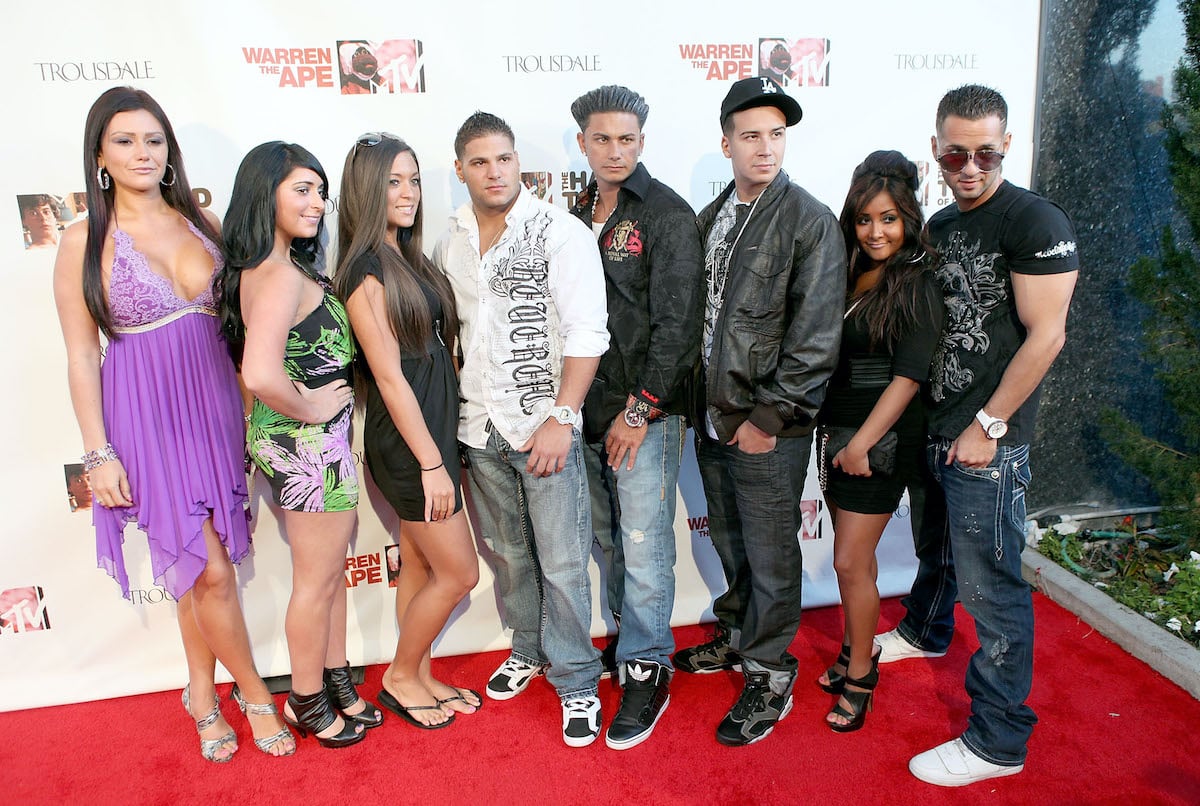 'Snooki's punch at the bar
In one of the most infamous moments in Jersey Shore history, Nicole "Snooki" Polizzi was punched in the face by a drunk patron at the Beachcomber Bar and Grill. Before the horrific situation, Polizzi felt left out in the house. But when she was struck in the face, her roommates rallied around her, forming the unbreakable bond they share today.
'JWoww's back swing
During a trip to Atlantic City in season 1, Jenni "JWoww" Farley back-handed Mike "The Situation" Sorrentino in the face after he refused to walk her back to their suite. In reality, a former producer says the punch was sparked because "she caught feelings for Mike and was trying to c*ck block him that night."
Ronnie Ortiz-Magro's 'one shot'
During the early seasons of Jersey Shore, Ronnie Ortiz-Magro got into a fight after being followed by a heckler after leaving one of the Seaside Heights night clubs. With his roommates ahead of him, Ortiz-Magro saw an opportunity to turn around and confront the person. He knocked him out in one punch and celebrated his win by screaming "That's one shot, kid!" He was later arrested. 
'The Situation' and 'Snooki' argue about hooking up
During the Italy season of Jersey Shore, Polizzi and Sorrentino got into a heated argument about what he told the roommates. Sorrentino said he and Polizzi hooked up before filming the Italy season. Polizzi said he was a liar.
"We hooked up two months ago," Sorrentino told Polizzi in front of cameras. "You're a psycho!" she responded. When Sorrentino wouldn't retract his statement, she disowned him as a friend.
'Snooki' and 'JWoww' arguing over Jionni LaValle
During a drunken night out in Italy, Polizzi "showed her vagina and boobs on the dance floor." This upset her then-boyfriend Jionni LaValle, causing him to leave the club.
When Polizzi ran crying through the streets of Italy shouting, "Where's my boyfriend?!" Farley pleaded with her to stop. Polizzi replied by screaming, "Don't f*cking talk to me!"
Mike 'The Situation' Sorrentino versus the wall
In yet another argument from the Italy season, Ortiz-Magro and Sorrentino get into it when "The Situation" furthered the turmoil in his and Sammi "Sweetheart" Giancola's relationship. After Ortiz-Magro confronted Sorrentino about something he said to Giancola, things took a bizarre turn.
In a fit of rage, Sorrentino flipped furniture and challenged Ortiz-Magro to a fight. When Sorrentino rammed his head into the concrete wall, the women in the house called for an ambulance.
Angelina Pivarnick and Nicole 'Snooki' Polizzi's Miami brawl
Angelina Pivarnick had a hard time with the roommates in season 1 of Jersey Shore. But things didn't get any easier when she returned for season 2 in Miami. Before she left the house, Pivarnick got into a physical fight with Polizzi, who ended the brawl by saying, "I'm still pretty b*tch."
Sammi 'Sweetheart' and 'JWoww' fight over 'the note'
During the Miami season of Jersey Shore, Ortiz-Magro and Giancola were at the most toxic point in their relationship. In an attempt to help their friend, Polizzi and Farley produced the infamous "note."
But when Giancola took Ortiz-Magro's side in the matter, Farley lost her cool. She and Giancola it out in the Miami kitchen in one of the most physical fights in the series.
Pauly DelVecchio gets 'positively p*ssed'
As one of the most positive Jersey Shore roommates, it's shocking when Pauly DelVecchio has an outburst. Though rare, DelVecchio has gotten angry a few times on the show.
RELATED: 'Jersey Shore': Nicole 'Snooki' Polizzi and Jionni LaValle's Relationship Timeline
One of the most memorable outburst from DelVecchio happened during an episode of Jersey Shore: Family Vacation. After being harassed by a bar patron, DelVecchio lost his cool.
"This chooch [flips] off the girls for no reason," DelVecchio explained to cameras. "I'm a positive guy, but the only thing this guy's doing to me Pauly D positively p*ssing me off, this is such a nice place."
Jenni 'JWoww' Farley and Angelina Pivarnick's dinner argument
After getting too drunk and losing track of time in Las Vegas, a "he-said-she-said" battle developed between Pivarnick and Farley. On the one hand, Pivarnick accused Zack "24" Carpinello of getting too physical with her. On the other, Farley believed Pivarnick tried to kiss Carpinello.
The tension culminated during a dinner in season 3 of Jersey Shore: Family Vacation when Farley accused Pivarnick of lying about her nipple piercing.