Fans Believe 'Jersey Shore' Never Would Have Lasted Without This 1 Roommate
MTV's epic show, 'Jersey Shore' would not have blown up like it did without this one roommate.
From 2009 to 2012, MTV's controversial show — Jersey Shore — about eight "Guidos" and "Guidettes" became a pop culture phenomenon. The roommates quickly became famous, but fans believe the show would never have made it without this one person.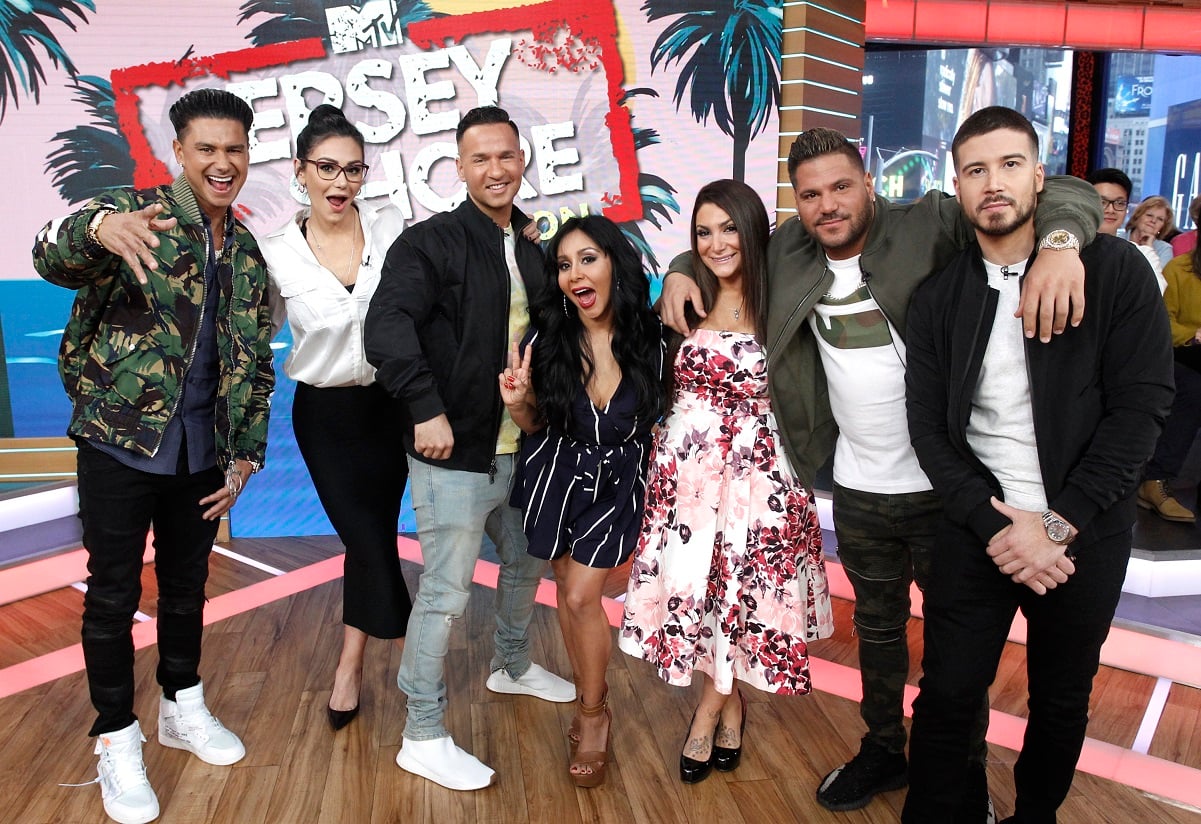 How did the 'Jersey Shore' producers cast the roommates? 
Sally Ann Salsano devised the concept for Jersey Shore, inspired by her summers staying in a Jersey summer shore house. 
Casting for the show was looking for "candor, honesty, boldness and a very combustible, chaotic mess," MTV Networks President Van Toffler told TV Guide at the time. "You could honestly say none of these people were traditionally beautiful."
Nicole "Snooki" Polizzi recalls that she was going to college to become a veterinary technician when she saw the MySpace ad, "calling for all Guidos and Guidettes." 
Although Polizzi is Chilean, she feels that she is an Italian-American due to her upbringing. Her parents adopted her as a baby and raised her in their Italian family. The eight roommates all responded to that same casting call, although Jennifer "JWOWW" Farley is Irish and Spanish. Three other roommates are only of partial Italian descent. 
MTV was looking more for that fun, bold attitude when they cast the roommates. 
Which 'Jersey Shore' star could the show not survive without?
Snooki almost left the Jersey Shore House after the first episode. However, Samantha "Sammi Sweetheart" Giancola talked her into staying. Fans often wonder if the show would have blown up as it did without Snooki. 
"If Snooki left, the show wouldn't have lasted longer than a season," one fan wrote on Reddit. "Or it would go forward with its original format, to be like Real World and with a different cast every season."
Many fans agree that Snooki is their favorite character, and without her, the show wouldn't be the same. 
"Snooki was adorable the second she walked through the door," another viewer added. "She just came on strong."
Other fans add in several hilarious moments that might not have happened without Snooki. For instance, the punch became one of the highest-rated episodes. 
"She even put that duck phone on the map when she didn't know how to use it during the first episode," another fan added. "She was the ultimate Guido/Guidette. The first season press all centered around her and the punch."
Who is the most popular 'Jersey Shore' roommate?
If we look at popularity based on who has the most substantial Instagram following, Snooki is again the clear winner. She has 13.5 million followers. JWOWW comes in second with 7.5 million. Pauly "DJ Pauly D" DelVecchio has 4.2 million. Vinny Guadagnino has 3.7 million followers. 
Deena Nicole Cortese and Sammi both fall in the middle with 3.1 and 3.2, respectively. Mike "The Situation" Sorrentino only has 2.4 million. Ronnie Magro has 2 million. Angelina Pivarnick ranks lowest with only 1.1 million followers.
Although it depends on who is doing the ranking. An article written by Complex found that Pauly D ranked number one over Snooki because of his classic lines that viewers couldn't get enough of. 
"Cabs are herrrre," and "T-shirt tiiiiiiiime" are iconic lines that we will never forget. The show wouldn't have been the same without Snooki or Pauly D.