'Jersey Shore': Nicole 'Snooki' Polizzi's 5 Most Iconic Reality TV Moments
"Party's here!" Nicole "Snooki" Polizzi is nominated for the Reality TV Star of 2021 at the People's Choice Awards. So, we're celebrating the Jersey Shore star's most iconic moments from the original MTV series. From her entrance into the shore house to the hilarious name she called her now-husband mid-coitus, we'll never forget "Snooki" for these Jersey Shore moments.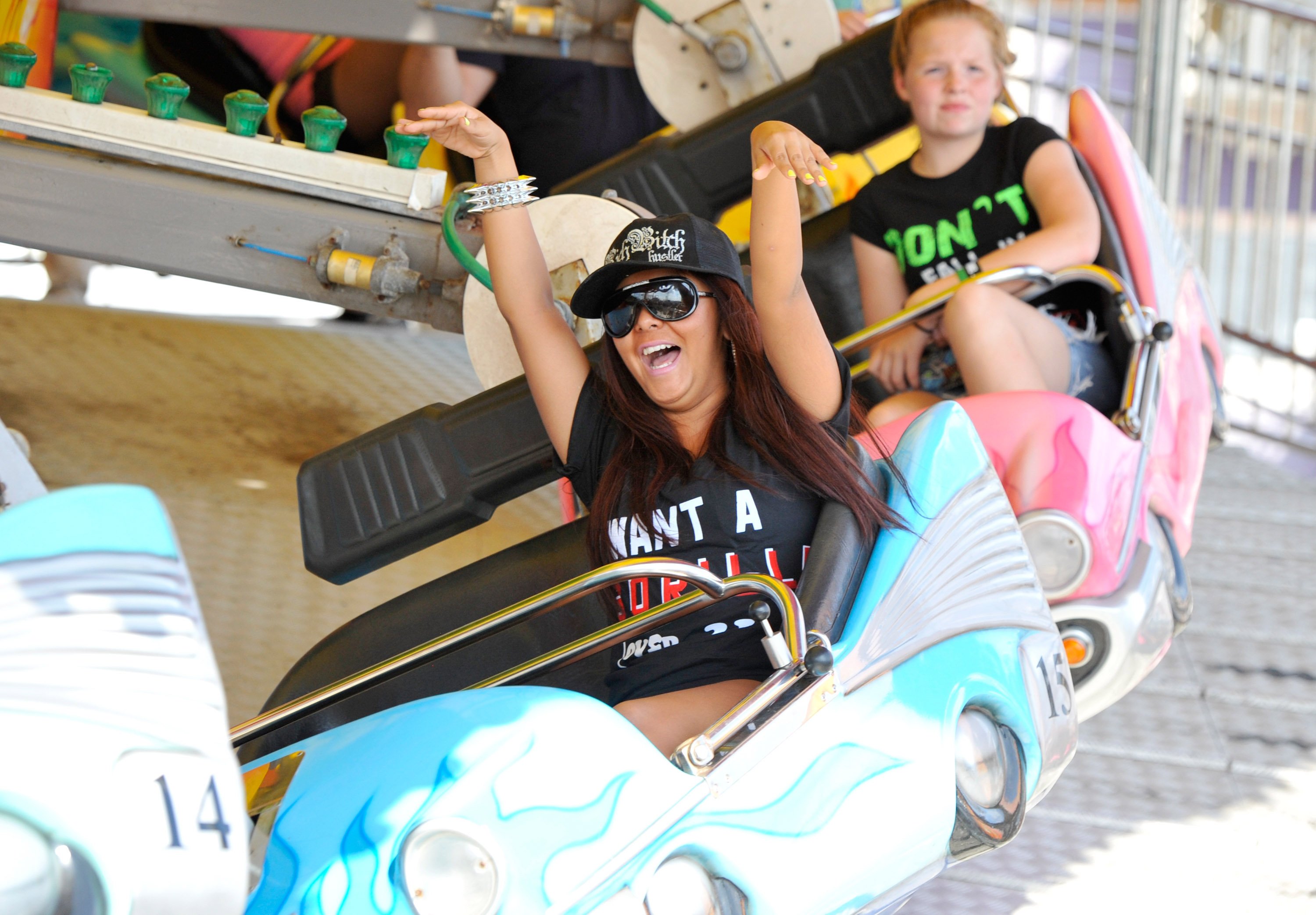 Nicole 'Snooki' Polizzi's entrance into the 'Jersey Shore' house
After impressing the casting producers for Jersey Shore, Polizzi was sent to Danny Merk's shore house to meet the rest of her roommates. "Party's here!" Polizzi exclaimed when she entered the house in the premiere of what would become one of MTV's most successful reality TV series. 
While "Snooki's" first night in the house was a rocky one — she ended up getting too drunk and leaving a bad taste in her roommates' mouths — she quickly became part of the family and a favorite among fans.
'Where's the beach?!'
Polizzi had herself a day in Jersey Shore Season 3, Episode 3. After drinking excessively with strangers on the boardwalk, Polizzi ran into Deena Cortese and Jenni "JWoww" Farley. "She's on like a 24-hour binger," Farley told cameras. 
Suddenly, Polizzi was darting across the boardwalk in search of the beach. "Where's the beach?!" Polizzi screamed. "It's right there," a man on the bench informed her. "Where else would it be?"
Later that day, Polizzi delivered another iconic Jersey Shore line: "I'm a f****** good person." In a YouTube video years later, "Snooki" explained she was looking for the entrance to the beach, not the actual beach. 
The 'Jersey Shore' note Nicole 'Snooki' Polizzi and Jenni 'JWoww' Farley wrote
In Jersey Shore Season 2, Episode 5, Farley and Polizzi made history, but it was all thanks to Ronnie Ortiz-Magro and Sammi "Sweetheart" Giancola's toxic relationship. While they weren't together at the beginning of the season, "Single Ronnie's" actions still hurt Giancola. 
Bothered by Ortiz-Magro crawling into bed with Giancola after a night of making out with other women, Polizzi and Farley took it upon themselves to fill Giancola in. "Should we do it in pink font?" Polizzi said as she typed what Farley was dictating.
RELATED: 'Jersey Shore': Sammi 'Sweetheart' Giancola's Most Iconic Moments From the MTV Reality Series
"Sam, the first night at Bed when you left, Ron made out with two girls and put his head in between a cocktail waitresses breasts," their letter started. "Multiple people in the house know; therefore, you should know the truth." 
What Polizzi and Farley didn't know was the divide the note would cause in the house. Later in the season, Giancola and Polizzi made up. "Obviously, it ruined our friendship," Polizzi told Giancola at the time. "You know I was just trying to be a good friend to you and it's sad that we don't have that anymore." 
Giancola understood. "I'd rather talk just us because I have my own issues with [Farley]."
Nicole 'Snooki' Polizzi forgets Jionni LaValle's name the first time they hook up on 'Jersey Shore'
Polizzi met her husband in season 3 of Jersey Shore. But the first time they hooked up, she couldn't remember his name.
After being interrupted by her roommates, Polizzi and Jionni LaValle got intimate. "Say my name," LaValle asked of Polizzi. There was a long pause, to which he followed up with: "Oh my God." 
"No, I know it!" Polizzi insisted. She landed on Bernard. Despite LaValle's disgust that night, he and Polizzi got married in November 2014. 
'No, she died'
In Jersey Shore Season 2, Episode 2, a friend of Angelina Pivarnick's called the Miami house. Frustrated with her roommate, Polizzi answered the phone. When the person on the other line asked to speak to Pivarnick, Polizzi responded with the iconic line: "No, she died." 
Tune in to the People's Choice Awards on Tuesday, Dec. 7 to see if Polizzi or her Jersey Shore co-star Mike "The Situation" Sorrentino take home the win for Reality TV Star of 2021.
RELATED: 'Jersey Shore': Lauren Sorrentino Reveals How She Feels Watching Mike 'The Situation' Sorrentino in Early Seasons