'Jersey Shore': Pauly D Denied Jenni 'JWoww' Farley in the Past
Pauly DelVecchio and Jenni "JWoww" Farley were moments away from hooking up on the May 7 episode of Jersey Shore: Family Vacation. The two played coy with each other as their roommates encouraged them to spend the night together.
Ultimately, that's not what happened. Then fans learned something shocking — that wasn't the first time DelVecchio denied Farley.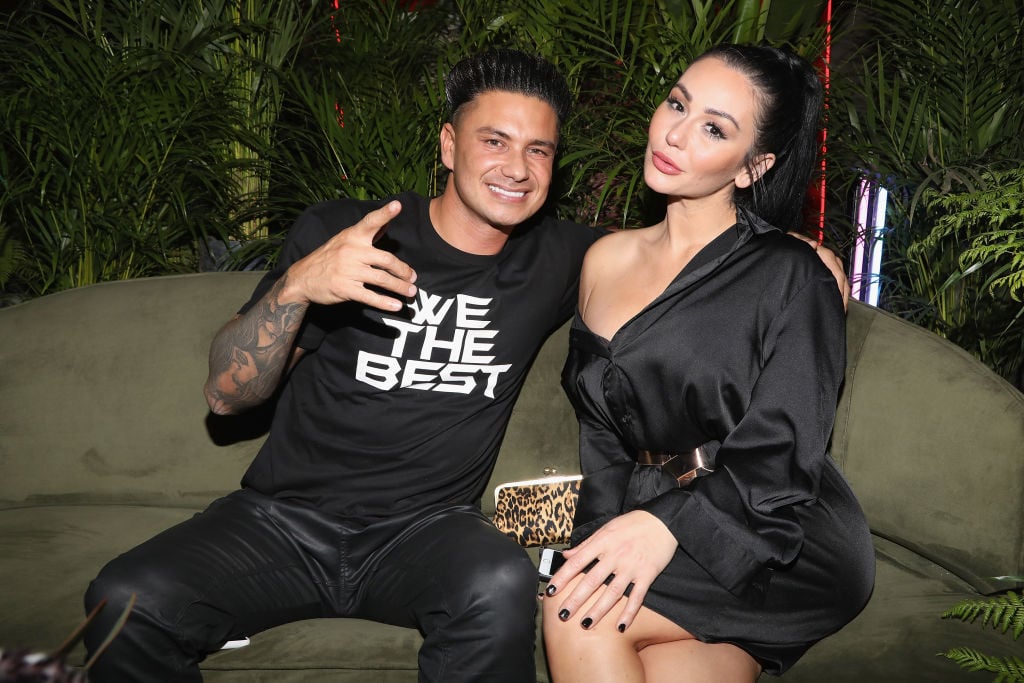 'JWoww' and Pauly D hooked up during season 1
During the first season of Jersey Shore, Farley had cheated on her boyfriend at the time, Tom Lippolis, with DelVecchio. As one of the most memorable Jersey Shore hookups, Farley marveled at DelVecchio's explicit piercing in the iconic twin-sized beds of their Seaside Heights, New Jersey shore house.
That's why 10 years later, Vinny Guadagnino was so encouraging. "I 100 percent want Pauly and Jenni to hook up," Guadagnino said during the episode. "To see Jenni hook up with Pauly now, that would be like watching greatness all over again. That would be like if Michael Jordan decided to play one more game with Scottie Pippen, just for old time's sake." 
Unfortunately, nothing happened between the two that night in New Orleans. The trip was right after all of the Jersey Shore: Family Vacation footage from Las Vegas aired, so Farley was going through a rough patch with her ex-boyfriend at the time, Zack "24" Carpinello.
Pauly D denied 'JWoww' before
During the May 7 episode of Family Vacation, Farley explained to Angelina Pivarnick how she had tried to pursue something with DelVecchio before. Just after she filed for divorce from Roger Mathews in Sept. 2018, Farley went back to a hotel room with DelVecchio. "Me and Pauly had a nice dinner together that night," Farley explained to Pivarnick. "And then we went home together. And he shut the door on me."
"Pauly and I have this weird past," Farley told MTV confessional cameras. "He surprised me for my birthday and I went back to his hotel room and it just didn't work out like that. So I decided to just end it there. I mean, obviously, that was terrible. So yeah, I really don't know what to say. I would have totally went and did dirty things with Pauly."
Discouraged by their past events, Farley left the decision to make a move up to DelVecchio.
DJ Pauly D wanted to hook up with 'JWoww'
Confused as to why DelVecchio would ever deny Farley, Pivarnick went to his hotel room to seek answers. "Obviously, I wanted to [hook up with her], but I didn't know if I was supposed to cross that line or not," DelVecchio explained regarding their time in New York.
"And then I slept on it and dude swooped in," he added, referencing the beginning of Carpinello and Farley's relationship. "At that point, I didn't even know she wanted to. What happens if I do it, and she gets back with the dude tomorrow?"
Will 'JWoww' and Pauly D ever date?
Knowing what we know about their past, the most exciting thing to come out of Jersey Shore: Family Vacation is the idea that Farley and DelVecchio could end up together.
"I love Pauly for so many reasons, and I feel like because of that, there actually would have to be substance there before I actually sleep with him," Farley admitted. "Because this isn't 10 years ago, I don't want to be just one of those girls that like him because of his success. I also don't want to be treated like one of those girls, either."
Farley also said she "would be very open to talking to Pauly," but she had yet to see that DelVecchio reciprocate that desire.
Farley is currently back together with Carpinello, despite the tumultuous time the two had after the infamous Las Vegas episode of Family Vacation aired. Given their current relationship status and DelVecchio's participation in another season of Double Shot at Love, who knows what the future holds for him and Farley. 
Perhaps, when Jersey Shore: Family Vacation is said and done, and the cameras stop rolling, the two can finally pursue a relationship together. But until then, fans will have to enjoy the cat-and-mouse flirting thing DelVecchio and Farley have going on.