'Jersey Shore' Producer Shares Which Cast Member Was the Most Difficult to Work With
Find out which 'Jersey Shore' roommate was difficult to work with, according to a former producer who worked on the MTV series.
From drunken fights to running head-first into concrete walls, each Jersey Shore  roommate has been in a trying situation at one time or another. Still, the crew continues to film, because that's what reality television is all about.
According to a former producer for the series, one Jersey Shore roommate was more difficult to work with than the others. Find out who they thought was the "worst to work with."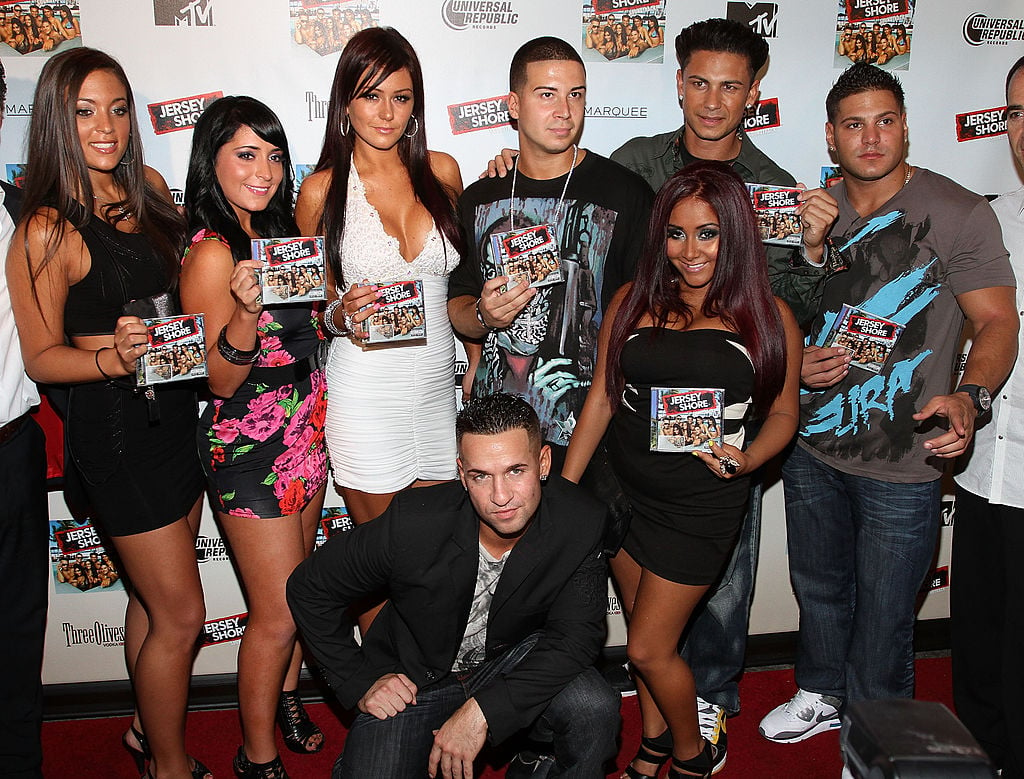 The cast of 'Jersey Shore' make for great TV
It's fair to say that each of the Jersey Shore roommates have been situations that make for good television, but it's likely some of those decisions created a challenge for production. The production crews working on Jersey Shore have their work cut out for them when it comes to creating entertaining, but appropriate episodes.
Producers have become like a second family to the 'Jersey Shore' cast
The Jersey Shore cast spend a lot of time with producers — in fact, production are some of the only people the cast can interact with when the show films. During early seasons, the roommates were limited to one call home a week. As such, relationships are formed. Sometimes, these relationships can make or break what ends up being included in an episode. According to a former story and field producer on the show, not every roommate was a pleasure to work alongside. 
Angelina Pivarnick is hard to work with
According to the previous producer, Pivarnick was the most challenging roommate to work with. "Dear God, I still have PTSD," they shared from a since-deleted Reddit account. They explained the many instances where Pivarnick made it difficult for them to do their job. 
"[Angelina] would routinely alienate herself from the others when there were no issues," the Jersey Shore producer said. "It really came across as condescending. Many times, the roommates would reach out to her and try to give her helpful advice and she wouldn't ever take it. In fact, she would do the opposite of it, to get a reaction and basically tell everyone to 'f*ck yourself.'"
The producer also mentioned that Pivarnick would break the fourth wall or look directly into a camera when filming, rendering the footage unfit for an episode. Another thing that made Pivarnick difficult to work with was her presumed penchant for lying. "[Angelina] lied about things to protect her ego," said the producer. "Literally would lie about the most harmless and pointless stuff like cleaning. She never cleaned up around the house. And she was the one cast member that was the messiest. So when Mike called her out, and she said she cleaned the bathroom, he exploded because she was telling a bald-faced lie." 
Producers edited Angelina to look negative
Despite this producer's feelings toward Pivarnick, they did say how she came off on the show came down to editing. "[Angelina] didn't get the best edit," they shared. "Not that there was a lot of good to show but most of her edit was negative and dramatic." According to the former Jersey Shore producer, the way Pivarnick was portrayed on the show was because she was rude to production and the crew working on the series. "For anyone who wants to be on reality television, always be kind to production," they suggested. "I can't tell you how many shows will give a person a raw edit, only because they were a pain in the a*s to work with."
Who is the easiest to work with on 'Jersey Shore'?
According to this producer, Deena Cortese was one of the most fun to work with. "My favorite was Deena because she was low maintenance and just so grateful to be there!" the producer said in another Reddit thread. Another favorite for this producer was Nicole "Snooki" Polizzi. "Snooki really is that hysterical," they added. "You can't make up the sh*t that she says and does. Her and Mike were born to be reality television stars."