'Jersey Shore': Production Cut This Story Because It 'Didn't Make Sense'
Jersey Shore isn't a scripted series — but it is a heavily edited show designed to entertain. Naturally, that means fans don't get to see everything that goes down between the Jersey Shore roommates. A former producer from the show explained how some of the most interesting scenes were cut from season 1 and, more importantly — why.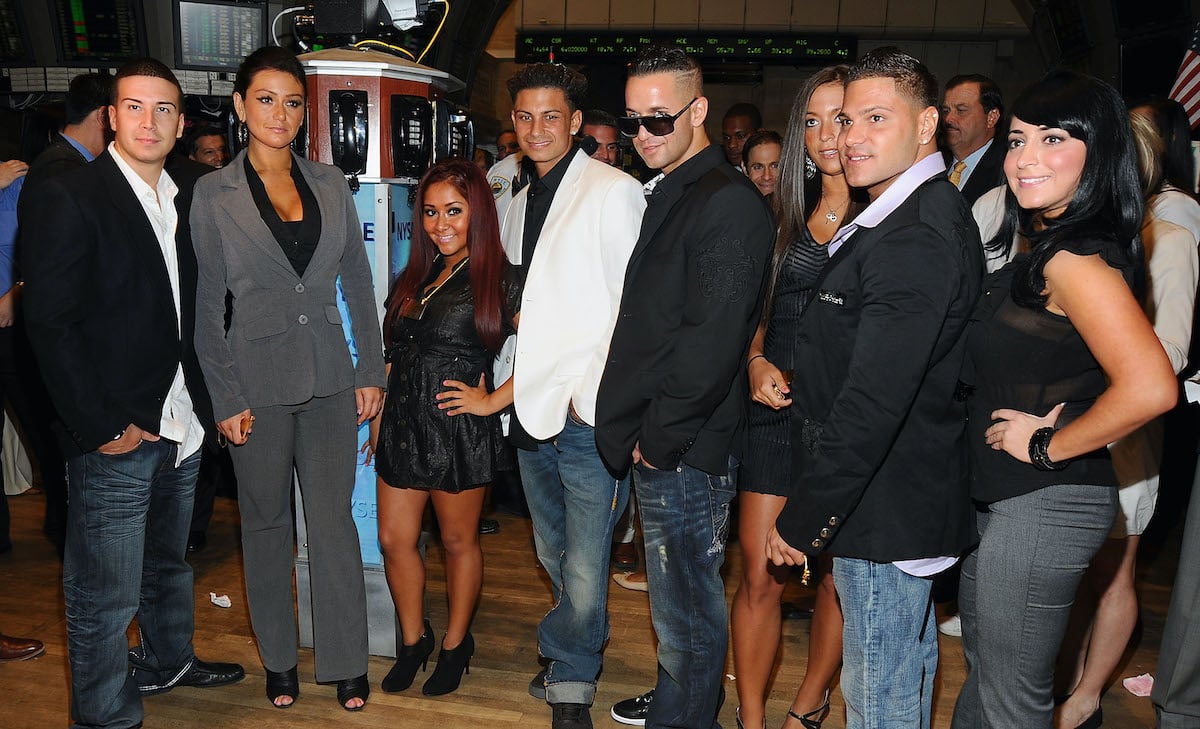 Sammi 'Sweetheart' Giancola wasn't the only one to hook up with Mike 'The Situation' Sorrentino during 'Jersey Shore'
Before she started dating Ronnie Ortiz-Magro, Sammi "Sweetheart" Giancola had her sights set on Mike "The Situation" Sorrentino. Unfortunately, it didn't work out between them, as evidenced by the footage that aired on MTV.
Season 1 featured many hookups. Fans got to see Jenni "JWoww" Farley hook up with a roommate, Pauly DelVecchio. But what fans didn't get to see is the hookup that occurred between Farley and Sorrentino.
A fan on Reddit asked the former producer about the hookup, wondering whether or not it was true. 
"They hooked up in Season 1, which is what fueled [Farley punching Sorrentino] in the mouth," the producer explained, adding:
[That] was later turned into a story by production. Originally, Jenni and Mike just made out but Jenni definitely pursued him more when she was intoxicated. There were a few more intoxicated [arguments] during this season between these two.
The hookup between Jenni 'JWoww' Farley and Mike 'The Situation' Sorrentino caused big problems in the 'Jersey Shore' house 
As this producer pointed out, Farley was way more interested in Sorrentino than he ever was in her. But in reality, Farley initially tried to pursue DelVecchio.
"I think she tried to mess around with Pauly first to see if there could have been a potential relationship," the producer explained. "Jenni knew there would be nothing there because of Pauly hooking up with someone that next day." 
When Sorrentino started to pursue Giancola, things went sour. This producer referred to the Jersey Shore hookups as "love hexagon." 
"Mike wanted Sam, [but] Sam got with Ron," the producer explained:
Ron got with Sam but crushed on Jenni. Jenni got with Pauly but wanted Mike when she was intoxicated. Mike wanted Jenni but backed off when Jenni would mention her boyfriend, so Mike would go back to trying to break up Ron and Sam.
Producers didn't air 'JWoww's hookup with 'The Situation' because it didn't make sense for the storyline 
Per the Jersey Shore producer, Farley and Sorrentino's hookup didn't align with the story production had laid our for Jersey Shore Season 1. 
"We decide to leave certain stories out because we work on a storyline that revolves around MTV/VH1, the viewers, marketing, and the brand of 495 Productions," they explained in another Reddit comment. "It just wouldn't have made sense to include the Mike and Jenni hookup. It would have gotten too complicated too early on and would have encouraged viewers to watch something else."
For this producer, Farley and Sorrentino's hookup was interesting enough! 
"Honestly, I wish we would have kept this storyline in, but I understand why we didn't," they said. "It was a little too confusing and didn't make sense with the way production wanted to present the show to MTV. They didn't want it to look like one big orgy, though I guess it kind of was LOL. No offense to Jenni, though!"