'Jersey Shore': Ronnie Ortiz-Magro Says Mike Sorrentino Became 'Like a Brother' During the Year He Was in Prison
Ronnie Ortiz-Magro and Mike Sorrentino used to not get along. Find out how the 'Jersey Shore' co-stars became closer and more.
Multiple Jersey Shore cast members have gotten into an argument with Mike Sorrentino at some point. That includes Ronnie Ortiz-Magro, who wasn't happy when Sorrentino suggested he go to rehab. Now Ortiz-Magro thinks of his co-star like a brother. Find out what he had to say about their friendship and more.
Mike Sorrentino suggested Ronnie Ortiz-Magro should go to rehab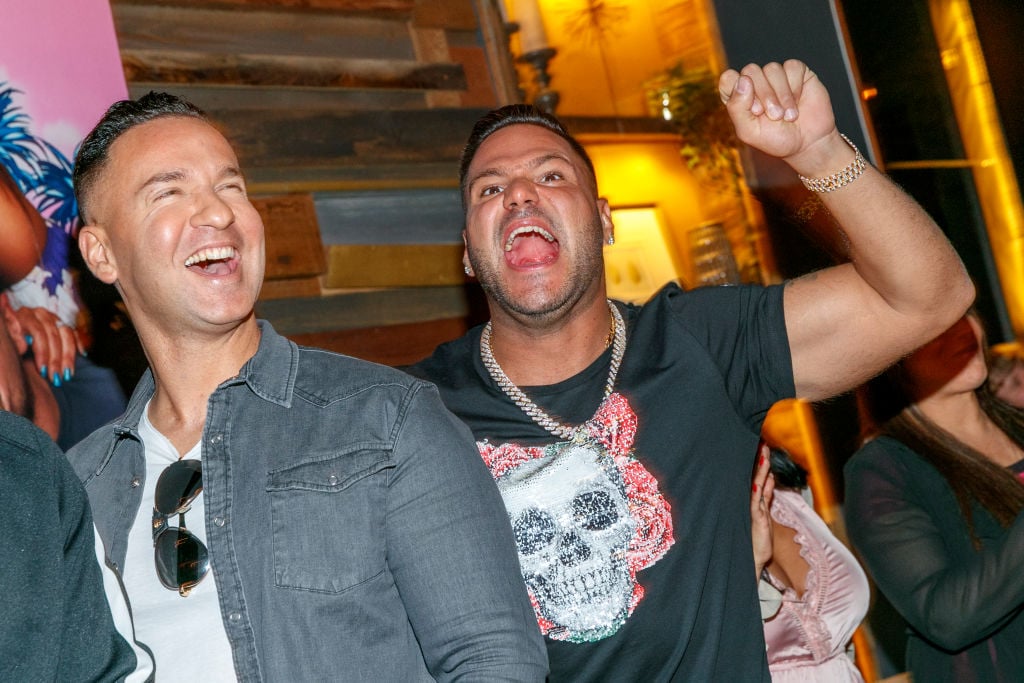 Sorrentino got sober and saw that Ortiz-Magro was struggling. He suggested he go to rehab on the show, but that didn't go over well.
"When I like to drink, I like to f*cking party," Ortiz-Magro said, according to People. "I didn't make it my life. You made it your life. You let it affect your whole life, you let it destroy your life. So don't sit here and f*cking say I need rehab. Look at you! You f*cking got a tax evasion, you almost lost everything you f*cking earned."
Ortiz-Magro went to rehab early last year. He decided to get treatment for alcohol abuse and depression.
"I decided to go to treatment because I wanted to be a better person, a better father for my daughter," the reality star told Us Weekly. "Eventually, all the bad decisions I was making were going to lead me to places that I didn't want to be. I wanted to be led to the place that I am now – that's happy, healthy and the best role model for my daughter."
He continued, "I think it's a chronic disease. It's a progressive disease. I'm still struggling. You stop and you start up again, and it's worse than when you stopped. You're just like, 'Wow, I thought I had this under control,' but at the end of the day, it has full control over you."
The 'Jersey Shore' cast kept in touch with Sorrentino in prison
Sorrentino went to prison for tax evasion. The cast was still able to keep in touch with him and Nicole Polizzi told E! News what he was doing in prison.
"It's like he's in a senior home, he's playing Bingo, he's helping people recover in jail," she claimed. "We all talk to him through an email, so I talk to him like once a week. He's in the gym a lot, so he's probably gonna come out ripped. You know, he's not gonna be BDS anymore–Big Daddy Sitch–he's gonna have his, probably, six-pack again. But he's doing…he's doing good in there."
He was later released and back to filming Jersey Shore: Family Vacation. The cast members talked about their connection with Sorrentino.
He said Sorrentino became like a brother to him
The cast reunited with Sorrentino after he went to prison for a family dinner. Us Weekly covered it and talked to Ortiz-Magro about their friendship.
"Over the last year, we've got really, really close. I would consider him like a brother," he said. It's not a secret that Ortiz-Magro had issues of his own and talked about that.
"I feel really good. I feel like last year, I was just in a really dark place and I was very dependent and codependent on certain things," he said. "I thought they were going to solve my problems and I didn't want to face my issues. And then I finally woke up and realized I'm the only one that has control over the things that happened in my life, and I decided I wanted to take control of my life again."
Fans will soon see what it was like for the cast to reunite. Jersey Shore: Family Vacation is returning on MTV on Feb. 27 at 8 p.m. EST.