'Jersey Shore' Producer Says This Roommate 'Was Not Raised Properly or With Any Sort of Manners'
Find out which 'Jersey Shore' roommate made it difficult for producers to do their job behind the scenes.
The Jersey Shore roommates are no strangers to drama, especially when the cameras are around. But behind the scenes, most of the roommates are respectful toward the crew who make the show possible. But there's one roommate who could use a reality check. 
Two former producers who worked on the early seasons of Jersey Shore have been outspoken about Angelina Pivarnick and how rude she was while filming the show.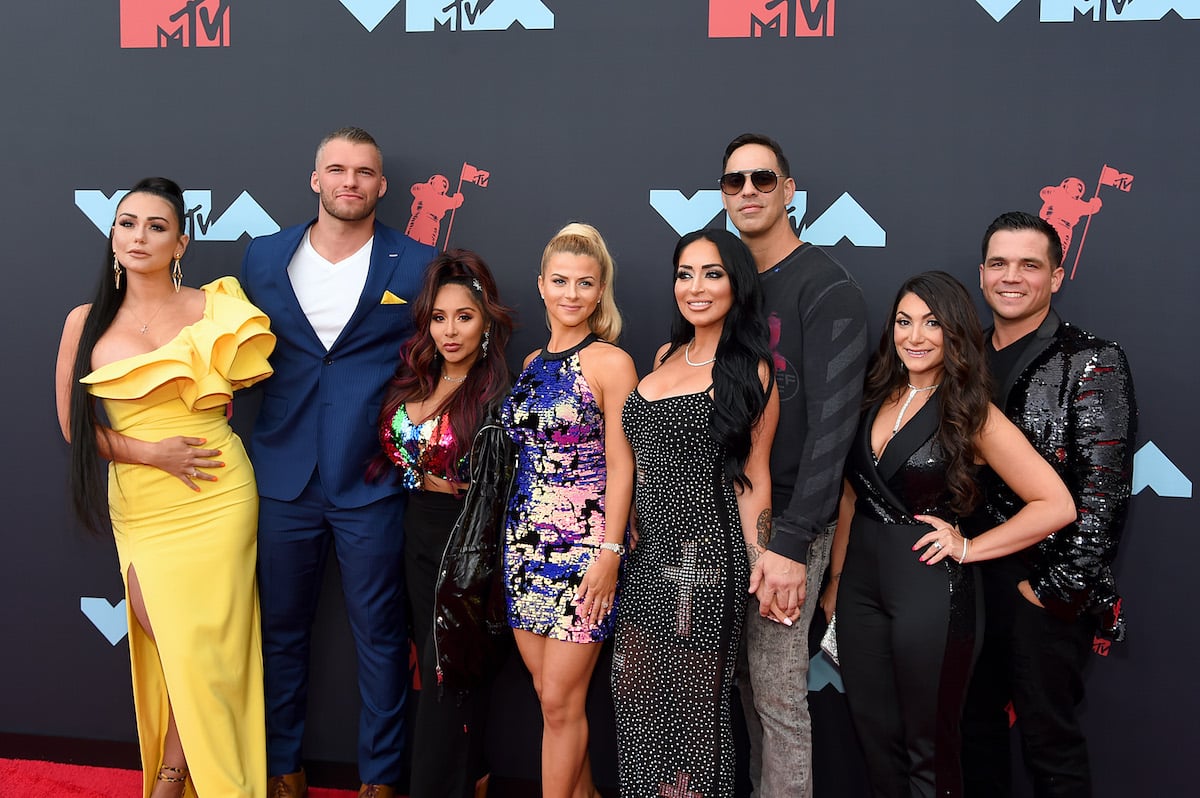 Angelina Pivarnick alienated herself during the early days of 'Jersey Shore' 
One former producer who worked on the Jersey Shore series said they still had "PTSD" from working with Pivarnick.
"[Angelina] would routinely alienate herself from the others when there were no issues," the producer shared from a since-deleted Reddit account. "It really came across as condescending."
According to this Jersey Shore producer, there were many instances where the other roommates would reach out to Pivarnick and offer her advice. Unfortunately, Pivarnick never took it. In fact, she would do the opposite to get a reaction and basically tell everyone to 'f*ck [themselves].'"
Angelina Pivarnick made filming difficult 
Jersey Shore producers are tasked with capturing the best footage without getting involved. Even if fights were going down, the Jersey Shore crew avoided getting involved to keep from breaking the fourth wall. 
Pivarnick, on the other hand, would break the fourth wall all the time. That same producer recalled how Pivarnick would often look directly into the camera — something the roommates were asked not to do — and render the footage useless. 
Pivarnick also had a penchant for lying, making this producer's job more difficult. "[Angelina] lied about things to protect her ego," said the producer, who continued: 
Literally would lie about the most harmless and pointless stuff like cleaning.

She never cleaned up around the house. And she was the one cast member that was the messiest. So when Mike called her out, and she said she cleaned the bathroom, he exploded because she was telling a bald-faced lie.
Another producer spoke out about Angelina Pivarnick, calling her a 'blatantly rude individual'
Another Jersey Shore producer spoke out about Pivarnick's personality behind the scenes. This person also opened up on Reddit and answered fan questions during an Ask Me Anything forum. When asked about Pivarnick's attitude toward the crew, the producer didn't hold back. 
"In my opinion, it seems as if she was raised to get what she wanted constantly — spoiled if you will," the second producer started, adding: 
However, at the time of filming, she was a grown woman. There was no excuse for acting the way she [acted] at times.

From what I recall, she would constantly disrespect the staff by cussing them out, demanding she did not want to film at certain times, though that's what she signed up for (especially during Season 2), and was just blatantly a rude individual in general.

I know everyone tries to walk on eggshells around that fact but she was generally distasteful in my eyes. I couldn't stand her. The castmates were hard on her for a reason — that is the way she was to everyone, including the people working for the show. 
That same producer explained how Pivarnick treated Danny Merk, Shore Store owner and landlord of the shore house, was how she treated the people working behind the scenes. 
"She just was not raised properly or with any sort of manners, as harsh as it may sound," the producer said. 
Both producers who worked with Pivarnick seem to have had similar experiences. What's more, both producers have nothing but good things to say about the other Jersey Shore roommates.