'Jersey Shore': The Roommates' Zodiac Signs Explain Their Iconic Moments on and off the MTV Series
The 'Jersey Shore' roommates' star signs say a lot about their actions on the MTV show -- good and bad.
The Jersey Shore roommates have been a part of fan's lives for more than 10 years. While many fans might not know the roommates' zodiac signs, they say a lot about their actions. Find out why each Jersey Shore castmate's star sign perfectly explains their most iconic moments on the show.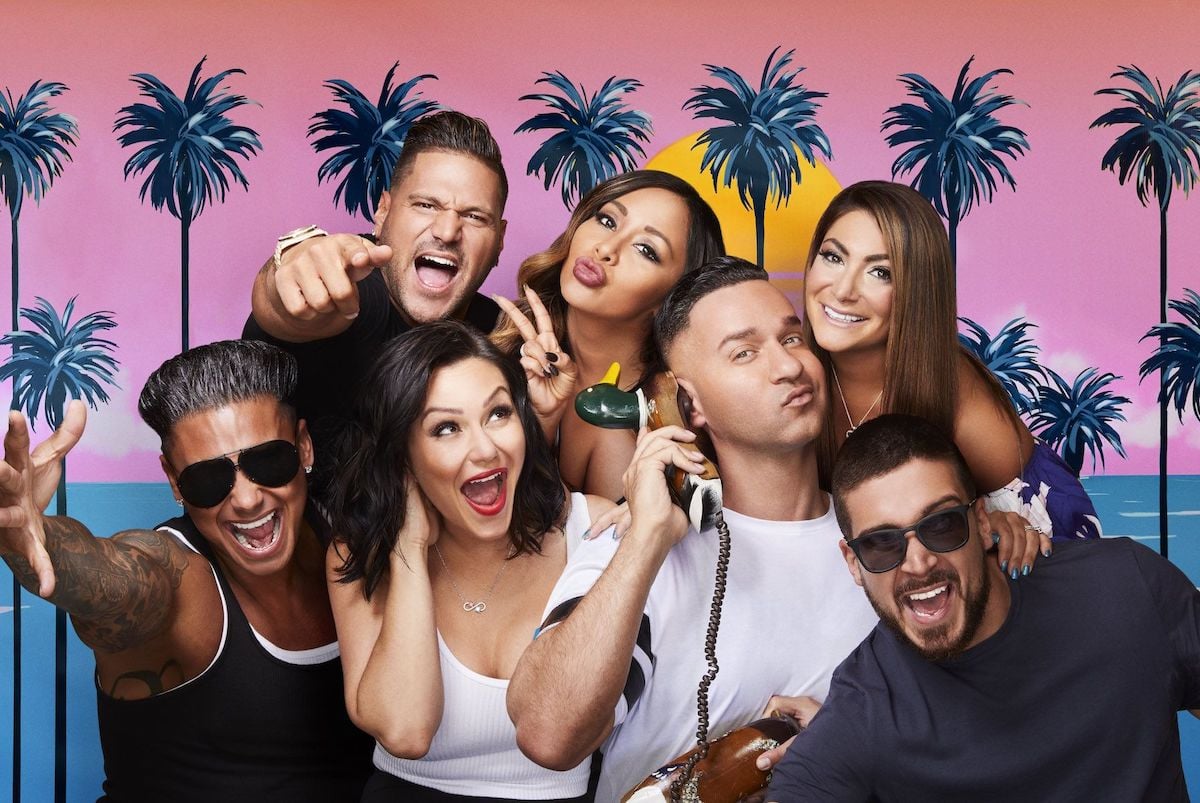 Three 'Jersey Shore' roommates share a zodiac sign
Angelina Pivarnick, Mike 'The Situation" Sorrentino, and Pauly DelVecchio are all Cancers. Pivarnick's birthday is June 26. Her roommates Sorrentino and DelVecchio were born July 4 and 5, respectively.
While Cancers can be vindictive and moody, they're also known for being loyal and caring — something Sorrentino, DelVecchio, and Pivarnick have demonstrated toward their roommates at one time or another.
After her marriage and fallout with the roommates on the show, Pivarnick was fiercely protective of her husband, Chris Larangeira. When DelVecchio started dating his girlfriend Nikki Hall, he kept their relationship under wraps. As for "The Situation," he has stood by his wife Lauren Sorrentino's side throughout his prison sentence and now, her pregnancy.
Nicole 'Snooki' Polizzi and Ronnie Ortiz-Magro are the 'Jersey Shore' zodiac 'Spiral Squad'
Nicole "Snooki" Polizzi was born Nov. 23 and Ronnie Ortiz-Magro was born Dec. 4, making them both Sagittarius. Known for their sense of humor and ability to have a good time, Polizzi and Ortiz-Magro have both exhibited the party-loving side of their star sign as the "Spiral Squad" in Jersey Shore: Family Vacation.
While Polizzi and Ortiz-Magro are extroverted for the most part, the duo has also shown some of the more negative aspects of their zodiac. Sagittarius is a sign that can be blunt, rude, and willing to hold a grudge. This star sign is also big on seeking revenge, something Ortiz-Magro frequently did in his past relationships.  
Deena Cortese thrives as an ambitious Capricorn
Deena Cortese was born on Jan. 12, making her a pragmatic and driven Capricorn. The mother of two is extremely ambitious. In addition to starring on Jersey Shore: Family Vacation, Cortese owns two fashion businesses.
She runs Meatball Merch with her Sagittarius counterpart Polizzi. Plus, Cortese has a line of Mommy-and-Me clothing named after her firstborn son, Christopher John. 
Capricorns tend to have a hard time breaking down their walls, but Cortese did the opposite of that when she joined the Jersey Shore cast in season 2 as Pivarnick's replacement. Capricorns do have a hard time forgiving others, which Cortese exhibited after the social media blowback from Pivarnick's November 2019 wedding. 
Jenni 'JWoww' Farley and Sammi 'Sweetheart' Giancola are creative Pisces 
Farley's birthday is Feb. 27 and Giancola's birthday is Mar. 14. — the same day as Floribama Shore star Jeremiah Buoni. As Pisces, Giancola and Farley are both creative people.
Farley has several businesses outside of Jersey Shore, including a line of tanning products. She also runs the Miss Domesticated blog and a new business venture called Heavenly Flower. 
Giancola hasn't been part of Jersey Shore since the original series ended in 2012. But she has kept herself busy with Sweetheart Styles, her online boutique. Soon, Giancola will launch a new venture, Sweetheart Coast. 
The Jersey Shore Pisces are driven, but they can also be overly emotional and closed off. Both women have demonstrated such behavior on the MTV series, most often when going through a rough patch in their relationships. Plus, the two Pisces butt heads in Miami during an epic Jersey Shore fight.
Vinny Guadagnino is the most loyal 'Jersey Shore' zodiac sign 
The "Keto Guido" was born on Nov. 11. As a Scorpio, Guadagnino is determined, brave, and ambitious. Plus, Scorpios are known for being loyal friends — something Guadagnino has been for DelVecchio throughout the show. 
Unlike many of the other signs in the house, Scorpios have a calm and collected demeanor. As one of the quietest roommates on the show, Guadagnino definitely fits the Scorpio mold.
As with every star sign, Scorpios have negative traits. They can be jealous, vindictive, and secretive. Although Guadagnino often stays away from the drama, he had no choice but to get involved in season 3 when he witnessed Farley's then-boyfriend Zack "24" Carpinello putting his hands on Pivarnick.