'Jersey Shore': Are Sammi 'Sweetheart' Giancola and Angelina Pivarnick Still Friends?
The women of Jersey Shore have been outspoken about each other as of late. Sammi 'Sweetheart' Giancola hasn't been in touch with her old roommates, but she has been very frank on social media.
Amidst all the hype, Giancola joined TikTok and seems to communicating with Angelina Pivarnick via Instagram comments. Does this mean they're still friends?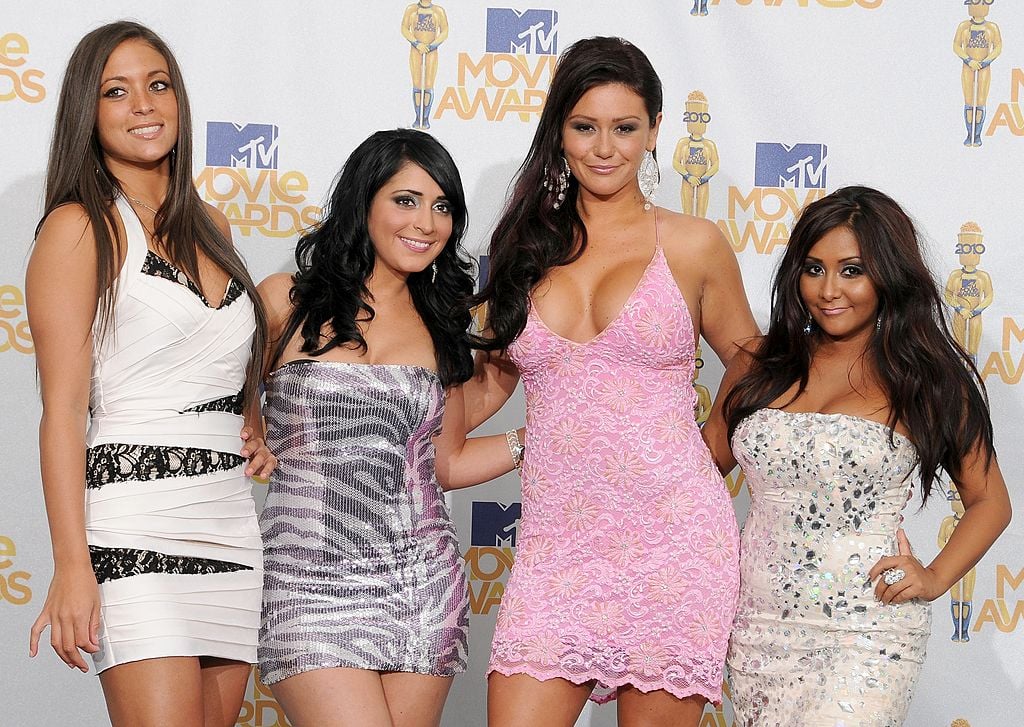 Sammi 'Sweetheart' recently joined TikTok 
Celebrities get bored, too! With the coronavirus (COVID-19) pandemic keeping everyone under stay-at-home orders, it looks like Giancola finally gave in to the TikTok craze. 
Giancola took on the "Savage Challenge," which comes after the popularity of other dance challenges like "Renegade" and "Flip the Switch." The latest trend is a fast-paced dance to rapper Megan Thee Stallion's single "Savage." Giancola joins the likes of Lizzo and Keke Palmer, amongst other celebrities, who have taken on the dance challenge. 
Angelina Pivarnick cheered Sammi 'Sweetheart' on
After Giancola shared her video, her former roommate Pivarnick commented on the post. "Killed it, girl," the current Jersey Shore: Family Vacation star wrote. Giancola replied to Pivarnick's comment with the crying laughing emoji and a heart. Giancola's fans enjoyed the video, too. "Sammi sweetheart killed it," one fan wrote.
This wasn't the first time Pivarnick has connected with Giancola on social media. Now and then, Pivarnick will comment on Giancola's posts, but that seems to be the only form of communication the two have.
Sammi 'Sweetheart's cryptic Instagram post
To keep themselves busy during quarantine, Deena Cortese and Nicole "Snooki" Polizzi have been hosting Instagram Lives and interacting with their fans. In a recent episode, Cortese expressed how hurt she was by the disconnect between her and Giancola.
"I had her at my baby shower," Cortese explained (via App). "I had her everywhere and then out of nowhere, she unfollowed me on Facebook, she unfriended all of us on Facebook." It's unclear how recently Giancola made the decision to "unfriend" her former cast mates on social media, but it struck a chord with Cortese, who was close with Giancola in the past.
"She unfriends all of us on Facebook, and she just wants nothing to do with us, which is fine," Cortese added. "I will always wish Sam well, but it did hurt my feelings, and that's it."
A few days after Cortese spoke out on Instagram Live post, Giancola shared a cryptic message on Instagram that seemingly addressed her former Jersey Shore roommate. "Your taste in people will change as you learn to love yourself," the quote read.  
Is Sammi 'Sweetheart' still friends with the cast of 'Jersey Shore'?
Giancola's relationship with the cast of Jersey Shore has been strained for some time. Us Weekly reported in October 2019 that a source said: "Some of the cast members have tried reaching out, but [Sam] hasn't responded to them lately."
When Jersey Shore: Family Vacation began, Giancola expressed on Instagram why she didn't want to take part in the show. Given her previous relationship with Ronnie Ortiz-Magro, both the Jersey Shore cast and Giancola's fans were understanding of her decision.
"It was a difficult decision, as I love my roomies," Giancola wrote on Instagram March 30, 2018. "I will forever be grateful to Jersey Shore and everything it has brought to me. I've just decided to live my life for me these days." Has Giancola's perspective shifted in recent years? The Instagram post regarding a change in tastes certainly implies that.
Regardless of what Giancola put in her Instagram Story, it seems like she's still pretty friendly with Pivarnick for now!
Related: 'Jersey Shore': Does Sammi 'Sweetheart' Giancola Miss Her Old Roommates?