'Jersey Shore' Star, Angelina Pivarnick Addressed Plastic Surgery Rumors After She Posted This Picture
'Jersey Shore' Angelina Pivarnick posted a new picture that sparked new plastic surgery rumors. Find out how she responded to them and more.
Fans were surprised by a new picture Angelina Pivarnick posted on Instagram. Her face looks so different that some assumed she got more plastic surgery. Find out which picture it is and how the Jersey Shore: Family Vacation star responded to one of the comments.
Angelina Pivarnick plans to continue to appear on 'Jersey Shore'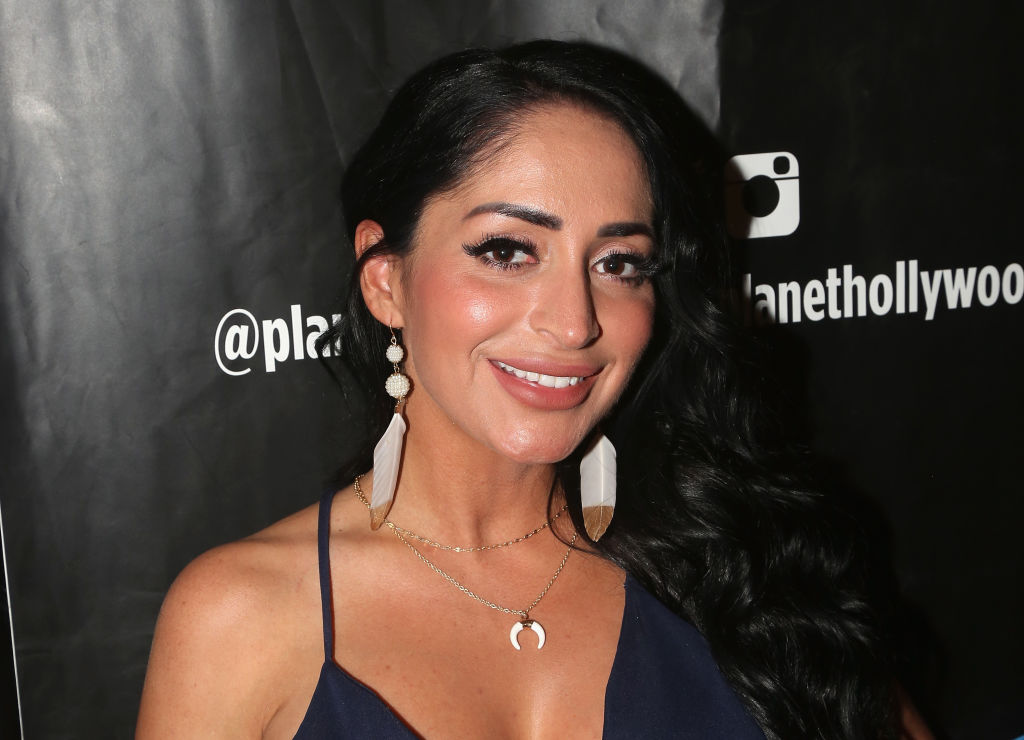 Nicole Polizzi announced she is retiring from Jersey Shore. That might make fans wonder if any other stars of the show plan to quit or stay.
"I am," Pivarnick told Page Six. "I'm not quitting the show." She couldn't reveal the future plans for herself or the show.
"I don't know what the future holds for me with everything, but I like the way things are coming out — it's just that one thing," the reality star said.
Polizzi quit reportedly after she was no longer on good terms with Pivarnick. "Nicole felt the show was heading in a direction that she wasn't happy with so she left the show…She did not like how everything played out after Angelina's wedding and feels she's being painted unfairly," a source told Hollywood Life.
She previously talked about her plastic surgery
Multiple stars of Jersey Shore got plastic surgery. That includes Pivarnick who got work done on her face and she was open about using Polizzi's surgeon.
"I was very insecure with my body because of my weight loss from the first two seasons of Jersey Shore," she said, according to Life & Style. "I worked hard on my body and I realized my breasts were sagging tremendously. I knew I had to do something to change how insecure I was, so I messaged Nicole's plastic surgeon, Dr. Tutela."
She also got her lips done. Now fans are wondering if she went back under the knife after she posted a new photo on Instagram.
She posted a new picture that sparked plastic surgery rumors
Pivarnick showed off her new makeup look on Instagram. She captioned the post with "Thank you to everyone that signed up for our LIVE MASTER CLASS We will be having another one soon and will let you guys know what the look will be. I love all of you with all my heart. You guys asked the best questions and were such a sweet group. Big thanks to my partner in this @anjali_artistry :). Thank you @divackovic13 @alexisjadebeauty @rosalias_beauty @toribbeauty for being there to read the questions to us and make sure everything went smoothly. Not one issue. Thank u [sic] love you."
However, some fans didn't think her new look was all because of makeup. "Dont [sic] do anything else to your face," one fan wrote. Another fan wrote, "Ohh sh*t! This is NOT the same face from when you came back to the shore. Yikes, easy on the plastic surgery girl!!!"
There is one person who commented to defend the reality star. "Lol with everyone commenting on her nose and plastic surgery. It's MAKEUP!! put contouring down the sides of the nose and highlight the center/tip boom face tuned nose without the price of plastic surgery." Pivarnick responded to the comment with "Thank u [sic]."
Pivarnick smoothly denied the plastic surgery rumors with her response. It looks like the star just likes transforming with makeup.