'Jersey Shore' Stars Make a Bold Statement About Masks at a Pool Party
Jersey Shore: Family Vacation might be over, but the reunion continues on social media these days. The latest episode included Nicole "Snooki" Polizzi, Mike "The Situation" Sorrentino, Jennifer "JWOWW" Farley, and Deena Nicole Cortese at a pool party. The cast made a bold statement about wearing masks during the coronavirus (COVID-19) pandemic.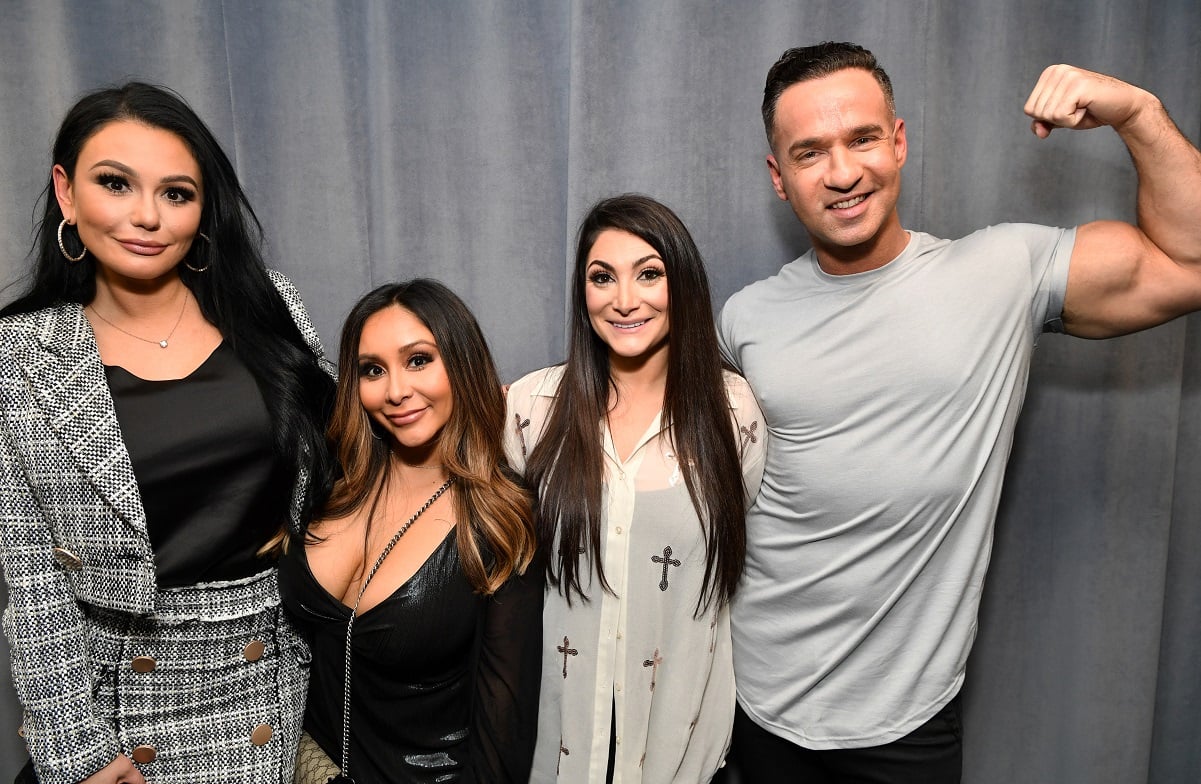 Two weeks ago the 'Jersey Shore' cast got slammed for not wearing masks
On July 5, 2020, the Jersey Shore roommates celebrated The Situation's birthday at The Butcher Block restaurant in Long Branch, New Jersey. The reality show stars posed for a picture, which they all shared on social media.
However, the photo received a lot of criticism. Vinny Guadagnino was the only one wearing a mask, so fans pointed out that the gang was not following the COVID-19 protocols.
"We have all been tested and don't see anyone who hasn't been regularly tested," JWOWW fired back at the haters in a reply on her post. "It's also hard to eat and wear a mask. But glad you know all about us and think we would ever put anyone in jeopardy, especially our kids."
'Jersey Shore' roommates posted a photo of everyone wearing a mask
On July 19, 2020, Farley threw a pool party for her daughter, Meilani, who turned six on July 13, 2020. The Situation attended with his wife, Lauren Sorrentino. Cortese brought her son, Christopher John "CJ" Buckner. Snooki brought her whole family, including her 7-year-old son, Lorenzo Dominic, 6-year-old daughter, Giovanna Marie, and 1-year-old son, Angelo James.
The Sorrentinos, Cortese, Farley, and Polizzi all posed for a photo with each donning a fashionable mask. JWOWW held her 4-year-old son, Greyson, who was not wearing a mask.
"Mask on Birthday celebrations," Sorrentino captioned the photo on Twitter.
One fan immediately pointed out that they were lucky they wore masks in their picture, so fans did not criticize them.
Fans debate whether the 'Jersey Shore' stars wore masks only for the photo opportunity
"I bet the masks were only there for this photo because the fear of social media backlash is real," one fan wrote on Sorrentino's Instagram picture.
Other fans point out they can see someone behind the gang wearing a mask. However, a reflection shows a guest without a cover.
"Damned if they do, damned if they don't," added another fan.
Whether or not they had masks during the entire outdoor party, the Jersey Shore cast is promoting the use of masks in their social media photos. Some people believe it might be because of the backlash they received at Sorrentino's birthday dinner. Others think it's because they want to stop the spread of COVID-19 and send a message to their fans to wear masks.
Jersey Shore: Family Vacation is renewed for Season 4, but won't return until 2021.