'Jersey Shore': The Best Arguments Pauly D Sparked Between Vinny Guadagnino and Angelina Pivarnick
Here are all of the times DJ Pauly D has stirred up some drama between Angelina Pivarnick and Vinny Guadagnino on 'Jersey Shore.'
It's no secret that Angelina Pivarnick and Vinny "The Keto Guido" Guadagnino have a problem with each other. Sure, there isn't a single Jersey Shore cast member Pivarnick hasn't crossed in the past, but one thing remains constant — Pivarnick and Guadagnino hold the record for arguing the most on Jersey Shore: Family Vacation. 
DJ Pauly DelVecchio has outwardly admitted that he causes a lot of the drama between Guadagnino and Pivarnick.There have been so many instances where Pivarnick and Guadagnino have battled because of DelVecchio.
Here are some of the all-time best arguments between Pivarnick and Guadagnino, thanks to "Prank War Champion" DJ Pauly D.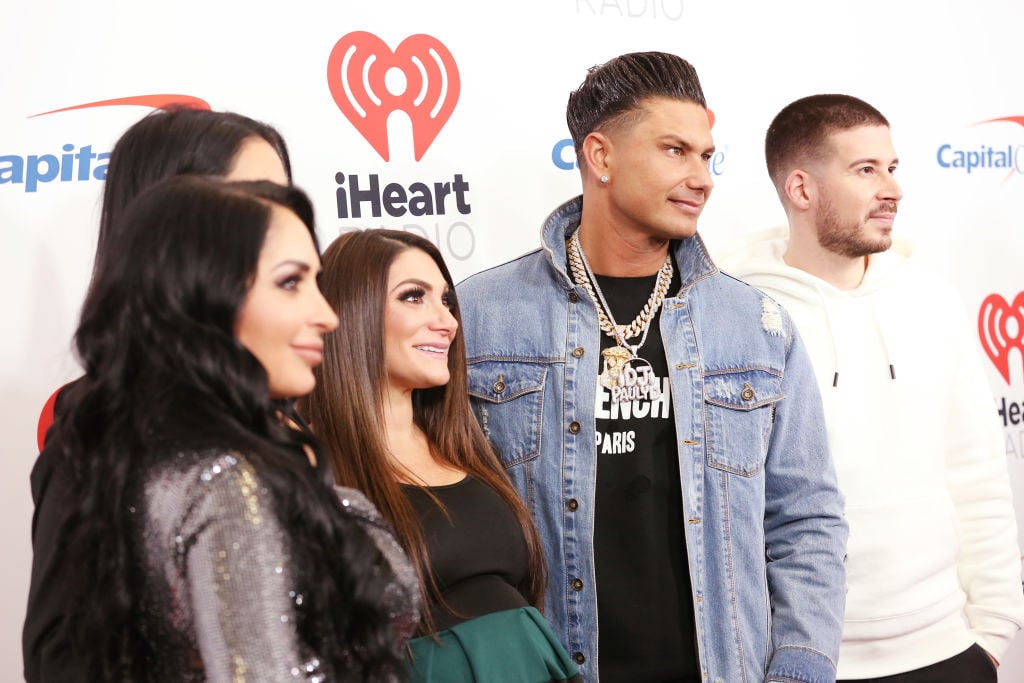 Vinny corrected Angelina's wine-holding posture 
During a Family Vacation dinner outing, Pivarnick ordered wine and Guadagnino couldn't help himself. "You're not supposed to hold the wine like that," Guadagnino said, correcting Pivarnick. She defended herself, asking, "Are we in a winery right now?"
Without missing a beat, DelVecchio stepped in to stir the pot, adding sarcastically, "Is this a wine tasting?" Then DelVecchio addressed Pivarnick with, "Why does [Vinny] always have to break your balls?" 
Guadagnino concluded with, "Sometimes it's not critique if you're just saying a fact." As arguments between he and Pivarnick are wont to do, this sprialed into another argument about whether or not he asked Pivarnick on dates in high school. DelVecchio interjected with, "how long have you guys been dating?" leaving the rest of the Jersey Shore family in hysterics.
Pauly D bought Vinny a scooter 
Just before Guadagnino's residency with Chippendales was about to start, he suffered an ankle injury and was told to stay off of it until his performance. Like any good friend would do, DelVecchio bought the "Keto Guido" a mobile scooter to make getting around Las Vegas easier. The "Prank War Champion" may have seemed like he was doing his friend Guadagnino some good, but he was really enticing some playful drama. 
Naturally, Gudagnino used his mobile scooter to torture Pivarnick. Upon her arrival, Guadagnino used his new toy to consistently bump into Pivarnick
In the clip, Pivarnick said, "I was going to leave you alone and be cool with you, and then you start with me!" as Guadagnino repeatedly bumped into her. Pivarnick finally hit Guadagnino playfully in the face as DelVecchio watched, grinning from ear to ear.
The penultimate pot stirring 
All too often, family dinners result in a verbal argument between Guadagnino and Pivarnick. During their stay in the former Seaside Heights shore house, the two had words at the dinner table. Guadagnino commented on how much he hated having Pivarnick in the house, to which she retorted: "If you don't like me, my question to you is why'd you bang me then?" 
Unable to resist temptation, DelVecchio egged the argument on by adding, "Yeah, question to you is why'd you bang her then?" He then pantomimed holding a microphone to Guadagnino and added, "Inquiring minds wanna know!"
As Pivarnick continued "throwing rocks at Vinny," Guadagnino turned to sarcasm. The fight evolved into an all-out condiment war between the entire Jersey Shore family, much to the delight of DelVecchio. 
Tune in to Jersey Shore: Family Vacation to continue watching DelVecchio stir the pot between the "Keto Guido" and Pivarnick.