'Jersey Shore': The Real Reason Mike 'The Situation' Sorrentino and Jenni 'JWoww' Farley's Hookup Was Excluded From the Show
Many fans know Mike "The Situation" Sorrentino and Jenni "JWoww" Farley have a history together. But now, thanks to a former Jersey Shore producer, we finally have the details about their hookup. Here's what happened between Sorrentino and Farley and why it never aired on Jersey Shore.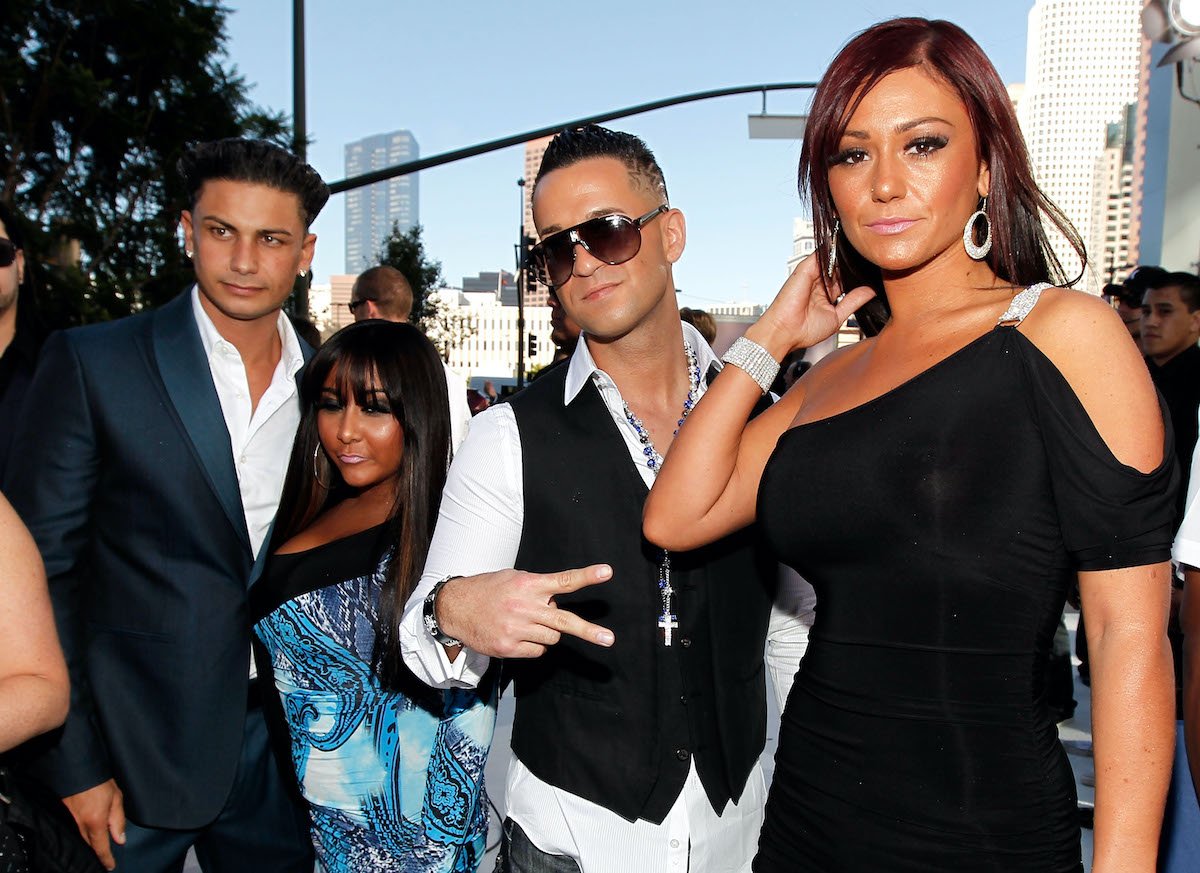 'JWoww' and 'The Situation' hooked up during season 1 of 'Jersey Shore' 
When a fan on Reddit asked if Farley and Sorrentino's hookup was true, the former producer said, "yes." 
"They hooked up in Season 1, which is what fueled the punch in the mouth. [That] was later turned by the story production," they explained. 
"Originally, Jenni and Mike just made out but Jenni definitely pursued him more when she was intoxicated," they continued. "There were a few more intoxicated [arguments] during this season between these two." 
Jenni 'JWoww' Farley was a little jealous of Sammi 'Sweetheart' Giancola 
Before she started dating Ronnie Ortiz-Magro, Sammi "Sweetheart" Giancola was pursued by Sorrentino. Their romance was short-lived, as documented during the first few episodes of Jersey Shore Season 1. 
"Sober Jenni was not interested in Mike and Mike didn't care either way," the producer continued. But when Farley got drunk, all bets were off. "The way Mike pursued Sam was not the way he pursued Jenni," they continued. "Jenni was just on the back burner and Jenni didn't like that."
According to the Jersey Shore producer, Farley tried to pursue Sorrentino because "she thought maybe Mike would eventually grow to like her." Evidently, Farley would confess her feelings cameras in at least what was said in the individual interviews." 
From this producer's perspective, Sorrentino wasn't genuinely interested in Farley because she was in a relationship with Tom Lippolis. 
"After [their] hookup, Jenni continued to bring up Tom, which made Mike kind of back off and go back to Sam," they continued, adding:
By bringing up Tom, I mean when Mike would attempt to pursue her, she would claim she 'had an old man' and so Mike would back off. But I think Jenni did that to say 'I have an old man, help me forget about him,' but Mike didn't play that game.
Jenni 'JWoww' Farley and Mike 'The Situation' Sorrentino's hookup didn't make sense to include in season 1 
According the former producer, Farley and Sorrentino's hookup didn't fit the storyline they had outlined for season 1 of Jersey Shore. 
"We decide to leave certain stories out because we work on a storyline that revolves around MTV/VH1, the viewers, marketing, and the brand of 495 Productions," they explained on Reddit. "It just wouldn't have made sense to include the Mike and Jenni hookup. It would have gotten too complicated too early on and would have encouraged viewers to watch something else."
That's not what producers wanted.
This producer, along with many fans, wishes the storyline between Sorrentino and Farley made the final cut of season 1. "Honestly, I wish we would have kept this storyline in, but I understand why we didn't," they explained. "It was a little too confusing and didn't make sense with the way production wanted to present the show to MTV. They didn't want it to look like one big orgy, though I guess it kind of was LOL. No offense to Jenni, though!" 
They added how they love Farley and respect her for being an authentic, genuine person while filming the show.