'Jersey Shore': There Was a 'Love Hexagon' Happening During Season 1
The Jersey Shore roommates are no strangers to hooking up. From the start of the series, Ronnie Ortiz-Magro, Sammi "Sweetheart" Giancola, and Mike "The Situation" Sorrentino formed a love triangle. But according to a former story producer, their relationship involves more people than fans think. In fact, there was a "love hexagon" happening that first season.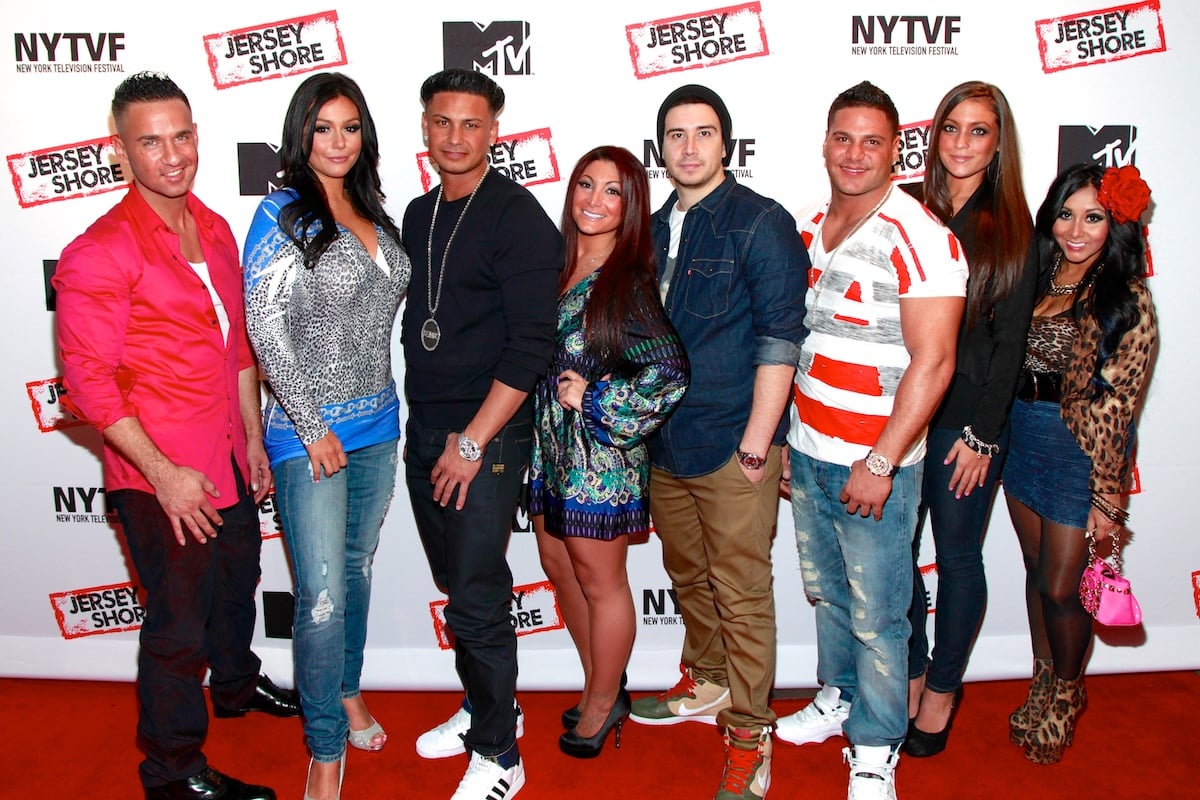 Sammi 'Sweetheart' Giancola wasn't the only woman hooking up with 'The Situation' on 'Jersey Shore'
Early on in season 1 of Jersey Shore, Giancola made it clear that she was interested in Ortiz-Magro. But before they officially became an item, Giancola was pursued by Sorrentino. 
Giancola wasn't the only roommate to hook up with Sorrentino that summer. Jenni "JWoww" Farley also had an interest in "The Situation." 
"[Farley and Sorrentino] hooked up in Season 1, which is what fueled the punch in the mouth," the former producer confirmed on Reddit. The infamous punch occurred during the Jersey Shore roommates' trip to Atlantic City. 
After refusing to escort Farley back to the hotel suite, Sorrentino took a punch in the face. According to the producer, that punch was rooted in Farley's anger for how Sorrentino treated her after their hookup. 
'The Situation' wasn't interested in 'JWoww' 
Despite their hookup, Sorrentino wasn't ever genuinely interested in Farley. "Originally, Jenni and Mike just made out, but Jenni definitely pursued him more when she was intoxicated," they said.
As this producer explained, when Farley was sober, she wasn't interested in Sorrentino, who didn't care either way. When Sorrentino pursued Giancola, however, Farley felt like she was put on the back burner — something she didn't take kindly to. 
"I think she tried to mess around with Pauly first to see if there could have been a potential relationship," the producer added. "Jenni knew there would be nothing there because of Pauly hooking up with someone that next day." Instead, she invested her efforts in Sorrentino, who wasn't interested at all.
The 'Jersey Shore love hexagon' involved almost every roommate
According to the former story producer, Pauly DelVecchio, Ortiz-Magro, Giancola, Sorrentino, Farley, and her boyfriend at the time, Tom Lippolis, were involved in this "love hexagon." 
"Mike wanted Sam, [but] Sam got with Ron," they explained. "Ron got with Sam but crushed on Jenni. Jenni got with Pauly but wanted Mike when she was intoxicated. Mike wanted Jenni but backed off when Jenni would mention her boyfriend, so Mike would go back to trying to break up Ron and Sam."
When it came time to edit the show, producers ultimately cut Farley and Sorrentino's hookup from the final edit. 
"Honestly, I wish we would have kept this storyline in, but I understand why we didn't," the producer conceded. "It was a little too confusing and didn't make sense with the way production wanted to present the show to MTV." 
In their eyes, the network didn't want Jersey Shore to come off like "one big orgy." Regardless of what aired, fans are happy they got to see all of the drama play out on Jersey Shore Season 1. They're looking forward to more drama, albeit a different type, in season 4 of Jersey Shore: Family Vacation.