'Jersey Shore': These Roommates Confirm They're Not Invited To Sammi 'Sweetheart' Giancola's Wedding
When Sammi 'Sweetheart' Giancola will have her wedding is unclear, but two 'Jersey Shore' stars have confirmed they're not invited.
Since Sammi "Sweetheart" Giancola got engaged, many fans have wondered if she would include the Jersey Shore cast in her wedding guest list. Over the last year, there has been a lot of speculation about who Giancola would invite to her wedding. But now, two Jersey Shore: Family Vacation stars have confirmed they haven't gotten an invitation to Giancola's ceremony.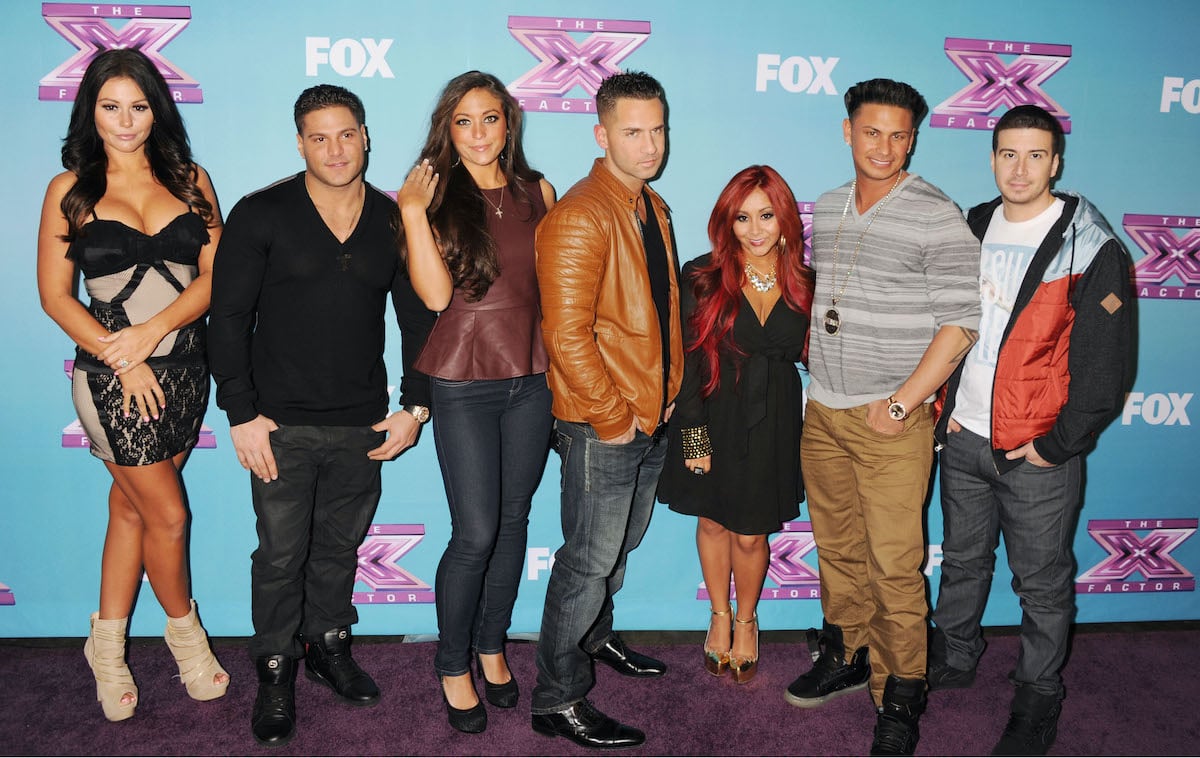 Sammi 'Sweetheart' is getting married 
Giancola got engaged to longtime boyfriend Christian Biscardi on Mar. 5, 2019. Many Giancola supporters were happy for her, considering her past with Ronnie Ortiz-Magro.
The reality television star shared photos of the proposal on Instagram with the caption: "I get to marry my other half, best friend and soulmate." 
Initially, the couple was planning a 2020 wedding. But because of the coronavirus (COVID-19) pandemic, their plans were forced to change. In April 2020, a source told Us Weekly Giancola's wedding had been "postponed until September." But when the fall came and went, Giancola and Biscardi still had yet to tie the knot. It's unclear when their wedding ceremony will happen in 2021.
'JWoww,' 'Snooki' and 'Deeners' assumed Sammi 'Sweetheart' wouldn't invite them to her wedding
Despite Giancola's decision not to return for Jersey Shore: Family Vacation, the roommates held no ill will toward her. 
Giancola's former co-stars Jenni "JWoww" Farley, Nicole "Snooki" Polizzi, and Deena Cortese discussed their lack of a connection with their former roommate during an interview with In Touch in April 2020. 
"We haven't spoken to her in a while," Cortese admitted. "[Sammi] came to my baby shower and she met CJ, and then we kind of lost touch."
"I just think time drifted [us] apart, which sucks," Polizzi explained. 
Then, Farley justified why Giancola might not invite the Jersey Shore cast to her wedding.  
"She came from a TV show that she clearly doesn't want to be a part of anymore," Farley said. "So, there's probably that give and take of having us part of [the wedding]. I wish we could talk to her about it."
Despite their disconnect, the women of Jersey Shore wished Giancola all the best with her fiancé.
Vinny Guadagnino and Pauly DelVecchio confirm they are not invited to Sammi 'Sweetheart' Giancola's wedding
In the past, the Double Shot at Love stars said they would attend Giancola's wedding if she extended an invitation. 
In April 2019, Guadagnino explained to Us Weekly how he and his Jersey Shore castmates only speak with Giancola when a "big life event" happens. At the time, both Guadagnino and DelVecchio expressed wanting to attend Giancola's wedding, should she invite them. 
Giancola is "part of the fam," DelVecchio told the outlet. "She's always welcome," Guadagnino added. 
Unfortunately, despite their desire to attend, it doesn't seem like Giancola will have Guadagnino, DelVecchio, or any of her former Jersey Shore roommates at her wedding. 
"I have not spoken to Sammi and I didn't get an invite," DelVecchio told In Touch Weekly in January 2020. "Same," Guadagnino added. 
Giancola likely sent out the invitations for her nuptials long ago. Plus, with the changed wedding date, information has probably been communicated to the guests she wants to attend. Despite their lack of an invite, the Jersey Shore cast seems happy for their former roommate.