'Jersey Shore': Which Roommates Knew Each Other Before the Show
Find out which roommates from 'Jersey Shore' knew each other before they started filming the MTV reality series.
The cast of Jersey Shore might be like a family now, but when the MTV show was first introduced, the roommates were dubbed "strangers." A former producer who worked on the series says some of the Jersey Shore cast knew each other before the show started to film. Find out which of the roommates met before becoming reality television stars.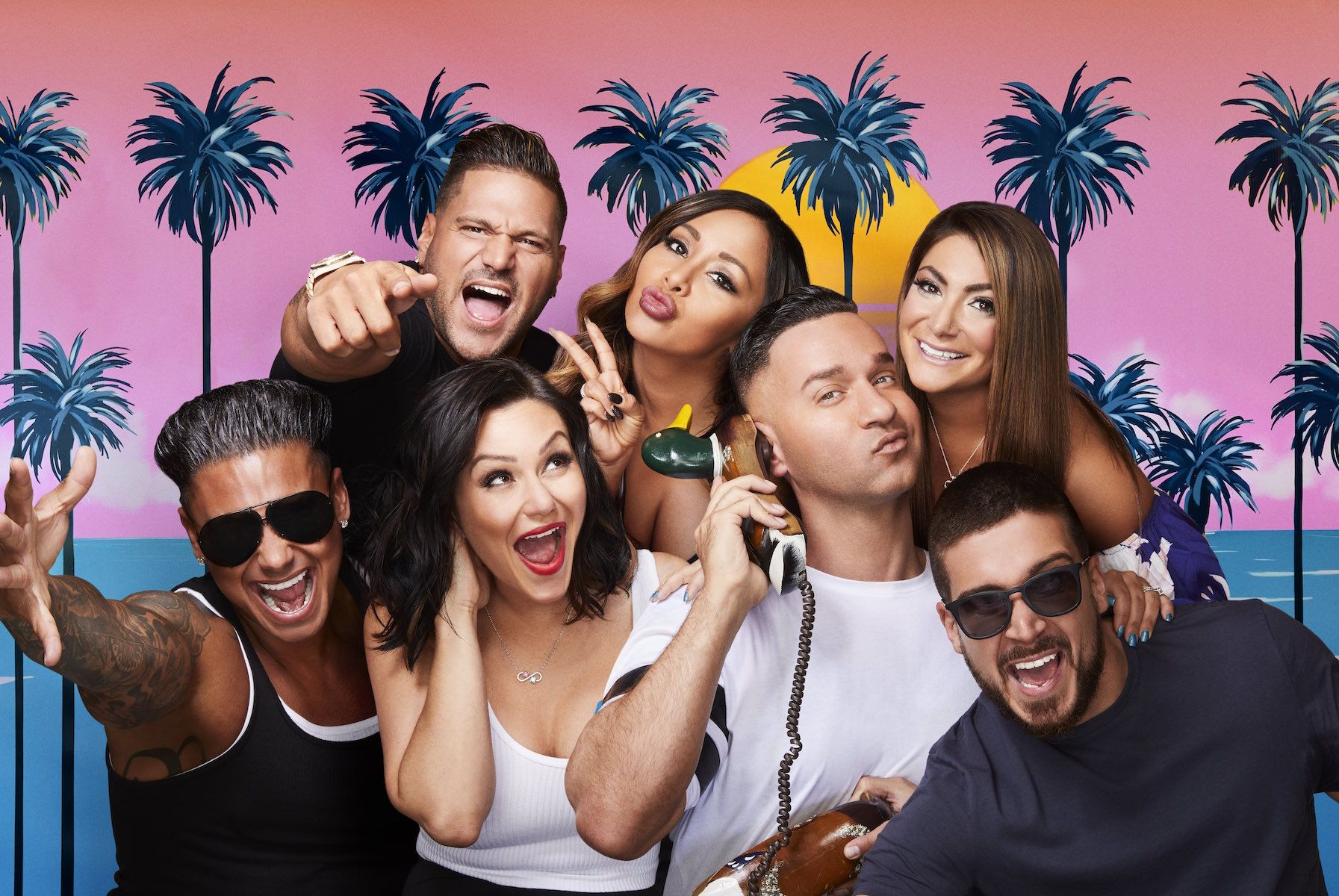 Angelina Pivarnick and Vinny Guadagnino go way back 
In what Pauly DelVecchio calls the "Staten Island mating ritual," Guadagnino and Pivarnick have a history of flirting back and forth on the show. That's because they share a rich history! During an episode of Jersey Shore: Family Vacation, Pivarnick finally revealed that she and Guadagnino attended the same high school. 
Apparently, during the first season of Jersey Shore, Guadagnino pretended not to know Pivarnick outside of the shore house. Guadagnino argues that he only met Pivarnick a handful of times, but she counters with the fact that he dated her friend Christina. During Pivarnick's bachelorette party on Family Vacation, Guadagnino reveals how he used to be intimidated by Pivarnick in high school. "I used to look at Angelina back in the day and say, 'Wow, that's a cool girl, I'll never get a girl like that'" he says. Luckily for Guadagnino, he had his chance with Pivarnick, thanks to Jersey Shore (and alcohol). 
'Snooki' and Deena met during a casting call 
Contrary to popular belief, Nicole "Snooki" Polizzi and Deena Cortese weren't friends in high school. They became close after they met at a casting call for Jersey Shore. When Polizzi first picks Cortese up to head to the shore house, it seems as though they've known each other their whole lives. "Deena is one of my best friends," Polizzi says. Cortese echoes those sentiments, explaining how close she is with Polizzi. "As soon as I met her, it was like love at first sight." 
A former story and field producer for Jersey Shore shared on Reddit that Polizzi and Cortese didn't know each other before the show. "[Deena] originally auditioned for season 1," they said. "[Nicole and Deena] literally met at auditions, and then ran into each other a few times at the shore and partied together."
'The Situation' knew a few of the roommates before 'Jersey Shore'
The previous producer on the show had a lot of answers for curious Jersey Shore fans. "[Mike Sorrentino] actually suggested [Angelina Pivarnick] to casting originally!" they shared. According to this producer, Sorrentino knew Sammi "Sweetheart" Giancola prior to filming Jersey Shore, too. It's unclear how Giancola and Sorrentino knew each other before the MTV series, but it clarifies their short-lived romance. Fans will recall how, before she started dating Ronnie Ortiz-Magro, Giancola and Sorrentino spent an evening on the boardwalk holding hands with one another and flirting. 
Regardless of how long they knew each other before they started filming Jersey Shore, one thing remains the same — the cast has formed an unbreakable bond.