'Jersey Shore': The Top Fights Between Angelina Pivarnick and Jenni 'JWoww' Farley
Fans of Jersey Shore understand the relationship between Jenni "JWoww" Farley and Angelina Pivarnick isn't a great one. As such, the duo has been in plenty of arguments over the years. Here are some of Farley and Pivarnick's most epic fights on Jersey Shore.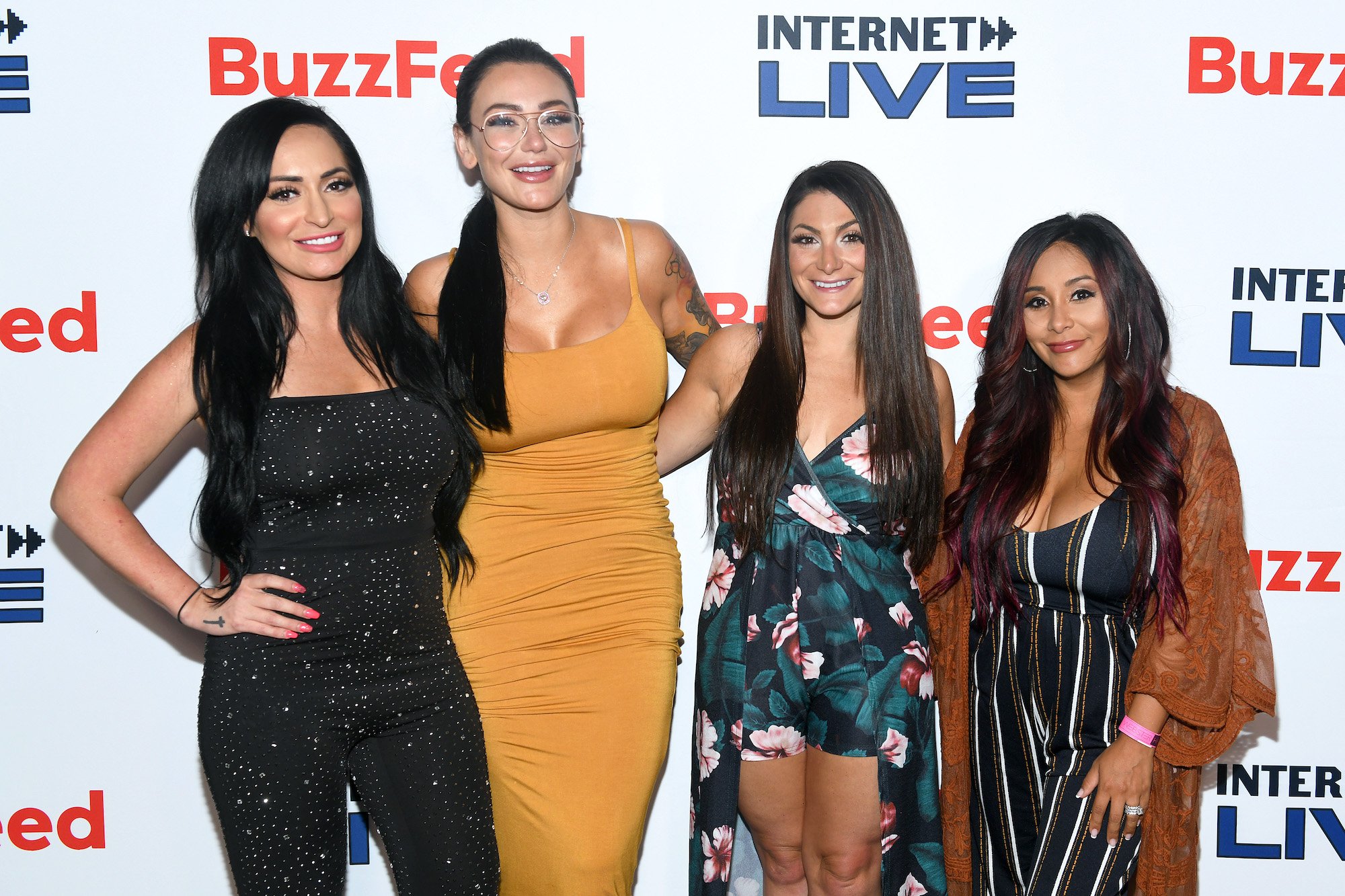 Jenni and Angelina have fought since the beginning
Farley and Pivarnick got into several fights in Miami. One of the most memorable arguments happened in the back of a cab. After leaving season 1 to be with her boyfriend, Pivarnick expressed her frustrations when she felt like the other women couldn't understand her reasons for leaving. Farley tried to explain that she was upset regarding Pivarnick "putting them on blast" outside of the show and ultimately asked if Pivarnick wanted to go outside of the cab to fight. 
Later, during season 2 of Jersey Shore: Family Vacation, Nicole "Snooki" Polizzi suggested Pivarnick and Farley clear the air before they started drinking. This was one of the first times Farley had seen Pivarnick after she — once again — said some less-than-kind things about her online. "What's the difference between a wh*re and a b*tch?" Farley questioned when Pivarnick tried to justify calling her one but meaning the other. The argument fizzled after a while and fortunately never evolved into a physical fight.
For Jenni, loose lips sink ships 
During the Miami season of Jersey Shore, Pivarnick returned to try to make amends with her roommates. "I don't wanna fight with you guys," she told the women in the house. "You ran your mouth to my best friends," Farley said, justifying why she was unwilling to accept Pivarnick as part of the family. Frustrated, Pivarnick said: "I'm going to be here forever." Then, Farley dished out one of her most iconic lines to date: "You wanna get your a*s bet, you can stay and get your f*cking a*s beat, [or] you can stay and get your f*cking a*s beat."  
Nothing changed when Angelina came back for 'Jersey Shore: Family Vacation'
When Angelina made her triumphant return to the reality series, things didn't go as smoothly as planned. Upon her arrival, Pivarnick was immediately questioned by Farley: "Why the f*ck are you here?" Pivarnick claimed she wanted to make amends with everyone, including Farley. When Pivarnick expressed wanting to become part of the family, Farley went off. "No b*tch, no!" she exclaimed. "It's been eight years since we've seen you. No thank you." Polizzi felt the same way, feeling aggravated by Pivarnick's lack of trying be include herself in the family.
RELATED: Why 'Jersey Shore's Angelina Pivarnick Sued the New York City Fire Department
Jenni and Angelina's '24' issue
Pivarnick was displeased with Zack "24" Carpinello from the get-go. She felt he was inappropriate in trying to discuss her sex-life upon meeting her. When she called him out on it, Farley came to his defense. Then, the unthinkable happened. Carpinello put his hands inappropriately on Pivarnick. "All the sudden, I just feel this big hand right on me," Pivarnick said to cameras. "It was on my a*s and my side, you know? And Jenni's right there." 
RELATED: The Cast of 'Jersey Shore: Family Vacation' Threaten to Expose One Another After the Finale
This ultimately created a divide between Farley and Pivarnick, which resulted in one of the show's most explosive fights ever. When Farley confronted Pivarnick during season 3, episode 10 of Jersey Shore: Family Vacation about her nipple piercing, the conversation turned into an argument about Pivarnick supposedly lying about what happened between her and Carpinello.
"I never tried to kiss your man," Pivarnick explained. "It's so crazy how a pierced nipple just sparked World War III over here," Pauly DelVecchio said to cameras. Suddenly, glasses were broken, wine bottles were grabbed, and Farley and Pivarnick were at each other's necks.
Angelina and Jenni don't appear to be friends anymore
After all of the drama that ensued at Pivarnick's wedding, it doesn't seem like Farley and Pivarnick are on speaking terms. Farley took to Twitter to share her side of the story. "I kept my mouth shut for 7 months for the integrity of the show, but now the shows over," Farley tweeted. Pivarnick claims she has spoken to her roommates since the wedding. "I texted all of them and I spoke to them," she tweeted. "Deena and me had a nice convo. Nicole I've texted and we spoke Jenni I texted I wanna move past this and she wrote me a novel about how I tried to sabotage her brand." 
Despite much of season 3 demonstrating how close the group became with Pivarnick, that bond is now clearly broken.