'Jersey Shore': Vinny and Angelina's Twitter Fight Turned Into a '90 Day Fiance' Crossover
Jersey Shore's Angelina Pivarnick reactivated her Twitter account and immediately began fighting with Double Shot at Love star Vinny Guadagnino. The whole interaction has a total 90 Day Fiance vibe, and fans can't get enough of it.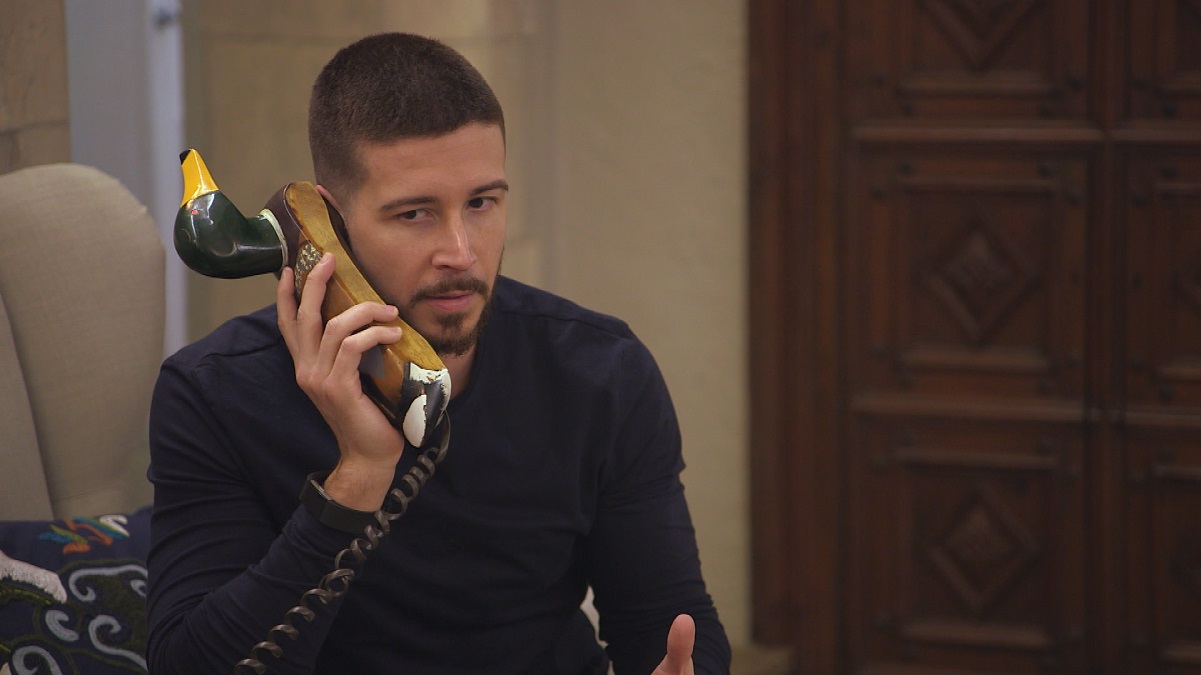 Why did 'Jersey Shore's Angelina Pivarnick return to Twitter?
Angelina Pivarnick deactivated her Twitter account after the massive fallout during the Jersey Shore: Family Vacation season 3 finale on June 18, 2020. Her roommates gave a hurtful speech during Angelina's wedding in the final episode. It set her over the edge, and she deactivated her Twitter account. 
However, only two weeks later, she reactivated her account after the second episode of Double Shot at Love aired on July 2, 2020. Her fellow roommates from the Jersey Shore are the stars of the show — Pauly D and Vinny Guadagnino.  
It looks like Pivarnick returned to Twitter to defend Maria Elizondo — a contestant who is back for another shot at love on the show. In the episode, Vinny confronts Maria about how she sometimes turns "into a f–king troll" on social media.
"If you do it, it hurts," Vinny told Maria regarding all of his haters on Twitter.
Angelina took personal offense to Vinny's comment and took to Twitter to defend Maria. Although, in a preview for next week's episode, it looks like Maria and Vinny are back in friend territory. Angelina and Vinny will likely never be in that zone again.
'Jersey Shore's Vinny and Angelina had a Twitter fight after 'Double Shot at Love' Episode 2
"Def not a troll," Angelina tweeted. "He's the biggest troll," she wrote about Vinny. 
Angelina retweeted Marissa Lucchese's tweet regarding how Maria handled Vinny, calling her a troll. Both women adamantly defended Maria. 
"Omg Angelina shut up," Vinny wrote back to Angelina. "I liked it better when your Twitter was deleted."
Angelina responded with the most dramatic rebuttal. 
"It was NEVER deleted, sweetie pie," Angelina wrote. "Just do yourself a favor and learn how to talk to the QUEEN of Staten Island!!! You are a peasant, and I am your ruler. Get that straight, and we shall be good. Whoever messes wit the queen shall face consequences."
Vinny didn't let Angelina have the last word. He responded, "A queen with 70 followers?" The Jersey Shore star had to point out that she doesn't appear to be much of a queen with such a small social media following. 
'Jersey Shore' fans can't help but point out the '90 Day Fiance' vibes
"Total Larissa vibes with that queen nonsense," one fan pointed out on Reddit.
Other fans quickly agreed that it was a "90 Day Fiance crossover."
Many viewers who watch both shows had flashbacks to Larissa Lima fighting with Colt Johnson's cousin, John, in 2018. 
"I will dream of a big life," Larissa told John. "I will be a millionaire in a few years. When I have my Jaguar will take you in a ride. Who is against the queen will die! Don't come to my wedding. The queen don't want you."
Jersey Shore: Family Vacation might be over for now, but the fighting between Angelina and Vinny will never die.