'Jersey Shore': Vinny Guadagnino Moments Fans Still Talk About
Relive some of Vinny Guadagnino's most talked about moments from the original seasons of MTV's 'Jersey Shore.'
Vinny Guadagnino is the youngest of the Jersey Shore roommates. Over the last 10-plus years, fans of the MTV reality series have watched Guadagnino evolve. Still, there are several Jersey Shore moments Guadagnino's fans won't soon forget. These are some of the "Keto Guido's" most memorable moments from the original seasons of Jersey Shore.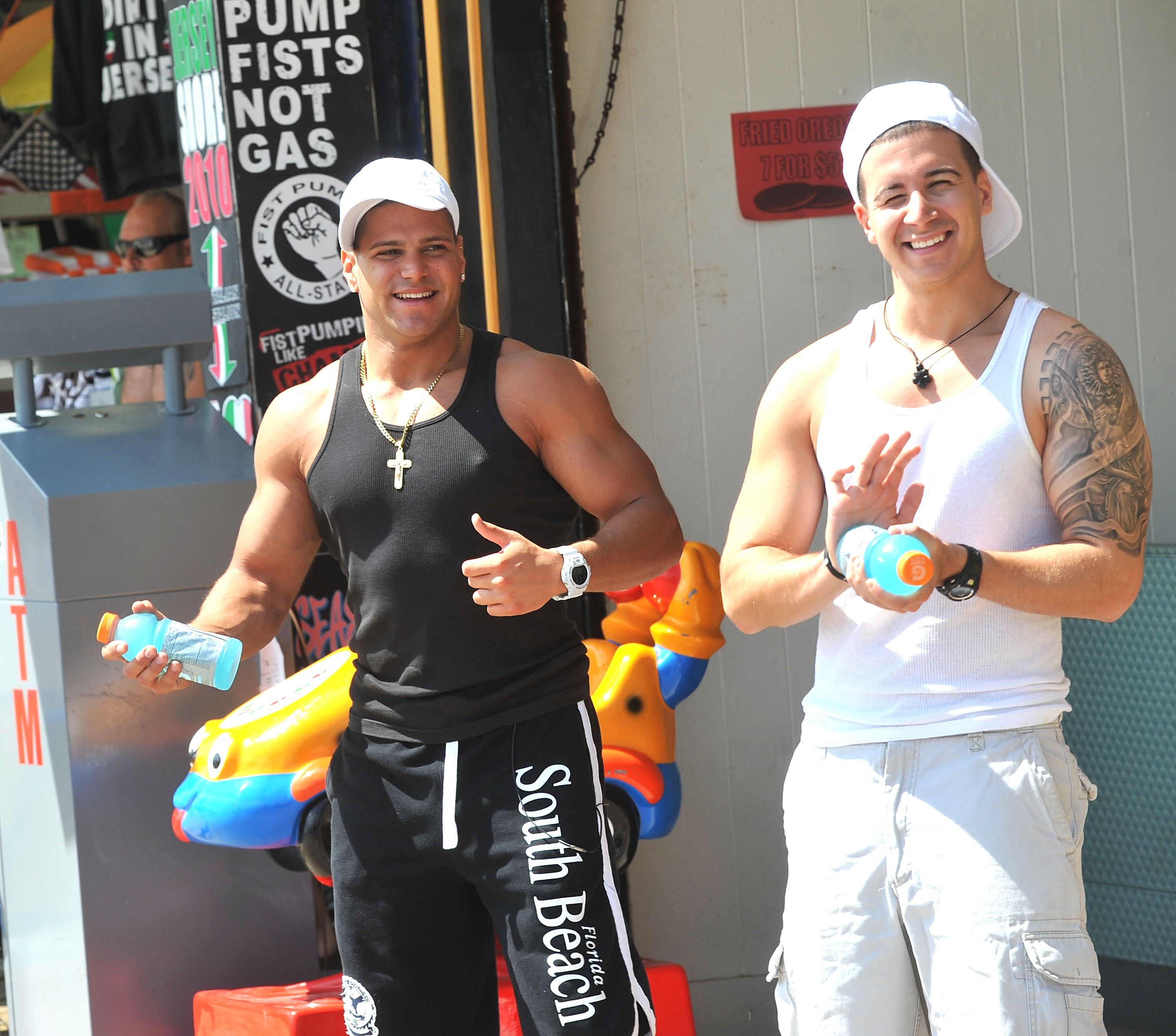 Vinny Guadagnino gets his ear pierced by Danny Merk 
Working for Danny Merk's Shore Store wasn't all business. In one episode of Jersey Shore, Guadagnino sat down to have his boss pierce his ears.
"My boy is becoming a man!" the already-pierced Pauly DelVecchio exclaimed. Guadagnino winced in pain as Merk wiped his ear with alcohol to prepare for the piercing. 
"I'm not gonna lie, I'm being a little b**** about it," Guadagnino told cameras. "I am a little scared." Ultimately, Guadagnino goes through with the piercing, claiming he "took it like a G." 
Vinny's 'Jersey Shore' hookups 
Guadagnino isn't the only Jersey Shore cast member to hook up with his roommates. But his hookups were some of the most memorable. 
In Miami, Guadagnino drunkenly hooked up with Angelina Pivarnick. "Yo listen, me and Angelina need some privacy bro," he told DelVecchio, who tried to stop the hookup as it was happening. Despite coining Pivarnick the "Staten Island Dump," they hooked up anyway. 
Later, in Jersey Shore Season 3, Guadagnino hooked up with Nicole "Snooki" Polizzi. The two had become "snuggle buddies" in the house, but "Snooki" took offense to Guadagnino's hookups with other girls after she revealed she had feelings for him. This all took place around the same time Polizzi's now-husband Jionni LaValle came into her life. 
Vinny Guadagnino calls Angelina Pivarnick the 'Rob Kardashian of Staten Island' 
Pivarnick left season 1 of Jersey Shore early, leaving the rest of the cast to bond without her. When they all returned in season 2, Pivarnick was an outcast in the house. 
At one point, every roommate was against Pivarnick, including Guadagnino. "You're f****** shady," he tells Pivarnick amidst an argument. "With your truck driver f****** mouth." After Pivarnick continued yelling at Guadagnino, he delivered one of his most iconic Jersey Shore lines: "All right Kim Kardashian — you're more like the Rob Kardashian of Staten Island you ugly b****." 
Vinny leaves 'Jersey Shore' in season 5 
In season 5, Guadagnino decided to leave the shore house to take care of his mental health. "I am maturing and I'm not afraid to talk about my anxiety," Guadagnino told cameras.
During a sit-down lunch with Merk, Guadagnino opened up about his mental health, explaining the depressed state he felt he was in since the Jersey Shore cast left Italy. Later in the season, he gave up drinking entirely and ultimately decided to leave for the sake of his mental health. 
"I want you to come and get me," Guadagnino told his sister over the phone. "I've been strong," he told cameras in the confessional. "I'm a fighter but there is no fight left in me. So I've made the decision, I'm going to leave here."
It's unclear how long Guadagnino was gone, but Deena Cortese said he was home "for a week." He reunited with his roommates when they ambushed him at his house to bring him back to the shore. To this day, Jersey Shore fans respect Guadagnino's decision and his transparency regarding his anxiety.