'Jersey Shore': What Did Mike 'The Situation' Sorrentino Do Right After He Left Prison?
Mike "The Situation" Sorrentino of MTV's Jersey Shore and Jersey Shore: Family Vacation has really turned his life around over the years. Sorrentino struggled with alcohol and drug addiction for many years and alienated many people in his life before his convictions in 2014 and 2017 for tax evasion, concealing his income, and related charges.
The 37-year-old Jersey Shore star recently spent eight months in federal prison for his convictions, became a mentor and advocate for other recovering addicts, and married college sweetheart, 34-year-old Lauren Pesce Sorrentino. He has also been sober for over four years.
In a recent interview, Pesce and Sorrentino revealed what they did first after "The Situation" was released from the Otisville Federal Correctional Institute in Otisville, New York, in September 2019.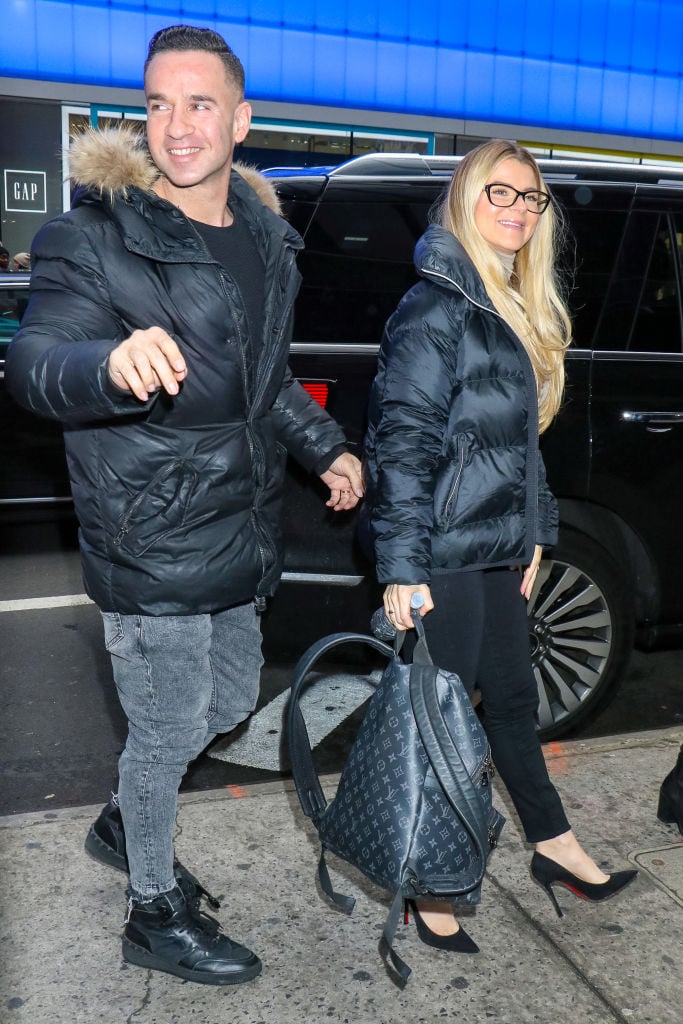 'The Situation' wanted a 'naked pizza party' after prison release
In an exclusive interview with Keke Palmer, Michael Strahan, and Sara Haines of Good Morning America's spinoff GMA3: Strahan, Sara & Keke on ABC, Mike Sorrentino and Lauren Pesce opened up about the Jersey Shore star's recent prison stay.
"You got out of prison in September, after eight months," said Strahan on the daytime talk show. "What was the first thing that you wanted to do when you got home?"
"The first thing that I wanted to do was have a naked pizza party with my beautiful wife here," said Sorrentino as Pesce laughed.
"It takes a special man to mix food with sex," joked Haines.
"And it happened!" the Jersey Shore star continued, to the delight of the studio audience and interviewers. "It was very successful."
A little more seriously, he added of his prison release, "I just really wanted to get back to life and work and be my best self and put those chapters…behind me."
Pesce explained how she got through her husband's incarceration
Haines, formerly co-host of The View, continued the interview by asking Pesce how she dealt with Sorrentino's incarceration, pointing out that she had spent most of her first year of marriage without her husband.
"Lauren, I want you to take me back," Haines began. "A year ago, you had gotten married, and within two months, you watched Mike go to prison. How were you feeling at that point?
"So, the wedding planning was a really good distraction for me, because we had a big wedding," Pesce explained of her wedding to her Jersey Shore husband. "So we had a lot to do, and I'm very meticulous. So it kept me busy, it kept me focused on positive things, it was the right time for us to get married."
Pesce also explained that, while viewers were mostly interested in Sorrentino's actual sentence, the stress for the couple had started long before that. "You know, the legal odyssey we were on took about five years to come to an end. So even though…he was facing that in the foreseeable future at that time, it was a relief, because there was an end to it," she explained.
Pesce added that the Jersey Shore star's incarceration actually allowed them to see a light at the end of the tunnel and begin to heal from the long ordeal. "Five years, we didn't know what was happening," she said. "At least we knew what was happening, and finally we could move forward."
The 'Jersey Shore' star said he stayed sober in prison
Keke Palmer asked Sorrentino what being in prison was really like.
The Jersey Shore star got candid with the interviewers, admitting, "It's not like the movies, I gotta say that. It was a very uncomfortable situation. You're not necessarily sleeping on a comfortable mattress, you're not eating good food. You're sort of in a negative environment."
However, he said he got along with other inmates and even built some friendships behind bars. "I was lucky, because most of the guys liked me," Sorrentino said.
He also shared that he used the experience to become "better" rather than "bitter," adding that he dropped 40 pounds while incarcerated. Sorrentino also celebrated his four-year sobriety anniversary with the interviewers and audience and said he was proud he remained sober in prison.
The 'Jersey Shore' couple also opened up about their recent miscarriage
The Jersey Shore couple wanted to start a family as soon as he got home. Pesce explained that they're in their 30s and have been together on and off for upwards of 15 years, so they both felt it was time.
Pesce, who shared that she had been tracking her cycles while her husband was away, actually did get pregnant the first night that Sorrentino got home. But sadly, the pregnancy ended in a miscarriage at six weeks.
The Jersey Shore star's wife revealed, "So, it was heart-wrenching. I felt like, when we found out we were pregnant, I felt like, this is why we went through these challenges for years, and that it was our time and it was our blessing. I rely on my faith to get me through everything in life, and especially the challenges we've gone through, if I didn't have my faith, I wouldn't be here. So, it was hard."
However, Pesce said that she wanted to share even this tragic moment in her life so that other women going through miscarriages could relate. "We share so much of our life, and we've already shared so many negative things that we've gone through that I didn't want to hold this in," she said in the interview. "I wanted to share it for other people going through it, and just be honest so that I could kind of heal through the process."