'Jersey Shore': What Happened to Jenni 'JWoww's Boyfriend, Tom Lippolis?
Jersey Shore fans will likely remember Jenni "JWoww" Farley's ex-boyfriend, Tom Lippolis. Find out where Lippolis is now.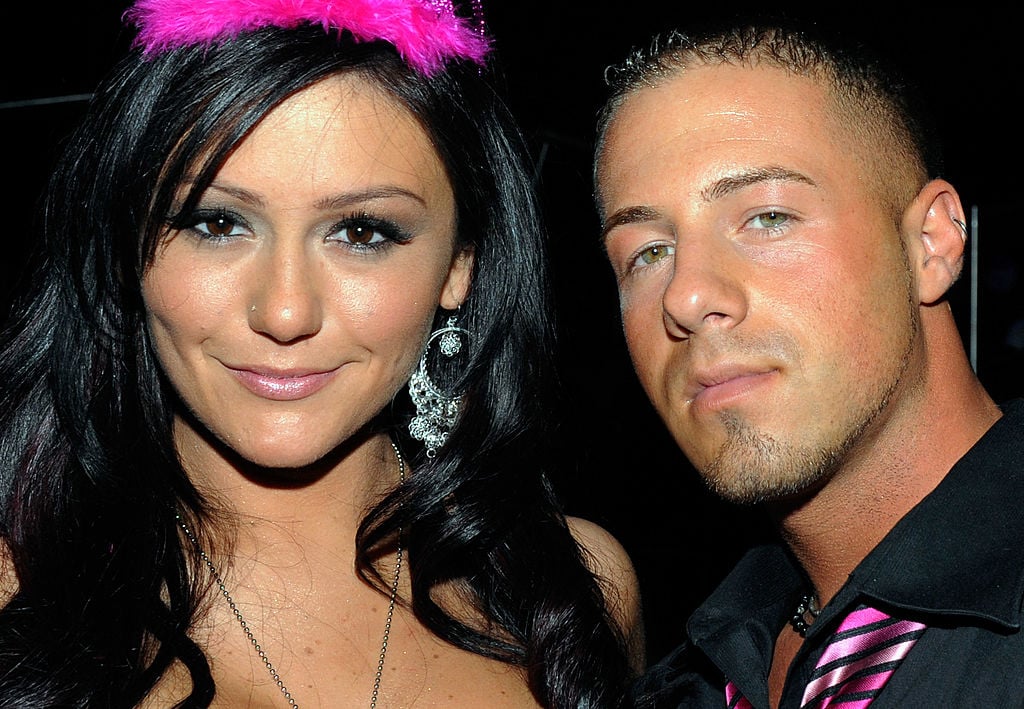 'JWoww' had a boyfriend when 'Jersey Shore' started 
Farley entered the shore house in a relationship. At the time, Lippolis was both her boyfriend and her manager. Despite having a boyfriend back home, Farley made it clear she was interested in Pauly DelVecchio. "JWoww has a boyfriend, but she's the type of girl that doesn't care," DelVecchio said to cameras. "She wants to have fun and have a boyfriend; I'll be that guy, I don't care." 
A frustrated DelVecchio discussed his and "JWoww's" hookup with cameras. "I know she was coherent," he says, adding: "She just doesn't want to feel like a trash bag because she has a boyfriend and she kissed me with her tongue." After piecing together what she did the night prior, Farley called Lippolis.
Jenni and Tom's breakup was caught on camera
Sadly, Farley's breakup with Lippolis was documented on Jersey Shore. After finding out Lippolis abandoned her dogs back at her home, Farley recruited the help of Nicole "Snooki" Polizzi to make the rescue. 
Farley claimed she had to break into her home to save her dogs. After finding them safe, she and Polizzi discovered that Lippolis had taken the bed, a watch that Farley received as a present, a hard drive, and an undefined amount of money from Farley's PayPal account. Upset but unbroken, Farley and Polizzi returned to the shore house for a summer of fun.
Tom and 'JWoww' allegedly had an abusive relationship
After their painful breakup, Farley says she was "stressed" from the emotional and physical abuse. "He had control over my life," she said on an episode of Jersey Shore After Hours (via Life and Style Magazine). "I felt like I created that monster. His insecurities got the best of him. In Long Island, he cut all my friends away from me, my family. I couldn't even go out with my girlfriends to have a drink. He had to be there."
Farley recalled Lippolis getting physical with her before she left for Jersey Shore. "The day that I left for Jersey, he threw my luggage down the stairs, because he saw clothes in there that weren't acceptable. And I went with the luggage," Farley said. "He pushed me down the stairs and said, 'I can't wait to f*ck another [girl] in your bed while you're gone.' And I was like, 'Get me out of this house.'" Fortunately, Farley was able to confide in her roommates and still enjoy her summer — and the summers to come — at the Jersey Shore. 
Did Jenni stab her ex-boyfriend? 
According to Lippolis, the abuse went both ways. In 2011, Farley allegedly stabbed him in the arm. "Jenni put a kitchen knife through my entire arm," Lippolis told Star Magazine (via New York Daily News). "It looked like something out of a surgery TV show. She cut right through the muscle, my bicep." Lippolis needed 57 stitches to repair the damage.
Fortunately for Farley, he never pressed charges. "I never pressed charges against Jenni because I think, I don't know, love does funny things [to] somebody," Lippolis said. "At the time, I really was, call it crazy, in love with her."
Tom was arrested in 2018 for extorting 'JWoww' 
In December 2018, Lippolis was arrested in Toms River, New Jersey on extortion charges. The police department shared the details of the arrest on Facebook: 
On December 17, 2018, Jenni L. Farley reported to the Toms River Police Department that an ex-boyfriend, Thomas Lippolis, had attempted to extort $25,000 from her in exchange for not divulging secrets to the media about Farley. This information had been given to Farley through her publicist who had initially received a phone call from Lippolis demanding the money. Farley and Lippolis had dated for close to a year approximately ten years ago. On December 19, 2018 Toms River Detectives Tom Grosse and Jon Turner initiated an investigation into these allegations. On December 19, 2018 Detective Grosse arrested Lippolis and subsequently charged him with 3rd Degree Extortion.

Toms River Police Department
Were Roger Mathews and Tom Lippolis plotting against Jenni?
Allegedly, Lippolis' arrest was a result of a much bigger plot led by Roger Mathews. In a letter that has since been taken down, Farley claimed Mathews reached out to Lippolis after she filed for divorce. "It is unfathomable to me that because of you proactively contacting an ex-boyfriend of mine to team up against me, he was arrested for trying to extort me," she wrote (via Vulture). Thankfully, Mathews plan didn't play out.
Where is Tom Lippolis today?
After his 2018 extortion charges, Lippolis fell off the grid.
His hasn't posted on Instagram since July 2018. He is likely keeping his personal life out of the public eye.