'Jersey Shore': When Is 'T-Shirt Time'?
"It's T-shirt tiiiime!" If you read that with Pauly DelVecchio's voice in mind, you've come to the right place. Many fans of Jersey Shore have often wondered about T-shirt time. What does it all mean, and more importantly, what time is T-shirt time? Find out when DelVecchio would announce T-shirt time for his roommates in the Jersey Shore house.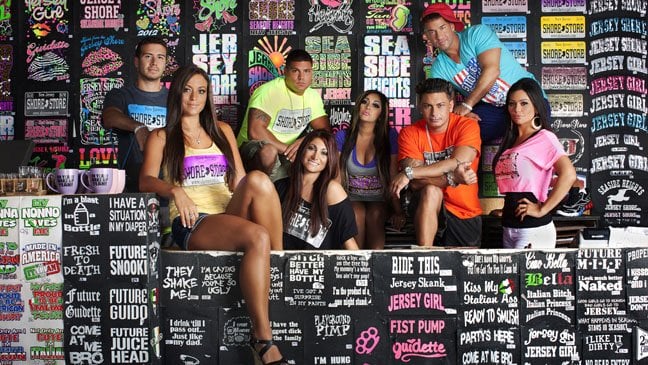 What is T-shirt time?
"[T-shirt time] means everybody put your T-shirts on because we're about to go out," DJ Pauly D explained to Vulture. In the early days of Jersey Shore, the men in the house would wait until the very last minute to put their shirts on to avoid wrinkling them. A lot of time went into perfecting their look — why ruin it with a wrinkled T-shirt? Just before DelVecchio would yell, "Cabs are here!" he would announce, "It's T-shirt time!" This call signaled to the rest of the house that the cabs would soon be there. 
Through the years, T-shirt time became about so much more than putting on a freshly ironed shirt. For the cast of Jersey Shore, it became a way of life.
T-shirt time is a ritual in the 'Jersey Shore' house 
Before heading out to Karma, Headliner, or any of the hotspots in Seaside Heights, New Jersey, the roommates would spend hours getting ready. "We would start pregaming at 9:30 [or] 10 p.m. so we [would] all have a good buzz on for the club," Polizzi said. 
For Sorrentino, T-shirt time was about his entire outfit. "Brand-new jeans — or pressed jeans — brand-new shoes, brand-new socks, brand-new underwear, a matching belt," he said, describing his perfect style. "And the shirt has to be [cool-looking], whether it's a cool color or a cool phrase. Everything has to work together." 
T-shirt time was about hair and makeup for the women of 'Jersey Shore' 
While the men in the house did most of the preening, the women were right behind them when it came to perfecting their club look. "I'm pretty sure we destroyed the ozone layer with the amount of hairspray and aerosol cans we used on a daily basis," Jenni "JWoww" Farley said. "We all had to have spray tans, layers of hairspray, thin eyebrows. It [took us] at least two or three hours [to get ready] because of the rotation of the bathroom. It was insane."
With very little space, applying hair and makeup sometimes proved to be challenging. "We always had false eyelashes, hair extensions, and lots of bronzer," Deena Cortese remembered. When the bathroom was occupied, bronzer would be applied in random areas of the house. "We basically had bronzer prints everywhere because we'd get it on our hands. It would get on our door [and] on our dresser. The poor boys would have bronzer everywhere in the house." 
When is T-shirt time? 
Knowing how long it took the women in the house to get ready, T-shirt time might surprise you. 
According to DelVecchio, "T-shirt time was probably around 10:30 p.m." 
Today, T-shirt time remains part of the Jersey Shore lifestyle — and will continue to do so, what with the announcement of Jersey Shore: Family Vacation Season 4.