'Jersey Shore': Here's Why 'Snooki,' Deena, and 'JWoww' Got So Upset After Delivering Angelina's Wedding Speech
Find out why 'Snooki', 'JWoww,' and Deena were so upset at Angelina Pivarnick's reaction to their wedding speech.
The moment Jersey Shore: Family Vacation fans have been waiting for is almost here. The speech Jenni "JWoww" Farley, Nicole "Snooki" Polizzi, and Deena Cortese made at Angelina Pivarnick's wedding will air on June 4. 
Pivarnick was extremely hurt by the toast. Her disappointment in the speech frustrated her co-stars, and with good reason. Find out why Farley, Polizzi, and Cortese are upset about Pivarnick's reaction to their speech.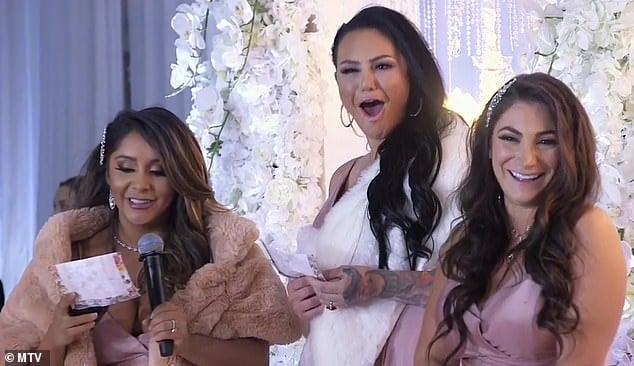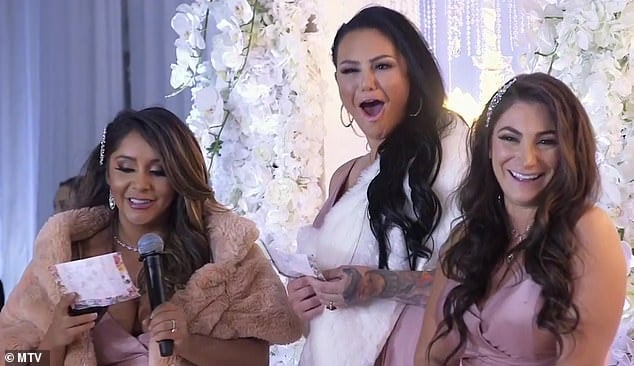 Angelina's wedding was full of drama 
All season long, Jersey Shore: Family Vacation has been teasing Pivarnick's wedding ceremony. According to the teasers for Season 3, Pivarnick's roommates deliver a less-than-tasteful speech that shocked Pivarnick and her wedding guests.
HollywoodLife reported Pivarnick is excited for fans to see the episode. "It's been really hard for Angelina even though time has passed since the wedding. She's looking forward to viewers seeing what happened and her side [of the story]." Fortunately for fans, MTV will debut the episode on June 4. 
Angelina allegedly knew about the speech 
In the teaser for the episode, Farley, Polizzi, and Cortese are upset when Pivarnick storms out of her wedding. Cortese says she'll never shoot with Pivarnick again. Farley is "f*cking mortified," presumably because of how poorly Pivarnick received the toast. 
A former producer from previous seasons spoke out on Reddit about their thoughts on the wedding drama. "Production [probably told Angelina] that Jenni, Deena, and Nicole would need to be in her bridal party and that they would need to make speeches at her wedding reception," they shared. "She was most likely aware that the speeches were going to have a negative slant to end [season 3] on a cliffhanger. In fact, I'm sure of it."
'Snooki' didn't want to give a speech 
Polizzi didn't want to give a speech in the first place, but Jersey Shore's production teams forced her hand. "I literally told producers, 'I'm not going to do a speech because I'm not comfortable doing one; I don't think we should be doing one,'" Polizzi explained to The Ashley Reality Roundup. "We were forced to do something we didn't want to do."
Because of their contracts, the former producer said Farley, Polizzi, and Cortese probably had to go through with the speech. 
Angelina 'flipped the script' to make Jenni, Nicole, and Deena look bad
The former MTV producer said "the network, production, and sponsors" covered the cost of the wedding. This means Pivarnick signed contracts and non-disclosure agreements that gave production control over the wedding and everything that happened on the day of the event — including the speeches. 
Knowing this, Pivarnick's roommates were hurt by her actions because "she knew there was a possibility that something could happen. Instead of rolling with it, [Angelina] is using the situation to make [Deena, Nicole, and Jenni] look bad."
Additionally, the former producer said the rest of the cast don't take Pivarnick's anger too seriously, with the understanding that she knew what was going to happen. "[The other roommates] feel she is trying to capitalize on something she already had prior information on and trying to play a victim," the former producer added. 
Tune in to Jersey Shore: Family Vacation June 4 to hear the infamous bridesmaid speech.