'Jersey Shore's Mike 'The Situation' Sorrentino and Angelina Pivarnick Are Reportedly on 'Good Terms'
Jersey Shore: Family Vacation Season 3 came to a screeching halt. Fans finally got to watch the drama from Angelina Pivarnick's wedding unfold and form their own opinions about each of the roommates' behavior that night.
Months later, when Mike "The Situation" Sorrentino celebrated his birthday, the roommates recreated Pivarnick's infamous wedding toast. Now, many fans are curious — are Pivarnick and Sorrentino still friends, or was she upset about what happened at "The Situation's" birthday dinner?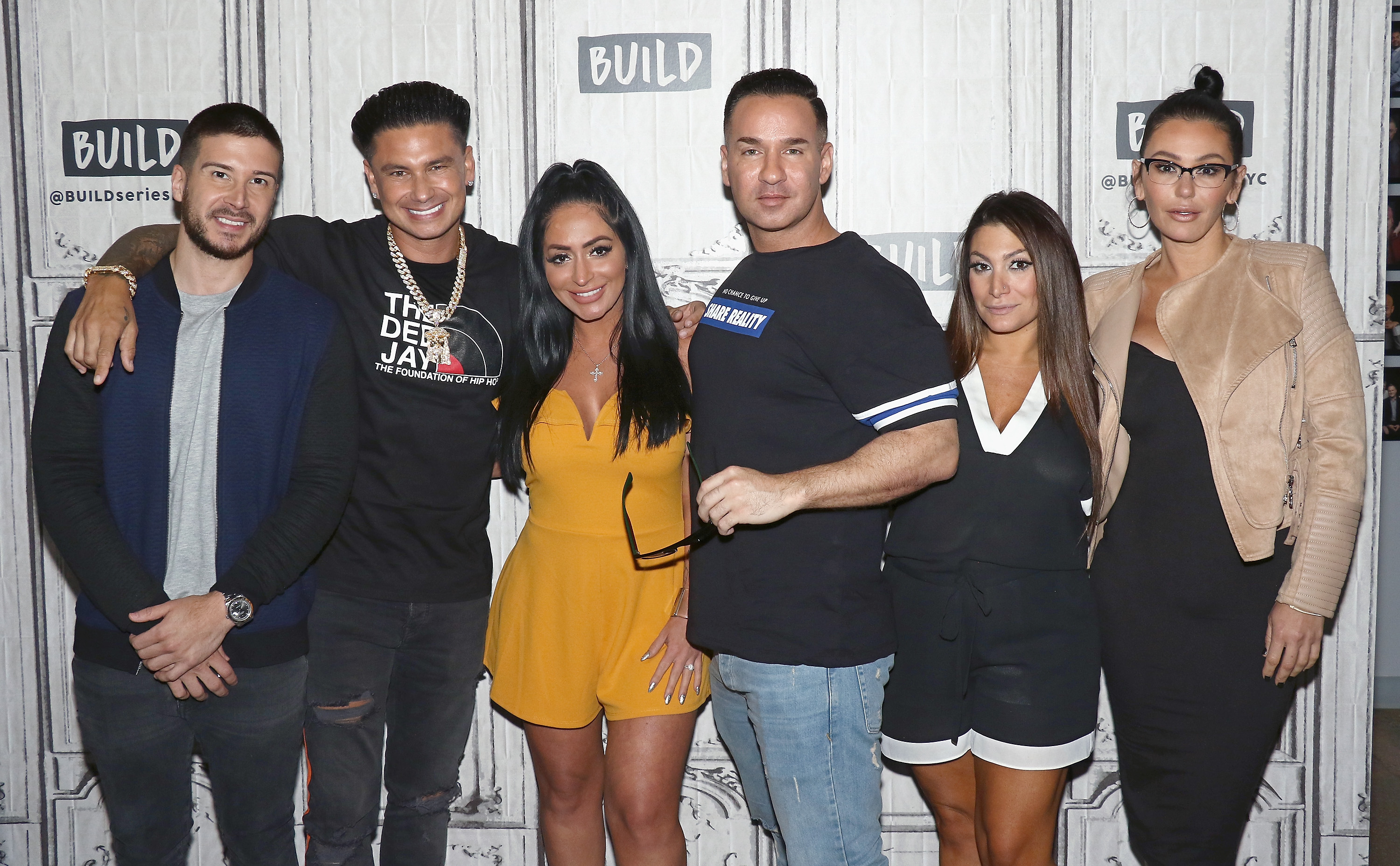 Mike and the rest of the 'Jersey Shore' guys stayed out of the wedding drama 
For the most part, the men of Jersey Shore: Family Vacation stayed out of the drama that revolved around Pivarnick's wedding. She seemed the most upset about the speech Jenni "JWoww" Farley, Nicole "Snooki" Polizzi, and Deena Cortese gave, despite it being a plot on behalf of the producers. 
Meanwhile, the men had prepared a choreographed dance number for the bride. After the speech, things changed. The guys had to regroup to avoid complete disaster.
In an attempt to turn things around at Pivarnick's wedding, Pauly DelVecchio nixed the dance and instead invited Pivarnick's wedding guests onto the dance floor to "beat the beat up."
The infamous speech resurfaced at 'The Situation's birthday dinner
On July 5, Sorrentino celebrated his 38th birthday with some of his Jersey Shore: Family Vacation roommates. Of course, his wife, Lauren Sorrentino (née Pesce), was also in attendance.
The group celebrated "Big Daddy Sitch" at The Butcher's Block in Long Branch, New Jersey.
During the evening, Farley, Cortese, and Polizzi made a toast to Sorrentino, later sharing it on Instagram. They parodied their speech from Pivarnick's wedding, altering it to make fun of Sorrentino. 
When the speech concluded, Sorrentino turned to his wife and said: "I don't know honey, should we go outside and flip out?" mocking the way Pivarnick reacted at her wedding.
Some Jersey Shore fans found the parody comical. Others were disappointed, finding the roommates behavior to be petty.
Jersey Shore fans had mixed reactions to the speech and Sorrentino's actions. "I don't like Angelina either, but these petty a*ses have some nerve," a fan posted on Reddit. "Anything to drum up interest for the next season, I guess."
Apparently, Mike and Angelina are still friendly
After Polizzi shared the birthday toast on Instagram, many fans were curious about Pivarnick's thoughts. While she did not express their mockery of her wedding speech outwardly, she did share a cryptic quote on Twitter a few days after. 
RELATED: 'Jersey Shore: Family Vacation': Why Angelina Laughed During 'Snooki,' 'JWoww,' and Deena's Wedding Speech
Despite Pivarnick's post and how Jersey Shore: Family Vacation fans felt about what happened at Sorrentino's birthday dinner, Sorrentino and Pivarnick remain friendly. 
"They're always on good terms," Sorrentino's wife told Us Weekly. "Mike's cool with everybody."
When asked about the birthday speech, "Mrs. Situation" said she found it comical. "[The roommates are] always a trip," she added. "They're always fun. I know that."
Both Sorrentino and Pivarnick will return for Jersey Shore: Family Vacation season 4. Many fans are excited to see how the two interact, especially after the way things ended last season.