'Jersey Shore's Nicole 'Snooki' Polizzi Shares Her Brutally Honest First Impressions of the Roommates
Nicole 'Snooki' Polizzi shares her honest feelings about the roommates when she first walked into the house on 'Jersey Shore.'
Nicole "Snooki" Polizzi might be done with Jersey Shore: Family Vacation, but she is not done reliving the memories. "Snooki" recently answered fan-submitted questions on her Instagram Stories regarding many of her Jersey Shore experiences, including her first impressions of the roommates the first day in the shore house.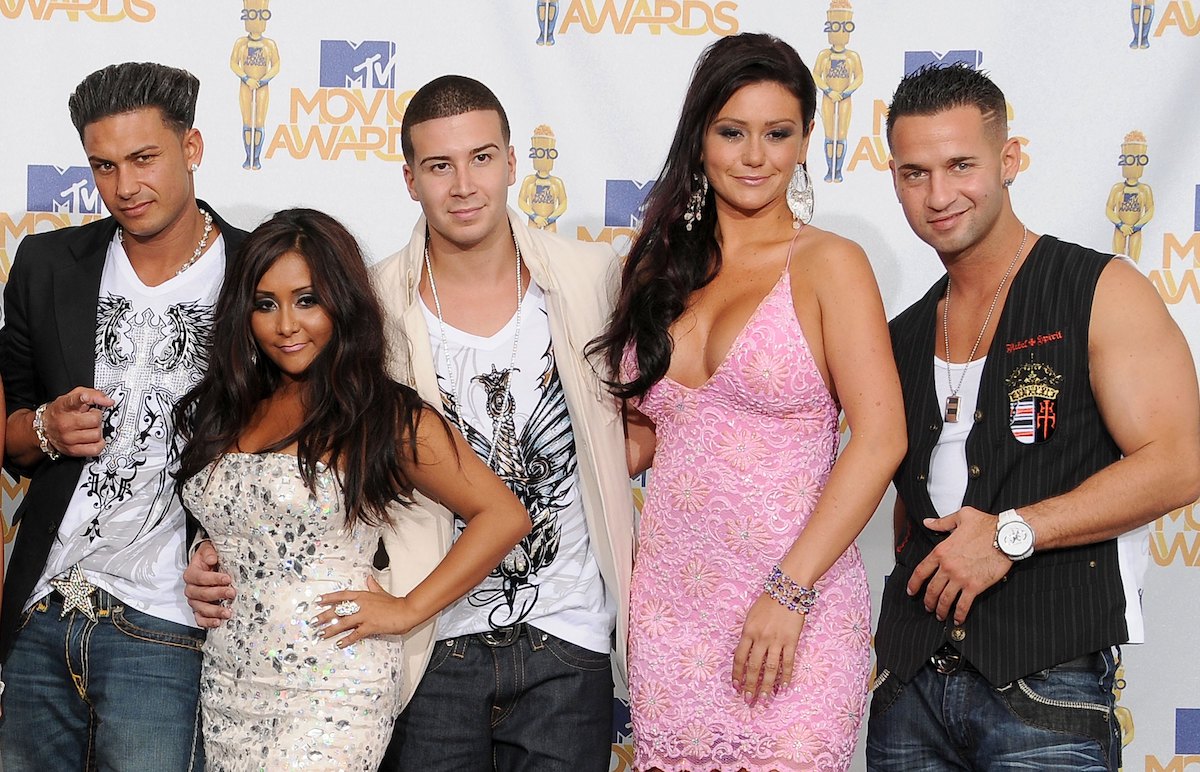 'Snooki' thought 'JWoww' was a 'b*tch' 
"Snooki" may consider Jenni "JWoww" Farley her best friend now, but when Polizzi first walked into Danny Merk's Seaside Heights home, she had a vastly different opinion of her. 
"JWoww is a b*tch," Polizzi said in an Instagram Stories regarding her first impression of Farley. Naturally, Polizzi's initial thoughts didn't last very long. After Polizzi was punched in the face at the Beachcomber boardwalk bar, the whole house united — especially Polizzi and Farley. 
The dynamic duo went on to do their spinoff show, Snooki & JWoww. Later, Farley and Polizzi returned for Jersey Shore: Family Vacation. 
Concerning another fan-submitted question, Polizzi said one of her fondest memories from filming Jersey Shore was the road trip she and Farley took to get to Miami for season 2. Now that's not something someone would say about someone they considered to be a "b*tch," is it?
Nicole Polizzi didn't think Vinny Guadagnino was much of a guido 
Vinny Guadagnino is known as the "Keto Guido" today, thanks to his ketogenic lifestyle and his career moonlighting as a Chippendale's stripper. But before he transformed into the "Keto Guido," Guadagnino was a kid from Staten Island, New York who auditioned to be on a reality show about guidos and guidettes. 
Polizzi said her first impression of Guadaganino was: "Vinny isn't a guido; why is he here?" As the youngest and most shy member of the crowd, it took Guadagnino some time to warm up to his new roommates. But once he did, he quickly became a favorite of fans and Polizzi alike.
Believing 'Jersey Shore' was a competition show, 'Snooki' thought 'DJ Pauly D' was the winner 
Contrary to her thoughts on Guadagnino, Polizzi had a unique perspective about Pauly DelVecchio. The Rhode Island native struck a chord with Polizzi based on his appearance. 
Polizzi's first impression of the DJ was: "Pauly is the #1 guido."
When the cast entered the shore house, they were under the impression the show was going to be a competition-based series. As casting director Doron Ofir explained to Vulture, the show's original title was America's Biggest Guido.
Eventually, producers realized the show was already interesting enough without the added layer of competition. And thus, Jersey Shore was born. But believing she was competing to prove she was "America's Biggest Guido," Polizzi thought the contest was over when she first saw DelVecchio. 
Nicole 'Snooki' Polizzi was confused by Mike 'The Situation' Sorrentino 
As one of the oldest Jersey Shore roommates, Mike "The Situation" Sorrentino stuck out to "Snooki." 
"How old is Mike?" she remembered thinking when she first saw Sorrentino. Ironically, Sorrentino is two years younger than DelVecchio. But to Polizzi, Sorrentino seemed too old for the situation.  
Polizzi did not share her first impressions of Sammi "Sweetheart" Giancola or Angelina Pivarnick. Many fans already know how she feels about Pivarnick, considering her decision to leave Jersey Shore: Family Vacation.