Jessica Biel and Beverley Mitchell Both Had Crushes on Their on-Screen '7th Heaven' Brother: 'There Was No Chance for Us'
There were a lot of kids in the 7th Heaven family. (In fact, as the name suggests, there were seven.) The iconic show followed a large family trying to make it work. The father, Eric Camden, is a reverend, which means he's always trying to guide his kids down the right path. Behind the scenes, things were a little bit trickier. It turns out, sparks were flying behind the scenes, too. According to The Armchair Expert podcast, Jessica Biel and Beverley Mitchell both had a crush on their on-screen brother while filming 7th Heaven.
Jessica Biel and Beverley Mitchell both had crushes on their on-screen '7th Heaven' brother Barry Watson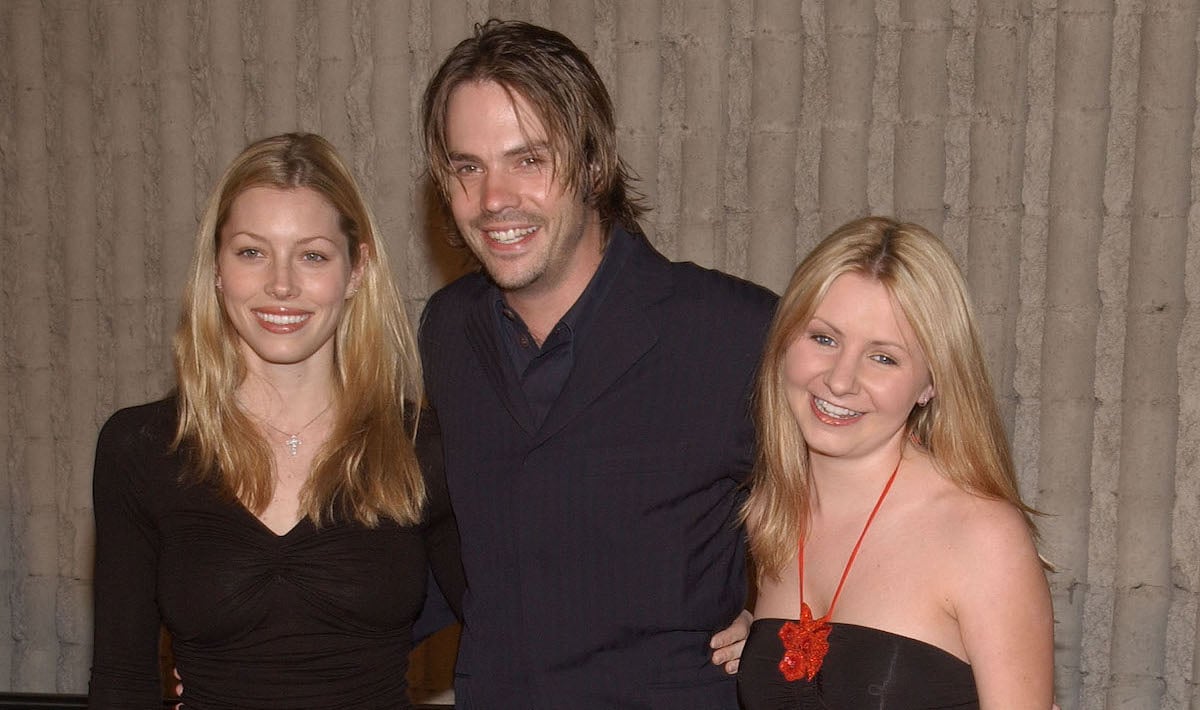 Relationships are bound to form in the close quarters maintained on the sets of television shows. Especially when those shows are long lasting, like 7th Heaven. The popular drama ran for 11 seasons, so naturally the cast became quite close. As far as Biel and her on-screen sister, played by Beverly Mitchell, both were really close in age. Although Biel played the older Camden sister, Mitchell is actually one year older than Biel. The two were 14 and 15 when filming began and formed a lifelong friendship on the set of the show. 
Not only did they share career aspirations, but Biel and Mitchell shared a crush on one of their castmates. Biel told Dax Shepard on Armchair Expert that both girls had a crush on Barry Watson, 22. He played the oldest Camden, Matt. Although they never dated, she confirmed:
"Beverly and I both had crushes on Barry who played our older brother. But no one ever dated anybody. He was dating real-life women. We were like 14 years old, just like, 'Oh my god.' There was no chance for us. It was not happening."
Where is Barry Watson now?
Watson wanted to stay on 7th Heaven for all 11 seasons, like the rest of the Camden kids. But his promising career was stymied by a tragic health problem. In 2002, six years after the show's 1996 premiere, Watson was diagnosed with cancer at just 28 years old. Doctors confirmed a diagnosis of non-Hodgkin's lymphoma and started him on a strong cocktail of medications. The cancer drugs meant he couldn't continue on in the show as an actor. Producers helped him get a side gig as a story editor on the show, which gave him something to keep his mind off his health. 
Luckily Watson is now cancer free. He's getting back into acting, with a handful of TV roles under his belt already. Plus, he's married with a few kids. He's also said he'd be down for a reboot, if one were to come up.
Plenty of on-screen siblings have dated in real life
Neither Biel or Mitchell dated Watson, despite both having a crush. But plenty of on-screen siblings have ended up together. Behind the scenes of The Brady Bunch, sparks were flying between the actors who played Marcia and Greg Brady. The two dated, but kept things under wraps. After all, it would have been scandalous if fans thought the siblings were dating. They finally revealed their relationship almost four decades later.
Parenthood siblings Lauren Graham and Peter Krause had been friends for years before starring in the show together. Even though they were playing siblings on screen, the two started dating in real life. They're still together, and it seems like they may last.
RELATED: Jessica Biel Admits She Was on 'This Angelina Jolie Kind of Path' but Wanted a Meryl Streep Career After '7th Heaven'