Jessica Biel Puts Justin Timberlake Split Rumors to Rest With This 1 Move
Jessica Biel is standing by her man. Amid rumors that Biel and Justin Timberlake are on the verge of a major split, the actress took to social media to wish her husband a happy 39th birthday. The sentimental post made it clear that Biel plans on staying with Timberlake, despite his questionable behavior with his co-star Alisha Wainwright.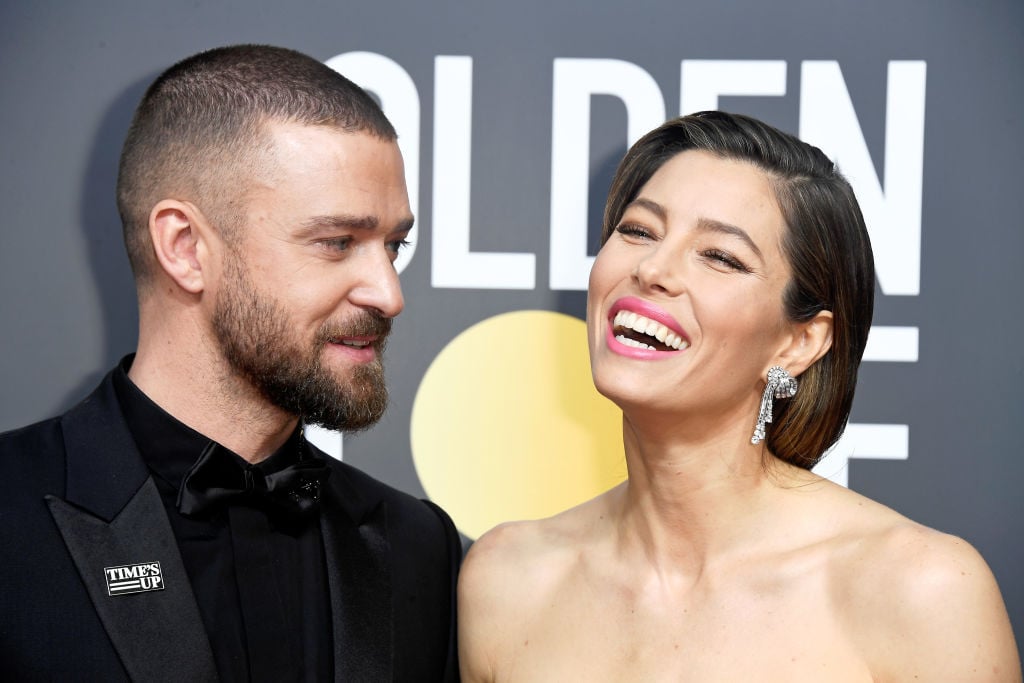 Justin Timberlake sparks split rumors
The drama heated up after Timberlake was spotted getting a little too cozy with Wainwright during a night on the town. According to E! Online, Timberlake and Wainwright were spotted holding hands, sparking rumors that his romance with Biel was on the fritz.
After the photos were posted online, Timberlake issued an apology for his actions. The singer assured fans that Biel is still his number one priority and said that his behavior with Wainwright was an "embarrassing" mistake.
Justin Timberlake and Wainwright are working on an upcoming movie called Palmer. The film follows the story of a former college football athlete whose stint in prison ruins his chances of going pro. Timberlake plays the lead in the movie, while Wainwright plays his romantic interest.
Biel did not say anything after the photos of Timberlake and Wainwright surfaced, but sources claim that the scandal rocked their relationship to its core.
Jessica Biel tries to repair her marriage
While Biel has remained silent about the split rumors, inside sources say that the actress is doing her best to fix her marriage.
An insider close to the situation claims that Biel is not planning on leaving Timberlake and wants to rebuild the trust they have lost. Although she was not happy about what happened, she is clearly willing to make things work.
"Nobody is going anywhere, but it's definitely had an effect on their marriage and her trust in him," a source dished. "Even if nothing more happened than what was in the photos, what he did was highly inappropriate."
Production on Palmer recently wrapped up and Justin Timberlake is believed to be back home with Biel. Another source revealed that Timberlake spent the holidays apologizing to his wife and trying to make things right.
The insider added that Timberlake felt horrible about what happened and has learned a lot from the drama. He hopes to avoid situations like this in the future, which is probably a good thing if he wants to keep Biel happy.
We have no way of verifying the rumors surrounding Timberlake and Biel. But Biel's latest post on social media suggests that their relationship is back on track.
Biel puts the rumors to rest
Amid all the speculation about their marriage, Biel recently put the rumors to rest by posting some adorable snapshots of her husband on social media.
Taking to Instagram, the actress shared a few throwbacks of Justin Timberlake in honor of him turning 39. In the caption, Biel wrote about how much she loves her husband and how he has aged well over the years.
"Happy birthday to the most timeless man I know. You somehow grow up without growing old. We love you so much," she wrote.
This is the first time anyone has seen the photos Biel posted. One of the images featured the pair kissing after he was granted an honorary doctorate.
The birthday post was the first Biel has shared about Timberlake following his scandal with Wainwright. Although she is obviously still in love with the singer, she did not mention anything about his behavior.
Jessica Simpson talks about the time she kissed Justin Timberlake
As if things could not get any worse for Timberlake, Jessica Simpson recently opened up about the time she kissed Timberlake during an appearance on Jimmy Kimmel Live.
Simpson told Kimmel that she and Timberlake once locked lips. But as soon as they finished kissing, Timberlake took out his phone and started texting someone. She then found out that Justin Timberlake was messaging Ryan Gosling.
Timberlake and Gosling apparently had a running bet about who would kiss Simpson first. The move made it clear to Simpson that there was nothing romantic going on between her and Timberlake.
As fans may recall, Timberlake and Gosling starred on the Mickey Mouse Club together in the 1990s. The two were only 12 years old and apparently made the bet during their time on the show.
Justin Timberlake has not commented on the rumors surrounding his relationship with Biel. His next film, Palmer, is expected to hit theaters later this year. Biel, meanwhile, is enjoying her time on her new show, Limetown.