Why Did Arizona Robbins Actor Jessica Capshaw Leave 'Grey's Anatomy'?
'Grey's Anatomy' fans remain disappointed that Jessica Capshaw left the show, taking her character Arizona Robbins with her. What happened behind the scenes?
As any Grey's Anatomy fan will tell you, Arizona Robbins (Jessica Capshaw) is a good man in a storm. Sure, the character had her moments. But even after Arizona's rollercoaster romance with Callie Torres (Sara Ramirez) ended, the pediatric and fetal surgeon continued to shine.
So naturally, viewers were shocked when ABC announced Capshaw's plans to leave after season 14. But why did Arizona Robbins leave Grey's Anatomy? Here's what happened in 2018, and what the actor has said about a future appearance on Grey's.
What did Arizona Robbins leave 'Grey's Anatomy' in season 14?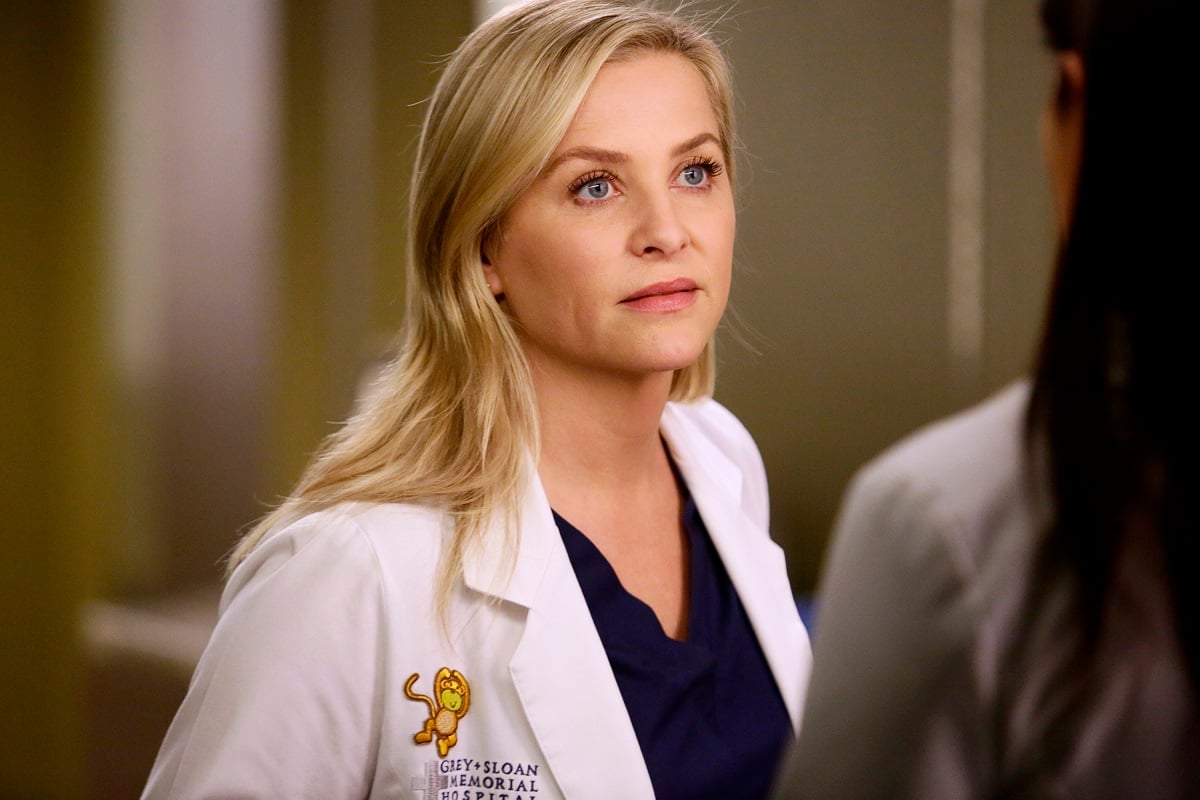 In Grey's Anatomy Season 12, Callie Torres and Arizona Robbins fought for custody of their daughter, Sophia, after Callie chose to move to New York City with her girlfriend, Penny Blake (Samantha Sloyan). The hearing itself was difficult to watch, to say the least. But in the end, Arizona won sole custody of Sofia. 
Nevertheless, Callie and Arizona eventually came to an agreement and split time with their daughter. Then Callie went to New York, leaving Arizona behind in Seattle. Though this may not be the end of their story.
When Grey's Anatomy Season 14 aired in 2018, Sofia returned to Seattle. However, she had a hard time adjusting. She missed her life and mom in New York. Meanwhile, Arizona's fetal surgery mentor, Nicole Herman (Geena Davis), returned and wanted to start a new women's health center. And because the center could be built anywhere, Arizona and Nicole decided on New York.
Finally, in the Grey's Anatomy Season 14 finale, Arizona hinted she could eventually get back together with Callie, noting she couldn't help but smile when texting her ex. But whether or not Calzona rekindled the romance, Arizona left Seattle for the Big Apple and hasn't returned to Grey Sloan Memorial.
Jessica Capshaw on leaving 'Grey's Anatomy'
In March 2018, Deadline reported Capshaw and Sarah Drew — who played April Kepner — would not be returning after Grey's Anatomy Season 14. The publication also shared the decision was made because the ABC medical drama wanted to go in a different creative direction. Then showrunner Krista Vernoff said in a statement:
The characters of Arizona and April are permanently woven into the fabric of Grey's Anatomy thanks to the extraordinary work of Jessica Capshaw and Sarah Drew. As writers, our job is to follow the stories where they want to go and sometimes that means saying goodbye to characters we love. It has been a joy and a privilege to work with these phenomenally talented actresses.
Meanwhile, Capshaw released a statement of her own on social media, acknowledging the impact of her Grey's Anatomy character. 
"For the past ten years I have had the rare privilege of not only playing Arizona Robbins, but also being madly in love with playing her," Capshaw wrote on Twitter. "She was one of the first members of the LGBTQ community to be represented in a series regular role on network television. Her impact on the world is forever. "
Could Arizona Robbins ever return to 'Grey's Anatomy'?
Capshaw left Arizona behind on Grey's Anatomy years ago. And of course, fans would love to see the actor reprise her role in the Shondaland drama, even if it's just a cameo.
In 2021, Capshaw joined other Grey's Anatomy actors like Camilla Luddington for an event. During the Stars in the House fundraiser (via People) she made a brief appearance, getting fans excited all over again for a possible reunion.
In the past, creator Shonda Rhimes hinted the door is always open, noting Capshaw and Drew "will always be a part of our Shondaland family." Meanwhile, in an interview with Marie Claire ahead of her exit, Capshaw pointed out Grey's Anatomy characters can always return, so long as they didn't die. And as far as fans know, Arizona Robbins' death hasn't occurred off-screen.
"You know, everyone consistently says that once you're in Shondaland, you're in Shondaland. Because it's true," Capshaw said in 2017. "You're in the mix. You're one of her people. So you never say never because unless your character actually genuinely dies, you can always come back."
She added, "And even then you could be a ghost."
Check out Showbiz Cheat Sheet on Facebook!