Jessica Chastain's Grandma 'Horrified' Bradley Cooper By Randomly Sitting on His Lap
Bradley Cooper was surprised when a stranger sat on his lap, but Jessica Chastain was quick to clarify that she didn't mean anything bad about it.
Oscar-nominated actor Jessica Chastain has been a busy lady in the last year. The Eyes of Tammy Faye has garnered many awards for makeup as well as Chastain's acting in the starring role. In 2021, her TV mini-series Scenes from a Marriage with Oscar Isaac debuted, receiving rave reviews. The 355, a thrilling spy drama and her latest film, was released earlier in January.
Chastain recently appeared on The Ellen DeGeneres Show to promote The 355. While she was there, she told a story about her beloved grandma who was excited to meet Bradley Cooper.
Jessica Chastain has a special relationship with her grandma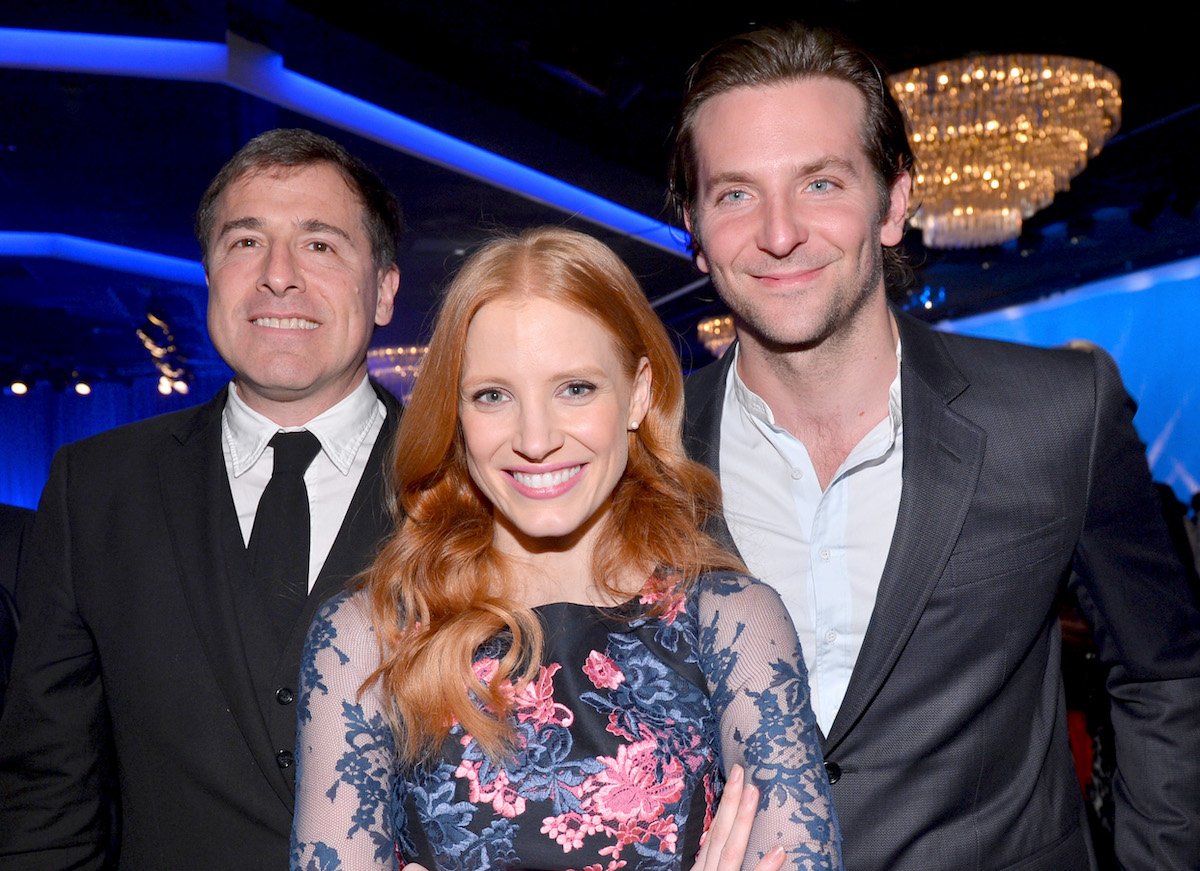 Chastain has a great relationship with her grandmother, Marilyn Herst. According to the Wall Street Journal, Herst moved in with Chastain in April of 2020. As the Molly's Game star describes, Herst approaches life bravely with open arms.
Chastain explained that Herst is one of her favorite people in the world. When the global coronavirus pandemic began, Chastain was in Morocco working on a film. She recalls texting Herst and asking her not to go to the grocery store for her safety.
The 44-year-old explained to DeGeneres that in the past, her grandmother was thrilled to meet her co-stars. According to Insider, Herst has met Al Pacino (who was in the 2013 film Salome with Chastain) and Matthew McConaughey (who starred in Interstellar with Chastain) among others. 
Chastain told DeGeneres that she's been trying to find dates for her grandmother for the last 15 to 20 years. She'll even post photos of Herst on dating sites like Match.com.
Chastain's grandma horrified Bradley Cooper
Herst, according to Chastain, is now at an age where "she really just doesn't care." Once, at a house party Chastain was hosting, Herst decided she wanted to meet Oscar-nominated actor Bradley Cooper. Herst went up and sat on the actor's lap.
Chastain explained to DeGeneres that during the party, Herst just walked over to Cooper and sat on his lap. According to the Zero Dark Thirty star, Cooper looked horrified. The Hangover actor had never met her grandmother and didn't know who she was. Chastain said she watched it happen as if in slow motion; she was like, "Nooo!"
Chastain rushed over to defuse the situation, clarifying for Cooper that the mystery woman on his lap was her grandmother. At that point, Cooper said, "Okay, OK. Hi, grandma!"
Jessica Chastain's upcoming projects
Chastain is currently filming George & Tammy, a limited television series about the relationship between iconic country musicians George Jones and Tammy Wynette. Filming for six episodes began in December 2021 in North Carolina; Michael Shannon is her co-star.
Deadline reported that both Shannon and Chastain will sing in the series, just as Chastain did for her role in The Eyes of Tammy Faye. Wynette was best known for the hit country song "Stand by Your Man."
Based on Jones and Wynette's daughter's book, The Three of Us: Growing Up with Tammy and George, the show will premiere exclusively on Spectrum. It will appear on Paramount+ and the Paramount Network later.
 Chastain just received the Best Actress nomination from the Screen Actor's Guild for The Eyes of Tammy Faye. She's allegedly on the shortlist for an Oscar nomination, too. (She was also nominated for a Golden Globe for the role.)
Will Herst get the opportunity to meet Chastain's other co-stars, like Sebastian Stan (The 355), Andrew Garfield (The Eyes of Tammy Faye), and Shannon? It remains to be seen. Chastain admires her grandma and others who "just do it." Like them, she wants to be a problem-solver.