Jessica Chastain Shares Praise for Co-Star Andrew Garfield and His Performance in 'the Eyes of Tammy Faye'
In 2021, Andrew Garfield was mostly trending for his roles in Tick, Tick…Boom! and Spider-Man: No Way Home. However, he also co-stars with Jessica Chastain in The Eyes of Tammy Faye. Chastain, who is nominated for Best Actress at the Oscars for her role as Tammy Faye, has shared an Instagram post praising Garfield's performance in the film. 
Jessica Chastain is receiving awards for her performance as Tammy Faye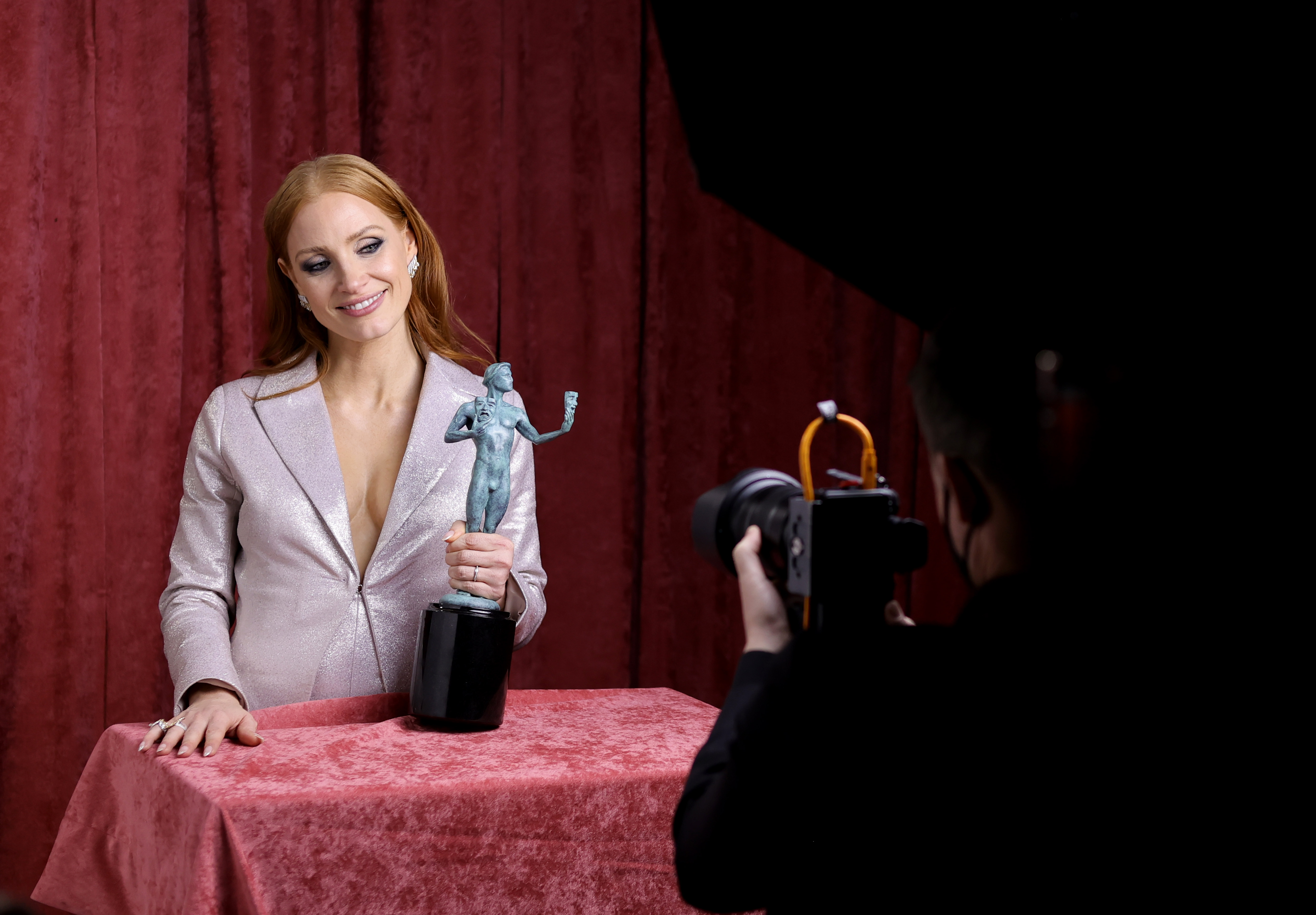 Directed by Michael Showalter, The Eyes of Tammy Faye stars Chastain as the real-life title character. Faye was an American televangelist who was known for having differing views from many of her counterparts within the Christian community. Garfield plays her ex-husband, Jim Bakker. The two became one of the most popular evangelists in the nation, however, it all came crumbling down when Bakker was arrested for fraud. 
Chastain is now nominated for Best Actress at the Academy Awards for her role as Faye and recently won a Screen Actors Guild award for her role. The film wasn't a massive hit, but many praised Chastain's performance as she transforms into Faye's larger-than-life personality. While all eyes are on Chastain, Garfield's performance has gone overlooked, but he is still fantastic in his role.
Chastain shares her appreciation and praise for Andrew Garfield
Taking to Instagram and Twitter, Chastain shared two black-and-white photos of her and Garfield embracing at the 2022 SAG awards. In the post, she writes a caption, talking about how thankful she is to have had Garfield as her co-star. Garfield was also nominated for a SAG award for Tick, Tick…Boom!, but lost to Will Smith for King Richard. Smith is also competing with Garfield at the Oscars. 
"No matter how much prep you do, what really matters at the end of the day is who you're acting opposite of," Chastain writes. "Being able to react to the brilliant things Andrew Garfield brought to his performance as Jim Bakker was monumental in creating my own. Always grateful to this gem for his generous spirit and an inspiring collaboration."
The Eyes of Tammy Faye is the first project that Chastain and Garfield have worked on and it seems like they could be working together at some point in the future. 
Both Chastain and Garfield have a chance at winning an Academy Award
While Chastain was nominated for her role in their movie, Garfield was nominated for a different film. The No Way Home actor is nominated for Best Actor for his performance in Tick, Tick…Boom!. In Tick, Tick…Boom!, Garfield plays Jonathan Larson, the creator of Rent who tragically passed before he ever saw it. Directed by Lin-Manuel Miranda, the film displays not only Garfield's acting talents but also his incredible singing voice. 
If Garfield and Chastain win, it would be both of their first Oscar wins. Garfield has been nominated before for his lead role in 2016's Hacksaw Ridge. This is Chastain's third nomination as she has been nominated for her roles in 2011's The Help and 2012's Zero Dark Thirty. Regardless of whether they win or not, the two had a phenomenal 2021 and they will continue to have great years down the line. 
RELATED: 'The Eyes of Tammy Faye': Andrew Garfield Had This Concern Before He Signed On For the Movie