Jessica Chastain's Transformation for 'The Eyes of Tammy Faye' Is Jarring: 'It Freaked Me Out'
It took over 10 years to get the upcoming movie by Searchlight Pictures, The Eyes of Tammy Faye made. But, the biopic is finally due in theaters on Sept. 21. Star Jessica Chastain wasn't fully prepared for her transformation into becoming the real-life character of Tammy Faye Bakker. The star deemed her first look "jarring," adding it all "freaked" her out. Here's why.
Who are Jim and Tammy Faye Bakker?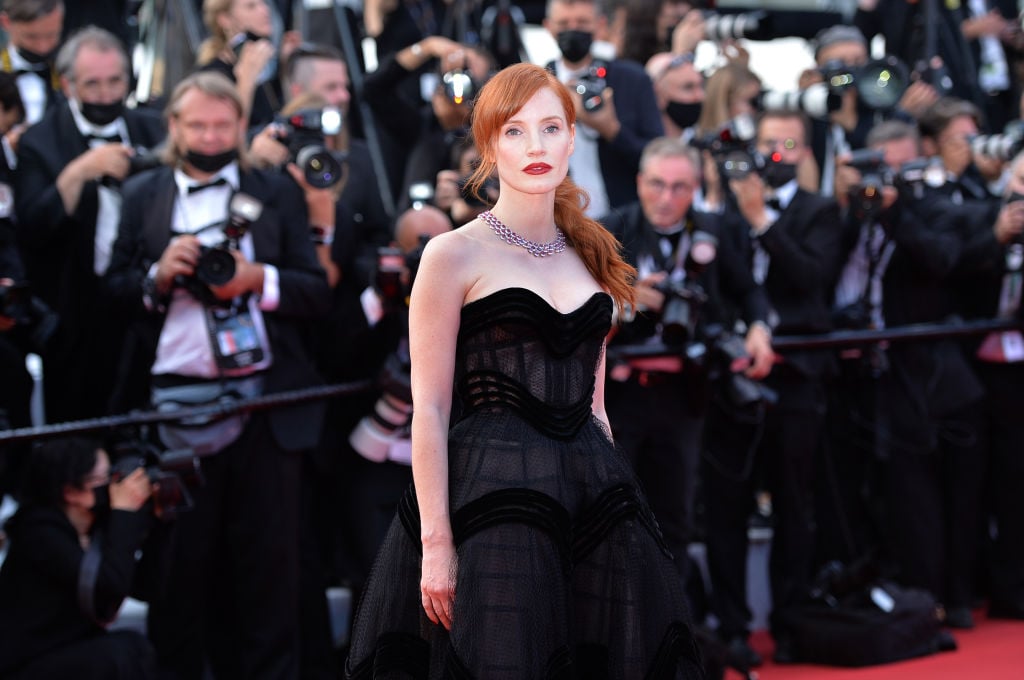 The Eyes of Tammy Faye aims to tell the tale of the televangelist couple, Tammy Faye and Jim Bakker. Both were investigated for stealing funds raised for The 700 Club and The PTL Club in the 1980s. Chastain and Andrew Garfield star as the duo, focusing on the early days coming up in the religious business.
Before they teamed up with Pat Robertson's Christian Broadcasting Network, the couple married young and had two children, Sissy and Jay. Eventually, they created their own space on TV for sermons, singing, and fellowship.
Then, in 1987, Jim faced sexual misconduct accusations, followed by fraud charges, which he initially avoided. Those fraud charges, among others, came from selling lifetime memberships for a large sum then denying the annual three-night hotel room stay that was supposed to be included in the fee.
In 1988, Jim was indicted on multiple charges and originally sentenced to 45 years, but a court reduced it to eight years in subsequent hearings. He was released in 1994 but owed the IRS millions. Meanwhile, Jim and Tammy Faye divorced while Jim was in prison. She re-married but died of colon cancer in 2007. Jim continues working as a televangelist on The Jim Bakker Show and is still. controversial figure.
Why Jessica Chastain felt 'freaked out' by role as Tammy Faye Bakker
Scoring the role of Tammy Faye is no easy feat. As Chastain learned, transforming into Tammy would become a bigger task than she imagined.
In an interview with The LA Times, Chastain said she was "freaked out" after seeing the 7+ hours of heavy makeup on her face.
"The very first test I did was difficult, honestly. I mean, we fixed it. But I was freaked out. I was like, 'I don't know how to act like this,'" she said. "People think it's easier, but it's not. You have to reach through the makeup — you can't let the makeup be the performance."
That said, Chastain knew she'd have to act through the layers, or her character wouldn't translate.
"I got to set, and I was so panicky," she said. "And I started to have hot flashes because it's so heavy and hot. I was afraid. It was like going on a long-distance flight every day. Because if it takes 7 and a half hours to put on, it's going to take at least two hours to get off. It was concerning to me."
She added, "I was worried about my circulation. By the time I got on set that first day that was 7 and a half hours, I was like, 'I have no energy left.' And she's supposed to show up with so much energy."
Chastain said 'Tammy Faye' was the hardest role of her career
RELATED: Jessica Chastain Rejecting 2 MCU Roles Was a Wise Career Decision
Not only was the makeup process a difficult one for Chastain, but actually performing as Tammy Faye got to her, too.
"I was scared the people were going to make fun of me," she shared. "And there's going to be a lot to make fun of if I fail because it's so out there. I'm swinging for the fences here. You have to let go of your ego and wanting to look cool. This is connecting you to her."
She admitted to being so scared of the role, and she drank to calm her jitters.
"It's the hardest. Also, singing. The day I went to do it, I tweeted something like: 'I am living off of bourbon and Throat Coat.' Because I was so scared," she said. "I actually drank Throat Coat tea with whiskey while I was doing the singing. I'm not hardcore like that! But I was like, there's no way that I can be this nervous, and that was my get-ya-through-it recipe."
The Eyes of Tammy Faye releases on Sept. 17, 2021.