Jessica Simpson Blasts 'Bitter' Ex Nick Lachey After He Jokes About Her Dad's Sexuality
Jessica Simpson is on the warpath. Following her ex-husband, Nick Lachey's, comments about her father's sexuality, Simpson put Lachey on blast during an episode of her SiriusXM show, Town Hall. Not only did Simpson slam Lachey for being bitter, but she also admitted that she was "pissed" when he mentioned her dad.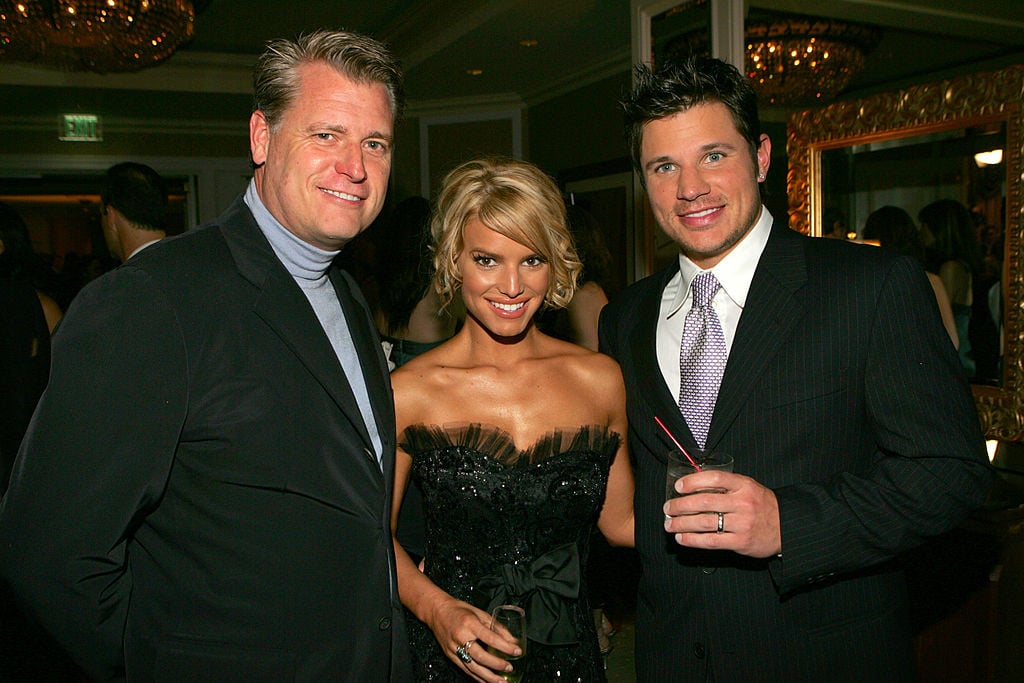 Nick Lachey blasts Joe Simpson father
At the end of January, Lachey was interviewed by Andy Cohen on Watch What Happens Live. During a game of Plead the Fifth, Lachey poked fun at Joe Simpson's sexuality, a move that did not sit well with his ex-wife.
"The best thing about not having Joe Simpson anymore as a father-in-law is I don't have to play grab-ass under the table on Easter Sunday," he told Cohen.
Lachey added that his joke would probably not be that funny after the interview was over. Given how Jessica Simpson reacted to the comments, we have to say that he was probably right.
Her father's sexuality, meanwhile, is something Simpson talked about in her memoir, Open Book. The singer wrote about how her dad asked to bring a male date to her wedding in 2014 with Eric Johnson.
Simpson admitted that she was taken back by the request, but ultimately decided to accept her father the way he is.
Jessica Simpson refuses to talk about her dad's sexuality
Although she mentioned it in her book, Simpson has continuously denied talking about her dad's sexuality in public interviews. In fact, she recently confessed that she does not like putting labels on things of that nature and would rather not talk about it.
As far as Simpson is concerned, her dad is the one who should be talking about his sexuality, not her.
Jessica Simpson's father parted ways with her mom, Tina Simpson, in 2012. The two were married for three decades before calling it quits, presumably because of his sexuality.
After 30 years together, Simpson was understandably shocked by the divorce. To make things worse, her dad told her that she actually inspired him to be honest about his marriage and pursue a divorce.
Her dad, meanwhile, has not commented about Lachey's joke. Simpson, on the other hand, is a different story.
Jessica Simpson slams Lachey
In light of Lachey's joke on Watch What Happens Live, Simpson opened up about her ex-husband during an episode of her show on SiriusXM.
The singer did not pull any punches when talking about her former husband, calling him "bitter" and saying that she was very angry about the whole thing.
"That was low and that's not for him to talk about by any means because he's not connected with us at all anymore," she stated.
Jessica Simpson quickly added that it sounds like Lachey is just bitter over how things ended and that he was just looking for an opportunity to make a joke. Lachey and Simpson were married between 2002 and 2006. She went on to tie the knot with Johnson in 2014. The two are still together and share three children together.
While Simpson was very critical of Lachey, he has yet to say anything in return. But we have a hard time believing their feud is at an end.
What about that mysterious gift?
Aside from Lachey's comments about her father, Simpson sparked a lot of confusion during an interview with Hoda Kotb on Today. Simpson was on the show to promote her memoir, Open Book.
At one point, Kotb believes that Simpson mentioned how Lachey and his current wife, Vanessa Lachey, sent her a gift after she had her first child.
Nick and Vanessa happened to appear on Today a few days later and were asked what they sent Jessica Simpson. The couple seemed genuinely confused about the entire situation and assured Kotb that they never sent a gift.
Needless to say, Kotb was just as confused as everybody and swore that Simpson mentioned a "beautiful gift" during their interview. Thankfully, Simpson later clarified that she never got a gift from Lachey, who apparently doesn't even have her address anymore.
It is unclear where Kotb heard about the gift as it was not a part of her conversation with Simpson. To be fair, Jessica Simpson later told Cohen that the only gift she received from Lachey is that he is now happily married.