Jessica Simpson Shares Her Struggle With Addiction in New Memoir
Fashion brand owner Jessica Simpson reveals some very personal issues from her life in her upcoming book.
Singer and reality star Jessica Simpson has been very transparent in her struggles with weight, especially during her most recent pregnancy with daughter Birdie Mae whom she welcomed with husband Eric Johnson in March. Revealing a stunning weight loss of 100 pounds last fall, Simpson has once again been populating celebrity headlines.
Now the fashion entrepreneur is sharing some more personal issues in her new memoir "Open Book," which is set to be released next month.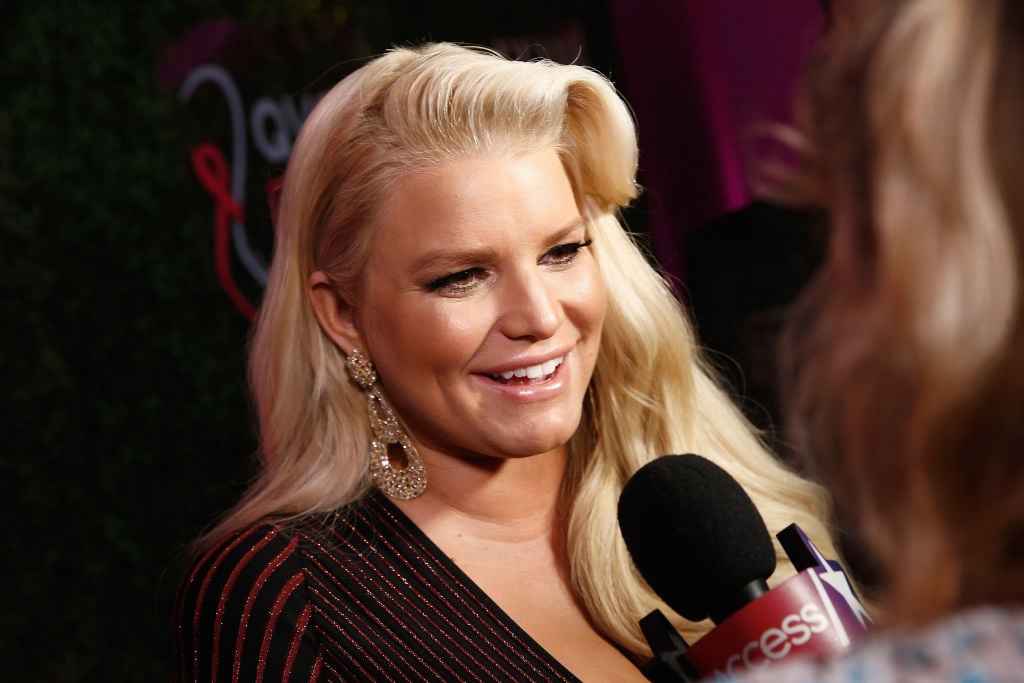 Family and fitness
Simpson shared the birth of baby Birdie on Instagram along with a pic of her infant daughter with big sister Maxwell. "We are so happy and proud to announce the birth of our perfect daughter, Birdie Mae Johnson, 3.19.19 10 Pounds 13 Ounces," she captioned the post. Her new addition with husband Eric Johnson also joined big brother Ace, now 6 years old.
With the help of celebrity trainer Haley Pasternak, Simpson showed off her post-baby weight loss on social media in September. "Six months. 100 pounds down (Yes, I tipped the scales at 240)," she wrote on Instagram, alongside two full-length photos of herself.
While Pasternak is known for being a fierce fitness icon, he was sure to tailor Simpson's workout schedule to mesh with her life as a mother of three. "Once you become a mom, it's not about you anymore," he shared with Us Weekly. "You're living for something else, for someone else, and so you have to really be efficient with your time and you have to do things that are not quick fixes, [but] that are long fixes."
Painful past
Simpson revealed that she had the opportunity five years ago to write a motivational book on living your best life, but turned it down. "I didn't feel comfortable talking about myself in a way that wasn't honest," Simpson told People. "I'm a horrible liar."
In "Open Book," Simpson takes the title to heart and shares some very painful experiences of sexual abuse from her childhood that began at 6 years old "when I shared a bed with the daughter of a family friend," she writes. "It would start with tickling my back and then go into things that were extremely uncomfortable."
Simpson struggled with the idea of telling her mother and father of the abuse. "I wanted to tell my parents," she writes. "I was the victim but somehow I felt in the wrong."
She came forward to her parents during a car trip when she was 12. According to Simpson, her mother slapped her father's arm and yelled at him, "I told you something was happening." Simpson shared her dad's quiet response in the book. "Dad kept his eye on the road and said nothing," Simpson writes. "We never stayed at my parents' friends house again but we also didn't talk about what I had said."
As she got older and began achieving fame, she battled anxiety due to the trauma she had been through and began self-medicating with drugs and alcohol.
Road to recover
After marrying Brooks in 2014 and having her children, Simpson continued her downward spiral but finally hit bottom in 2017 after a Halloween party at their home. That's when she made the decision to change. "I need to stop. Something's got to stop," she told her friends. "And if it's the alcohol that's doing this, and making things worse, then I quit."
With her friends' and family's support, plus therapy twice a week, Simpson has maintained her sobriety since that day. "When I finally said I needed help, it was like I was that little girl that found her calling again in life," she said. "I found direction and that was to walk straight ahead with no fear. Honesty is hard but it's the most rewarding thing we have. And getting to the other side of fear is beautiful."
Simpson shared that her anger at alcohol made it easier to quit. "I was killing myself with all the drinking and pills," she writes."Giving up the alcohol was easy. I was mad at that bottle. At how it allowed me to stay complacent and numb."
The fashion icon revealed that while the road to recovery has been tremendous hard work, it's been worth every step and hopes to encourage others with her story. "It's been a long hard deep emotional journey, one that I've come through the other side with pure happiness and fulfillment and acceptance of myself," Simpson explained. "I've used my pain and turned it into something that can be beautiful and hopefully inspiring to people."
"Open Book" is scheduled for release on February 4, 2020.