'Counting On:' How Do Jill Duggar and Derick Dillard Make Their Money?
Jill Duggar and Derick Dillard were once an integral part of TLC's Counting On. However, after Dillard made some reprehensible comments on Twitter about other TLC stars, the Dillard family left the show. The couple recently built a brand new home, but fans questioned how the two had the money given neither of them appear to work full time jobs. How do they have an income?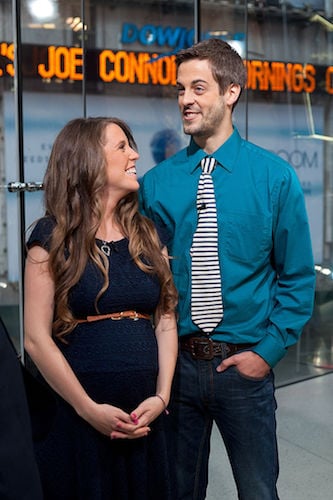 Dillard took his family off of 'Counting On' in 2017
Back in 2017, Dillard wrote some harsh words on Twitter about other TLC stars. Dillard suggested that TLC star Jazz Jennings was a "non-reality," meaning he believes transgender is a myth. "Gender is not fluid; it's ordained by God," he wrote. The tweet sparked outrage, with one fan suggesting he shouldn't be a part of TLC if he has such a problem with others on the network. Dillard also called Nate Berkus and Jeremiah Brent a "travesty," saying their homosexuality was degrading to their children. "… It both highlights and celebrates a lifestyle so degrading to children on public television as if it should be normal," Dillard wrote. The comments didn't go over well with fans or the network. Some reports suggest Dillard was fired from the show, while Dillard claims he pulled his family out of the show on his own terms.
Dillard is in law school full time and Duggar doesn't work
Now that the two don't have their income from Counting On, fans have questioned how the couple can afford to live a nice life and take care of their children. Dillard is enrolled full time in law school, and Duggar stays home all day and cares for the children. The Duggar women don't typically work; Duggar homeschools her boys and cooks and cleans for the family. Right now, neither of them has a full time job.
The couple's income likely comes from social media
Despite not working, Duggar and Dillard have still managed to keep things comfortable for their kids. it's hard to determine exactly where their money comes from, but it would make sense that a lot of their income comes from social media. Duggar promotes products to her 1.6 million followers, which means she can charge a hefty price tag for those ads. She likely charges thousands of dollars to promote a product. Over the course of the year, Duggar probably makes a lot of money from social media, which might be how the two provide for their family. Plus, they likely make money from their website, so every click to the couple's site probably translates into a dollar amount.
The two recently built a brand new home  
Regardless of how the two make money, things are clearly going well from a financial standpoint. The two recently built a brand new home in Arkansas. Duggar took fans on a tour, and the house is definitely nice. However, Arkansas is an extremely affordable state, so it likely didn't cost the Dillards as much as it would have if they'd built somewhere else. Once Dillard graduates law school, he'll become a major asset in the couple's income. For now, we can assume Duggar's social media is the main money maker.