Jimin and V Are Peak Soulmates in 'BTS: Bon Voyage'
The newest episode of BTS: Bon Voyage aired on Weverse, and it was the episode to end all BTS: Bon Voyage episodes. The members of BTS camped, went bungee jumping, and shared several adorable moments. During the episode, Jimin and V once again showed why they are considered soulmates.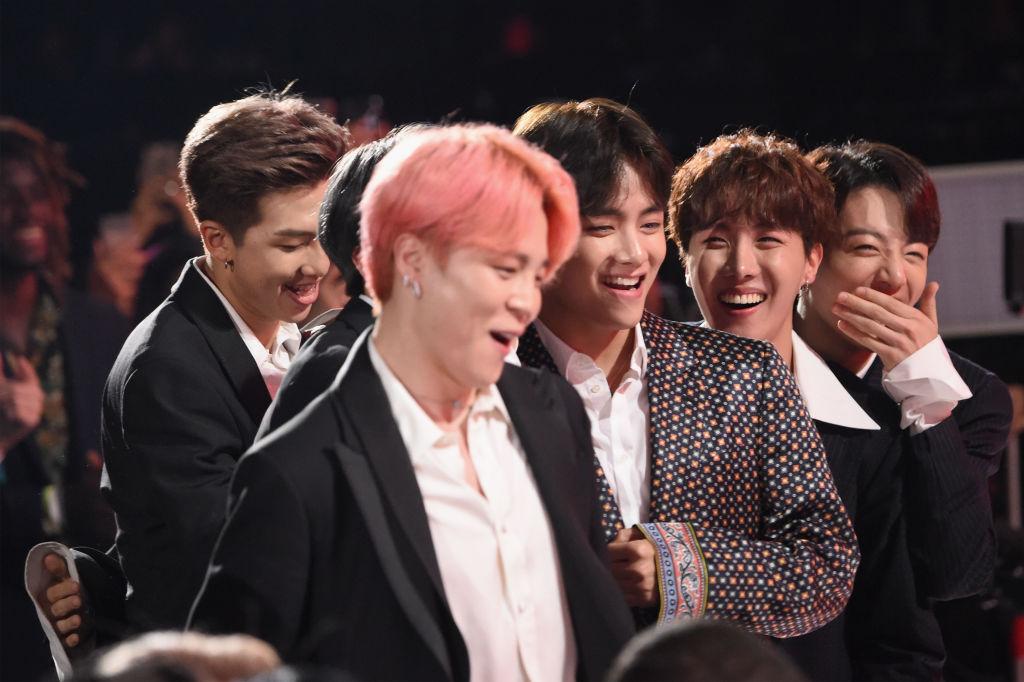 Jimin and V are friendship goals in 'BTS: Bon Voyage'
In the newest episode of BTS: Bon Voyage, Jimin and V were peak soulmate culture. While all of the members of BTS love each other, V and Jimin are particularly close. After camping, Jimin found V curled up on a bed without a blanket. Jimin found a blanket for V and then fell asleep beside him.
"YALL jimin saw that tae was tired n cold so he took a blanket and covered him :((," tweeted a fan.
"JIMIN TUCKING TAE IN BED ON GOD SOULMATE NATION," wrote a Twitter user.
"tae: jimin: i must baby him," one fan tweeted.
V also showed how close he is to Jimin in the episode. As the group decided who wanted to go bungee jumping, V tried to convince Jimin to join. Both Jimin and Suga refused, and Jimin burst out laughing in frustration after V put him on the spot. V then said "I don't want to do it if Jimin's not doing it."
"Tae : i will not stand one second away from jimin," wrote a fan on Twitter.
"'i don't want to do it if jimin's not doing it' is the most tae thing ive heard," a fan tweeted.
The members of BTS still all share one brain cell
The newest episode of BTS: Bon Voyage was a great episode for multiple reasons. At one point, the members of BTS seemed like they were in an episode of Run BTS! While in a hot tub, Jungkook suggested that they all dunk their heads underwater.
The members of BTS agreed, and counted to three. In a moment of betrayal, none of the members dunked their heads underwater. All seven of them said they knew no one else was going to do it, showing the fandom joke that BTS shares one brain cell is actually true.
"the way they all agreed to dunk their heads under water at the same time but immediately betrayed each other PLEASE," wrote a Twitter user.
The members of BTS conquered their fears
When BTS went bungee jumping, the members conquered their fears. While Jungkook runs on adrenaline and literally went bungee jumping upside down, some of the other members were more apprehensive. Even though they were the most nervous, J-Hope and Jin volunteered to go first and went together.
"seokjin is seriously so brave for overcoming his fear like that … you can tell he was genuinely afraid to do it IM SO PROUD OF HIM," tweeted a fan.
"character development is hobi being terrified of a six flags roller coaster to willingly being launched off a cliff on a giant bungee swing," wrote a Twitter user.
V decided to bungee jump as well without Jimin and went with RM. He had so much fun, he did the catapult bungee before Jungkook. Afterwards, Jimin praised V for his bravery and how much fun it looked.
"taehyung was so happy he faced his fears and did the bungee jump and jimin said he was so cool!!! SUPPORTIVE SOULMATE," a fan tweeted.