Jimmy Fallon Gets Called Out For Promoting Addison Rae Instead of Black TikTok Creators
The interconnected web of entertainment demonstrates how much of show business is dependent on who you know and what influence others use to signal boost rising celebrity star power. When Kylie Jenner made a controversial — if extremely short — cameo in Cardi B and Megan Thee Stallion's sexy video for "WAP," it demonstrated how stars use connections to other stars to connect and expand their fan bases. 
Stars helping other stars further their celebrity status is just part of the entertainment world. Lately, more people are paying attention to how who does — and, by extension, doesn't — get these kinds of boosts is connected to entrenched racial bias within Hollywood.
Jimmy Fallon is the latest celebrity to get called out for using his influence to promote a narrow pool of stars, and this time it revolves around TikTok creator Addison Rae. 
Attention to racial bias in Hollywood is increasing
Racism is still a pervasive force in American culture, and it doesn't take much prying beneath the surface to realize that racial discrimination and racial bias influence decisions in Hollywood. Actors of color have long pointed to the limited roles to which they have access, often being relegated to stereotypical roles that limit which films and shows they can appear in and what character traits they can bring forward.
Then, there is the well-documented backlash that happens when actors of color get broader representation. As CNN reports, many viewers were angry when Amandla Stenberg was cast as Rue in the Hunger Games trilogy — despite that the fact that the character's skin is described as dark in the source material. "For a white person reading a book, they're very rarely going to go, 'I'm just assuming this is a black character' if he or she isn't marked as such," Harry M. Benshoff, an academic in film studies, explained. 
Unfortunately, film studios have long erred on the side of casting in ways that don't challenge biased assumptions in the belief that doing so will result in more sales, but a recent study found that these choices may actually be costing Hollywood up to $10 billion a year. From both an economic and ethical point of view, diversifying representation in Hollywood just makes sense. 
Jimmy Fallon featured Addison Rae on 'The Tonight Show'
As the host of The Tonight Show, Jimmy Fallon has a huge responsibility in terms of his influence. As a network television host, Fallon — and other late night talk show hosts — act as curators of sorts. He brings musicians, films, television shows, and actors into the spotlight for viewers who may otherwise not have heard about them. In this way, he serves as an influencer who helps decide whose star rises more broadly. 
As the face of entertainment changes, that means that social media stars are also getting appearances on these kinds of television shows, and Addison Rae recently appeared on The Tonight Show. Rae, who rose to fame on TikTok because of her dance videos, has quickly become one of the most influential voices of the growing platform. Now the star has endorsement deals with brands as big as L'Oreal and Reebok, and she's shifting some of her content to better position herself as an influencer in the beauty and haircare world. 
Fans are calling Jimmy Fallon out for bias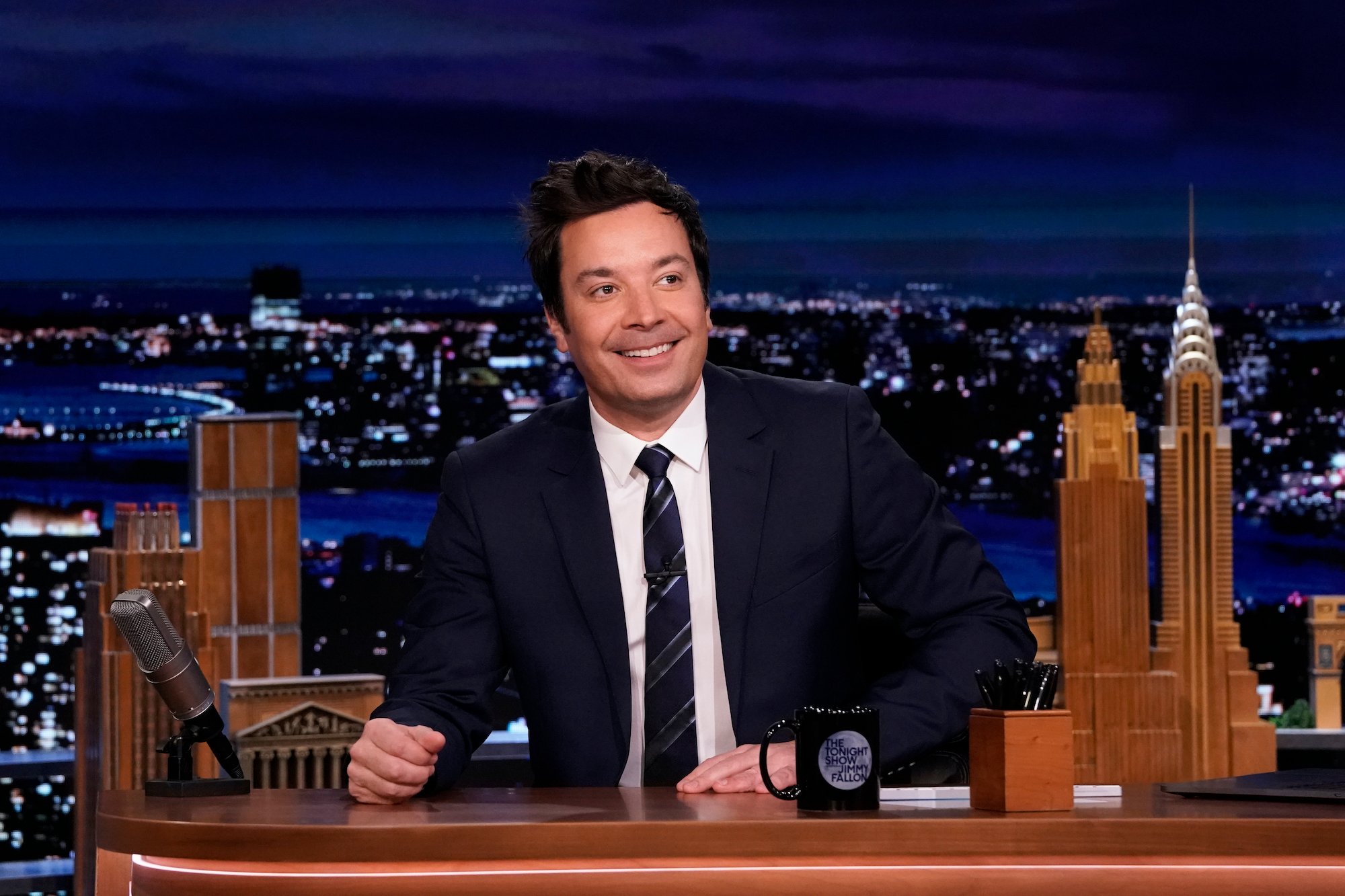 Jimmy Fallon's choice to invite Addison Rae on the show has ruffled some feathers, and many viewers have taken to Twitter to voice frustration that Black TikTok creators do not get the same opportunities and visibility as white stars on the platform. 
The disparity was particularly stark since Rae's appearance on the show featured her doing several popular TikTok dances on the set. These dances, fans were quick to point out, were popularized by Black TikTok creators, and these stars received no mention in the segment. One user explained that white viewers often miss these snubs: "Their credits for 'their' things have always been given. They don't know the history behind the dance."
Further complicating things is that TikTok's entire algorithmic operation has bias baked into its core. As Wired reports, TikTok's determination for giving recommendations on who to follow has been demonstrated to create race-based "bubbles": "TikTok's algorithm will think it is creating a personalised experience for you, but actually it is just building a filter bubble – an echo chamber where you only see the same kind of people with little awareness of others."
Who gets noticed and who gets ignored matters, and in the fast-growing world of social media celebrity, these kinds of biases mean that white creators rake in the profit while Black creators miss out. Some believe established celebrities like Jimmy Fallon have more responsibility to help break down the disparity.