Jimmy Fallon's 'That's My Jam' Return Date and Where to Watch Episode 1 With 'The Voice' Coaches
Jimmy Fallon's new show, 'That's My Jam,' brings 'The Tonight Show's games to a bigger scale. Here's the release date and where to watch episode 1.
Kelly Clarkson, Blake Shelton, Ariana Grande, and John Legend use their musical expertise to coach artists on The Voice, but how much do they really know? That's My Jam put their prowess to the test. The Voice coaches were just the first victims — er, contestants — on Jimmy Fallon's new music-themed game show, which aired a sneak peek episode on NBC on Nov. 29. The episode's hilarious chaos caught people's attention, and now many fans wonder: when will there be more? Here's the official release date for That's My Jam and where to catch up on episode 1.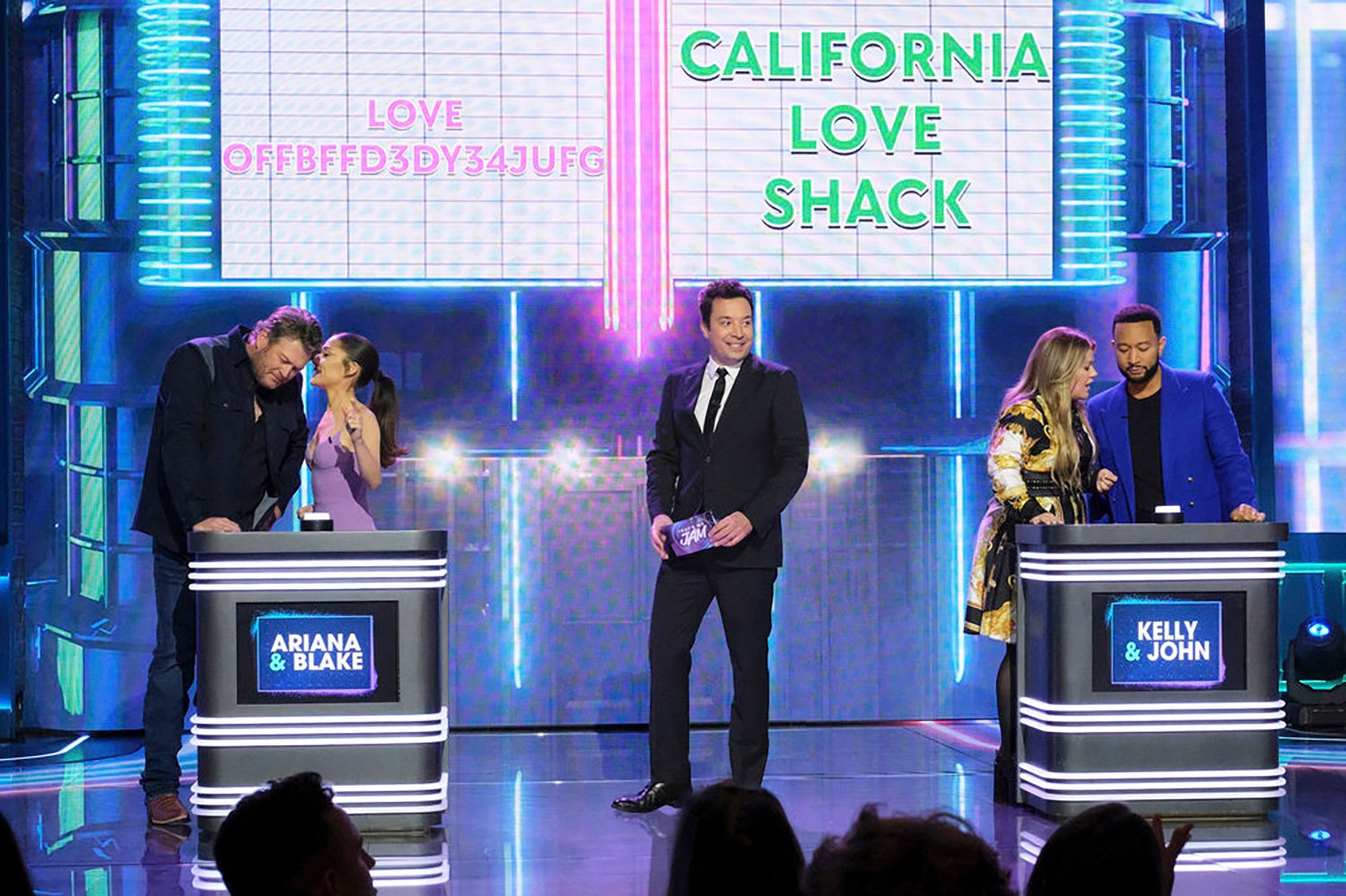 What is Jimmy Fallon's new game show?
That's My Jam takes inspiration from the myriad of games Fallon likes to play with his guests on The Tonight Show. During each hour-long episode, two teams of two celebrities compete in a series of games for a charity of their choice. In episode 1, for example, Grande and Shelton competed against Legend and Clarkson for Transanta, St. Jude Children's Research Hospital, BreakFree Education, and Boys & Girls Club of America, respectively.
Most of the games take a musical approach to things like karaoke and trivia. While some games are entirely new, others come straight from The Tonight Show.
One of the signature games to appear is Wheel of Musical Impressions, in which celebrities must perform a randomly-generated song as a randomly-generated impression. However, That's My Jam gives the game a twist — it's now part of a bigger game called Wheel of Impossible Karaoke. In addition to musical impressions, the wheel might tell celebrities to perform a medley of songs, swap a song's genre, and more.
"We love playing these games on the show, and it'll be fun to see it taken to the next level," Fallon said in 2019, per People.
'That's My Jam' has a January release date
That's My Jam premiered its first episode just after The Voice on Nov. 29 at 10 p.m. However, fans won't have to stay up that late every week. When the show returns on Jan. 3, 2022, it will stick with a 9 p.m. time slot on Monday nights. The Voice will have ended by then; Kenan will take its place at 8 and 8:30 p.m., according to TV Insider. After That's My Jam, fans of Ordinary Joe can tune in at 10 p.m.
Where to watch 'That's My Jam' Episode 1
Unfortunately, the next release date for That's My Jam is still a few weeks away. On the bright side, that gives plenty of time for fans to catch up on or rewatch episode 1. That's My Jam is available to stream now on Hulu, Spectrum, and Fubo TV with subscriptions. Additionally, fans can check it out on Peacock. Simply sign up for a free account to stream the episode.
And as for what fans can expect from future episodes? Plenty more chaos, that's for sure. NBC's special look at the game show featured stars like Alessia Cara, Kate Hudson, Rita Ora, and more.
"I think the thing we've always done with The Tonight Show is blend games and music in the right way," Fallon said in the video. "There's gonna be some surprises when you watch the show. There's people that you go, 'Oh, I know them. They're really funny. And then they can actually sing."
Tune in to That's My Jam on Monday nights at 9 p.m. in January.