Jimmy Kimmel or Jimmy Fallon: Which Late Night Talk Show Host Has the Higher Net Worth?
Jimmy vs. Jimmy: Who is wealthier?
The late-night talk show game has been seriously ramped up by the likes of Jimmy Kimmel and Jimmy Fallon. Both of these hilarious guys have fan bases that overlap, but there are also people who tend to pick favorites. Although they have each found plenty of success, we can't help but wonder: Which of these hosts has the higher net worth?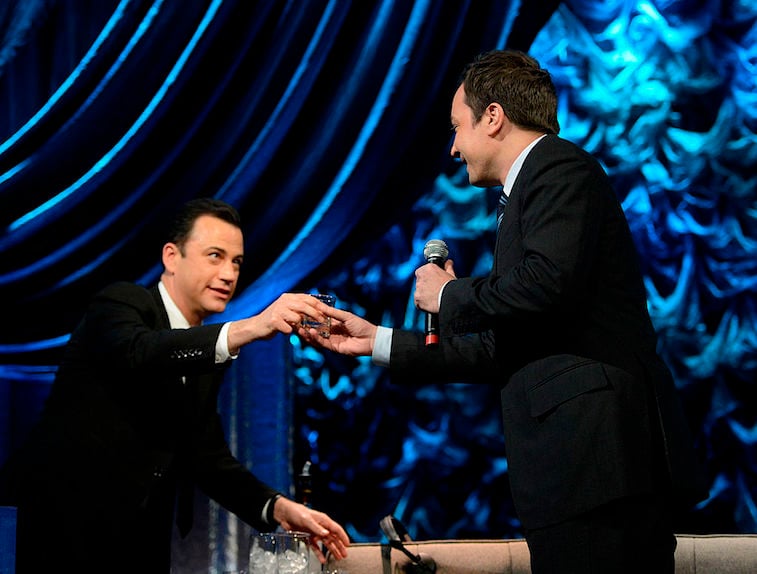 Both men have built similar careers
Kimmel and Fallon essentially have the same job: They're both late-night talk show hosts who get paid to make us laugh by making light of current events and other hilarious endeavors. Kimmel hosts Jimmy Kimmel Live! While Fallon hosts The Tonight Show. Both have branched out to make appearances in movies or television shows beyond their own show, and the two appear to get along well. "My only complaint about Jimmy Fallon is the first name: Jimmy," Kimmel once said in an interview. "People get us mixed up all the time." Besides the beef about the same name, the two actually get along well.
Jimmy Kimmel net worth: $45 million
Kimmel's career started before he was even out of high school. He had a position on a radio show that aired on University of Nevada at Las Vegas' radio station. He hopped around several radio stations before getting involved with Comedy Central in the late 1990s. Working with the channel was what eventually drove him toward his own late-night talk show. In January 2003, Kimmel was given his own show, Jimmy Kimmel Live! (though it isn't actually aired live anymore). The show faced a few scandals now and then, including when it was briefly pulled from the air in 2004 after a comment Kimmel made during the NBA championship. However, Kimmel has mostly remained in society's good graces and is a widely respected comedian. His impressive career has built him an estimated net worth of around $45 million.
Jimmy Fallon net worth: $45 million
Fallon knew from a young age that he wanted to pursue comedy full time. He dropped out of college in 1995 to move to Los Angeles, where he instantly started booking shows. In 1998, Fallon landed a role on Saturday Night Live, and he was featured on the show up until 2004. He tried to break into the movie scene in the 2000s, and was the starring role in "Fever Pitch" alongside Drew Barrymore. However, he fared better in the comedy world, so he stuck to it. In 2009, Late Night With Jimmy Fallon made its debut, and Fallon was the host up until 2014, when he then took a job as the host of The Tonight Show (the show was formerly hosted by Jay Leno). Fallon, like Kimmel, has become a widely respected comedian and has a net worth that's estimated to be very similar to Kimmel's at $45 million.
Despite the similar net worth, Fallon has a higher salary  
Although Kimmel and Fallon have similar careers and similar net worths, Fallon actually has the higher salary. According to CNBC, Fallon makes an estimated $16 million annually from his late show, while Kimmel makes an estimated $15 million. Kimmel tied with Stephen Colbert, while all three men edged out Conan O'Brien, who makes an estimated $12 million.
Check out The Cheat Sheet on Facebook!